Burghley Horse Trials: New Zealander Nicholson takes lead
Last updated on .From the section Equestrian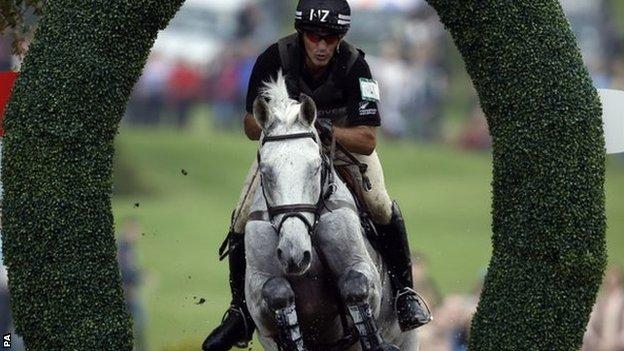 Land Rover Burghley Horse Trials
Venue:
Burghley
Date:
4-7 September
Coverage:
Live on BBC Two and the BBC website from 15:00 BST on Sunday
New Zealander Andrew Nicholson leads the Burghley Horse Trials after the cross-country round on Saturday.
Nicholson, on Avebury, was fastest on the day for 5.6 time penalties and could clinch his third title on Sunday.
Current Badminton title holder Sam Griffiths is second and Oliver Townend third, while overnight leader Jonathan Paget has dropped to fourth.
"Avebury goes his best when I ride him like I stole him, so that's what I tried to do," said Nicholson.
"For the first three minutes I rode him a bit quieter than I normally would, but as soon as I started putting on a bit more pressure; turning up tight and taking the inside line, he started to really operate and felt like he was loving it."
Nobody managed the 11 minutes 19 second optimum - and Griffiths, on Happy Times, clocked up 9.6 time penalties and is less than a fence behind Nicholson.
"I went quite early so I didn't allude to the fact that no-one was making the time," said Griffiths on the official Burghley website.
Townend had started the day in 12th but impressed on Armada and had the second quickest round of the day.
"We all know Armada and what a wonderful cross-country horse he is," said Townend.
"If you put him in the right place and in the right gear to jump the fences he'll do his best for you."
Nicholson has a score of 46.1 penalties, with Griffiths on 49.8 and Townend 55.1.