European Championships: Britain's showjumpers look to 'bounce back'
By Ollie Williams
Olympic sports reporter
Last updated on .From the section Equestrian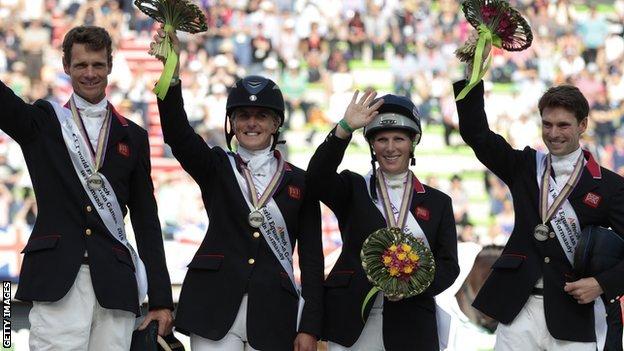 Britain's showjumpers must look to next year's European Championships to qualify for the Rio Olympics as the World Equestrian Games close in France.
Dutch rider Jeroen Dubbeldam took the Games' final title, individual jumping gold, in the absence of GB riders.
Injuries to key horses meant Britain could not replicate the full-strength line-up that won Olympic gold in 2012.
"It's a completely different team," said former GB showjumper Andy Austin. "We don't have the strength in depth."
Britain had been knocked out of the team showjumping event by the end of Wednesday and world number one Scott Brash, down in 36th place after two rounds of the individual event, decided to withdraw rather than needlessly exert horse Hello Sanctos when so far from a finishing position.
The showjumpers' fortunes stood in contrast to those of Britain's dressage riders. Charlotte Dujardin and Valegro won two World Equestrian Games titles following on from her double London Olympic gold.
The team took silver and Eventing team silver and an individual bronze for William Fox-Pitt saw Britain deliver a total of two gold medals, two silvers and a bronze from the Olympic disciplines in Normandy - behind only Germany, winners of three world titles.
Britain's para-dressage riders kept up their 18-year unbeaten streak in the team event and finished with four world gold medals in an increasingly competitive sport.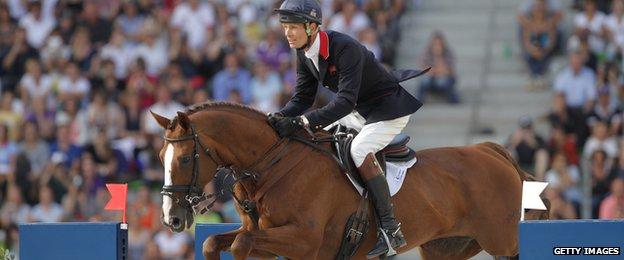 The British showjumping team lacked several big-name combinations - Nick Skelton's ride at London 2012, Big Star, is out for a year with a leg injury, while world number three Ben Maher lost Cella to injury in the week before the Games.
"A couple of other horses have been sold, and William Funnell - who was in the gold medal-winning European team in Herning last year - was missing," added BBC Sport commentator Austin.
"When it comes to horses of that calibre, it's like trying to replace a top Premier League striker. You can be Liverpool, Manchester City or Manchester United and have a lot of money to spend, but championship horses are a very rare commodity.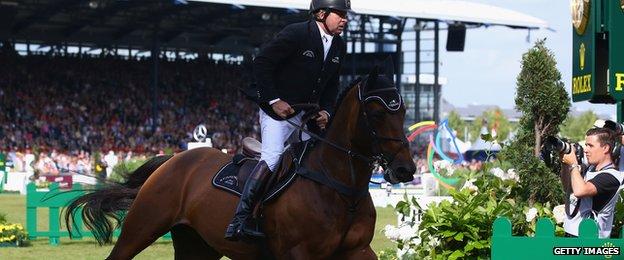 "If we're missing the likes of Big Star and Cella for Rio qualification or the Olympics in 2016, and maybe Brash's ride Hello Sanctos goes off-form or something like that, then Britain could be in serious trouble.
"But the beauty of showjumping is how unpredictable it is. There are probably young horses no-one's ever heard of who, in two years' time, might be superstars. A horse that's six or seven years old now, jumping in novice classes, could still make it to Rio."
Five nations secured Rio 2016 showjumping places during the Games. Ireland narrowly missed out with Britain much further back, but four of the five qualifiers were European (France, Germany, team champions the Netherlands and Sweden).
That improves British chances at next year's Euros, where another three teams can book Rio places - excluding those already qualified.
GB Para-dressage medals at 2014 World Equestrian Games
Team gold:
(Natasha Baker, Sophie Christiansen, Lee Pearson, Sophie Wells)
Individual gold (Grade Ia):
Sophie Christiansen
Individual gold (Grade Ib):
Lee Pearson
Individual freestyle gold (Grade Ib):
Lee Pearson
Individual silver (Grade Ia):
Sophie Christiansen
Individual silver (Grade II):
Natasha Baker
Individual silver (Grade IV):
Sophie Wells
Individual freestyle silver (Grade IV):
Sophie Wells
Austin has backed Brash and Hello Sanctos to "bounce back" after their mediocre individual showing in Caen, while noting that Britain have experience of similar situations.
This was evident at the 2010 World Equestrian Games, from which the showjumpers came away with nothing before going on to Olympic glory.
"Four years ago it was a disaster but things changed rapidly," said Austin.
"Hardly any nations have strength in depth. The Germans traditionally do and maybe they have the strongest hand in that sense, but you need to be lucky and have three or four horses, and come together at the right time.
"Fit horses are in the lap of the gods but Britain does have the riders. They shouldn't get too carried away when they win and when something goes wrong, it's not all doom and gloom."