Gatcombe Festival of Eventing: Course 'looking good' despite weather delays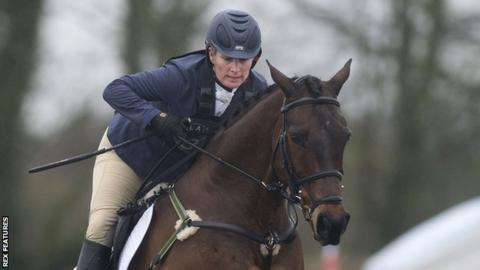 Captain Mark Phillips is confident wet weather earlier in 2016 will not delay assembling the cross-country course for August's British Festival of Eventing.
The 2016 festival runs from 5-7 August.
"We have been a little bit behind in preparing the course because they are making hay at the moment at Gatcombe," he told BBC Radio Gloucestershire.
"While that hay is on the floor we haven't been able to put the fences out, but, apart from that, things are looking really good."
Former Olympic champion Captain Phillips, who is the festival's co-chairman and cross-country course designer, added: "Hopefully we'll once again be able to put on a great event."
A new water jump
In its 34th year, the course will feature a new water jump at Avening Banks, which is part of a two-phase development of the course. The new section will provide a second viewing point for spectators away from the main area at the Park Bowl.
Festival event director Tim Henson added: "Over the years, building cross-country courses has changed so much. You can move the portable fences around, so you may see the same fence but it will be in a different part of the course."
Along with the changes to the course, this year's Festival of Eventing, presented by the British Equestrian Trade Association, sees the return of the Advanced Class and will also host the fourth leg of the Event Rider Masters.
Find out how to get into equestrian with our special guide.