BBC Sport - Rio 2016: Dressage rider Spencer Wilton to make Olympics debut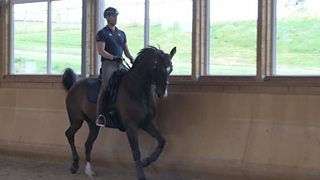 Wilton to make dressage debut in Rio
Spencer Wilton and horse Super Nova II will make their Olympic debuts at Rio 2016 after a six-year riding relationship.
Along the way they have had to overcome several injuries, including one that almost forced Super Nova II to retire.
"Probably quite a bit of our relationship has been putting him back together," said Wilton.
"I had a few days of feeling really elated after selection, and then the reality of keeping him in one piece up until Rio has been more stressful than being selected."