Badminton Horse Trials: Thibaut Vallette holds halfway dressage lead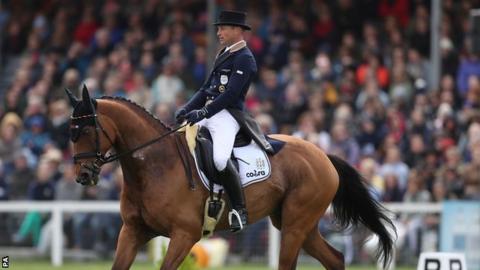 Frenchman Thibaut Vallette leads reigning champion Michael Jung at the halfway stage of the Badminton Horse Trials dressage.
The 43-year-old, who beat German Jung to team gold at last summer's Rio Olympics, posted a score of 38.7 penalty points on Qing Du Briot.
Jung, 34, scored 40.0 penalties leaving him and La Biosthetique Sam FBW third behind Bettina Hoy on Designer 10.
"I am very happy. I didn't expect to do so well," said Vallette.
"It was the best test the horse has done this year. He has had some difficulties since Rio, and although we made a few mistakes at the beginning of the test, he was then listening to me again."
Nicolas Touzaint is the only French rider to have won Badminton in its 68-year history.
British debutant Alexander Bragg riding Zagreb, and Tom McEwen with Toledo De Kerser, are joint sixth.