Badminton Horse Trials: Oliver Townend misses Grand Slam as Jonelle Price wins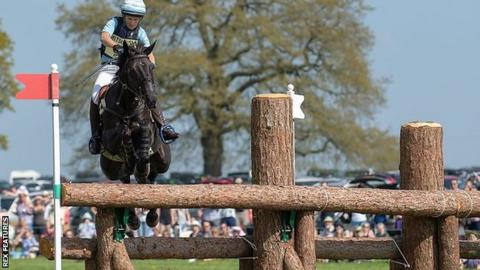 Oliver Townend's Grand Slam quest was ended by New Zealand's Jonelle Price, who went clear in the show jumping to triumph at the Badminton Horse Trials.
Townend, Badminton winner in 2009, was seeking the £255,000 prize that goes to a rider who wins consecutive Burghley, Kentucky and Badminton titles.
With Burghley and Kentucky wins already secured, the British rider went clear on Cooley SRS to finish on 33.1 points.
But Price also went clear on Classic Moet and won with a score of 28.
Price, 37, who gave birth to son Otis in August, is the first woman to win the event since Australia's Lucinda Fredericks triumphed aboard Headley Britannia in 2007.
Price began Sunday's final day at the top of the standings after collecting just 0.4 time penalties in Saturday's cross country.
Britain's Rosalind Canter and Allstar B had one down and finished third on 34.3.
Townend also took fifth place with his second ride, Ballaghmor Class, as 11 British pairs finished in the top 20.
The 35-year-old had been issued with an official warning on Saturday regarding his over-use of the whip on both horses.
"If you are at the top of your game, you are always going to get someone try and trample you," said Townend, whose 11-year-old mount Cooley SRS was competing in a four-star event for the first time.
Pippa Funnell in 2003 and Michael Jung in 2016 remain the only winners of the Grand Slam.
Wiltshire-based Price said: "I am sure it will sink in later. It is surreal. It is like joining an elite club.
"I knew it was going to take a clear round to win today, and I was trying not to bother to look at who was having fences down and who wasn't. I just tried to stick to my plan.
"It was so tight, and I thought anyone in the top 10 could have won today, so it needed a clear round."