Blue v Red:
The battle for Manchester
A journey through the rivalry between Manchester City and Manchester United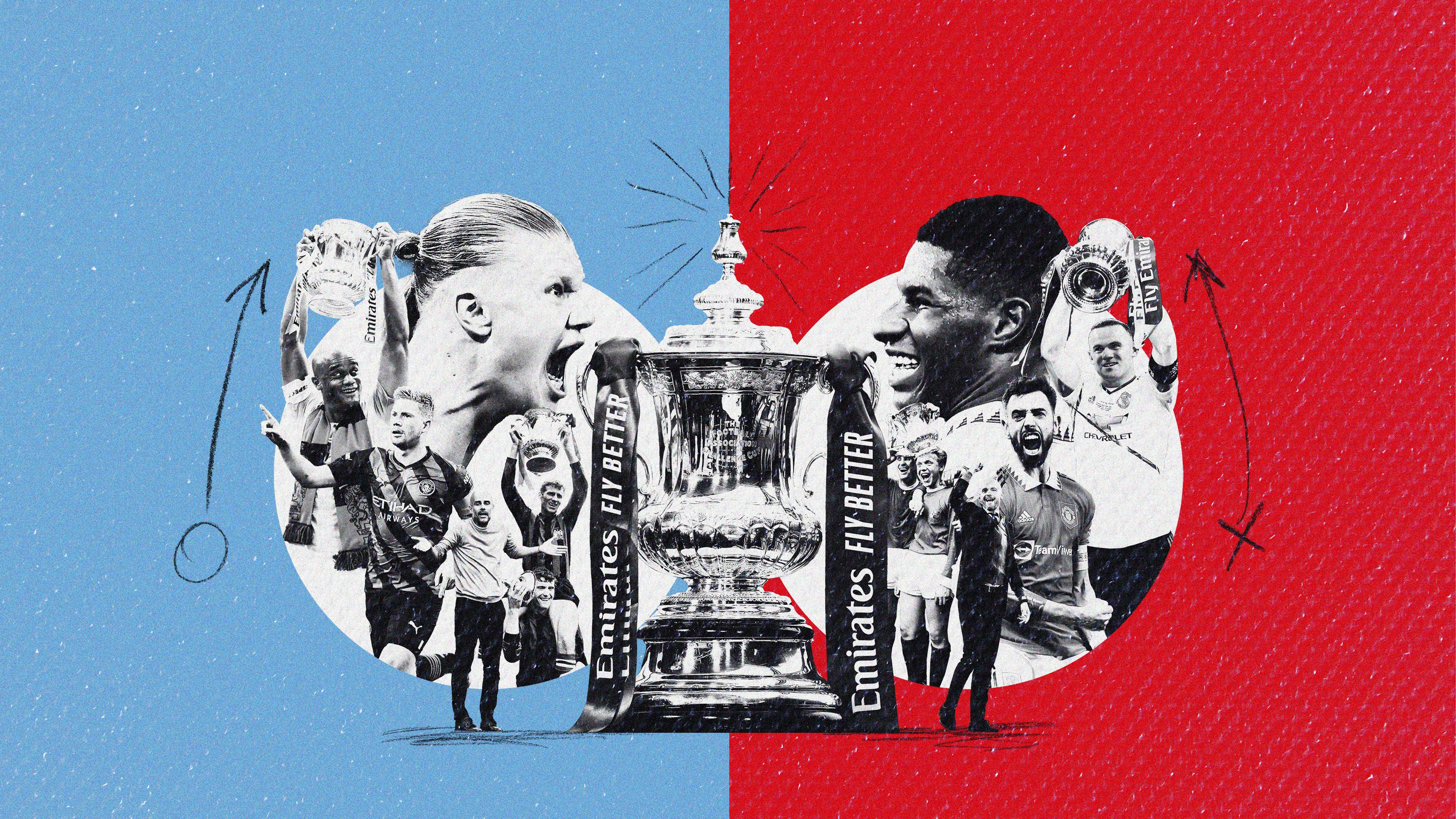 When Manchester City and Manchester United contest the 2023 FA Cup final, it will be the first time the two have directly faced each other for a major trophy in their long and estimable history.
But while they may not have duelled for silverware until now, the two clubs have rarely been out of each others' eyeline in their 131 years together in England's professional league system.
From their humble Victorian origins to modern multibillion pound behemoths, a rivalry has emerged and evolved - not always fierce, rarely even, but always important to those who drape themselves in blue or red.
And when the two do clash, sparks fly.
Before Saturday's unprecedented encounter, BBC Sport presents a journey through the clubs' shared history, looking at their respective highs, lows and all the most significant meetings, from Ardwick v Newton Heath to 'Agueroooooo' and beyond.
To help us, we have spoken to a fan from each - from City, Nigel Rothband who hosts The Man City Show podcast, and from United, Jay Motty of the Stretford Paddock YouTube fan channel.
Their insights speak to the fluctuating animosity, apathy, envy and myriad of other emotions driven by experience and circumstance that are at the heart of the rivalry.
"I don't even mention them [United] by name," Rothband tells BBC Sport. "I hate them with a passion.
"I get it from my dad. He always referred to them as Stretford.
"On the show or in my writing I will try not to be too silly but I will talk about the Reds or 'our neighbours'. I won't use the M and the U together in the same sentence. They are our rivals."
United fans appear to be wrestling with even more complex and challenging feelings.
"For me, the main rivalry has always been with Liverpool," says Motty. "There is a real deep-rooted rivalry there and a bit of nastiness and edge to it too. It is more than football, it's to do with rival cities and economically and historically there is a backstory.
"City are not far behind but are getting closer with the way things are going.
"I think United fans have looked down at City almost with amusement at times. They were rivals on the pitch for a long time. But there has been a shift with them having success while we haven't.
"I'll be honest, there is a bit of jealousy and envy now from my part and I never thought I'd say that about Manchester City."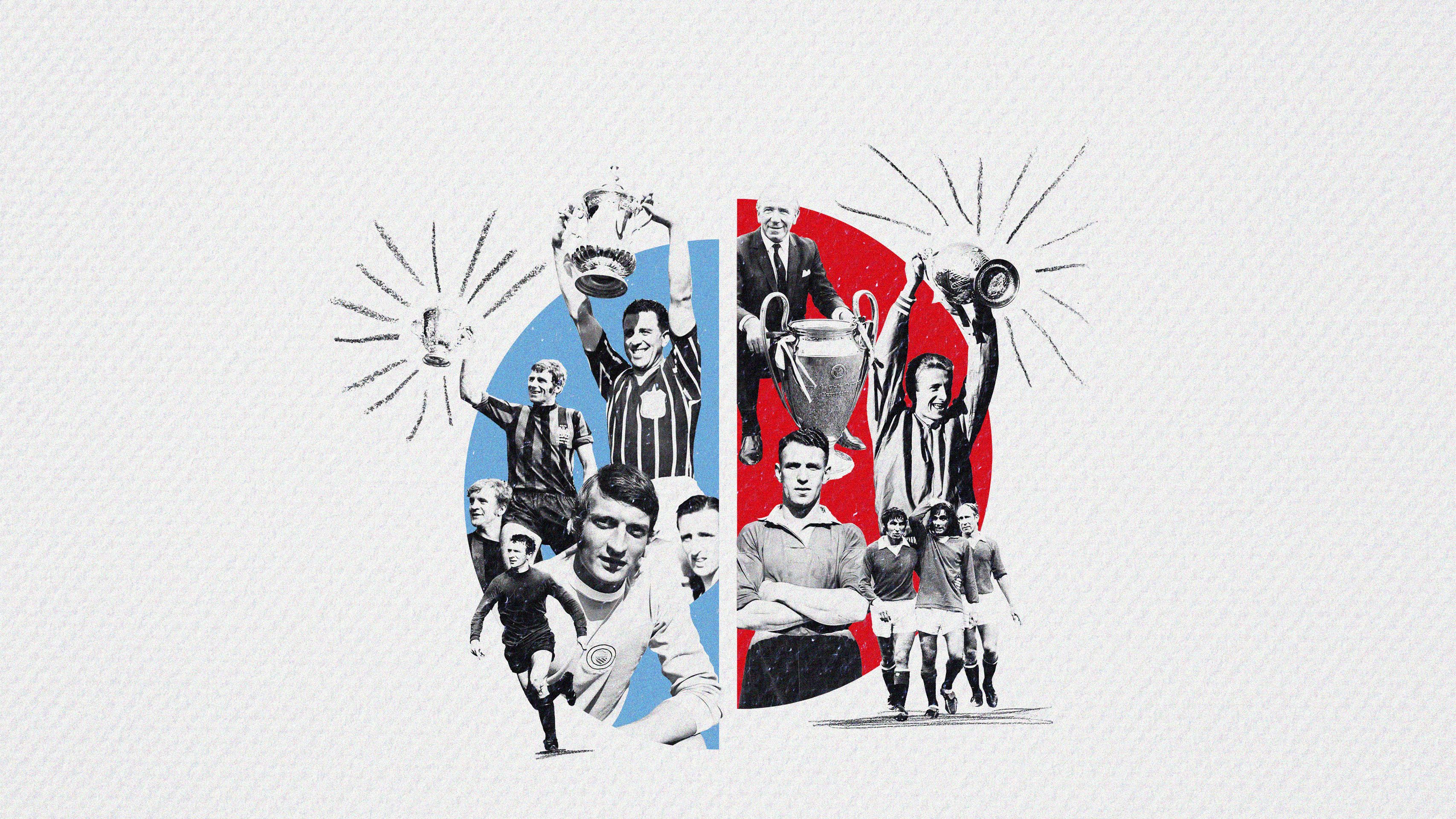 Origins of a rivalry
In the beginning, there was no City or United.
The latter began its life as humble Newton Heath LYR in 1878, formed by the Carriage and Wagon department of the area's Lancashire and Yorkshire Railway depot. Funded by the LYR, their early games were against other rail companies and saw them wear the green and yellow colours that modern United fans now use as a protest symbol against the current Glazer ownership.
Two years later the club that would become City was formed in equally low-key fashion as St Mark's, by the church of the same name in West Gorton. Its aim was to provide recreational activity for young men in a time of high unemployment and social ills such as alcoholism and 'scuttling' - semi-organised fights involving street gangs.
Just two of a multitude of sides in the Manchester area at that time, there was no special significance or spite to encounters between them in those early days - the first of which came on 12 November 1881 and saw Newton Heath claim a 3-0 victory.
By the end of that decade (with St Mark's now called Ardwick following a move to the area south east of Manchester's centre) the two clubs were the most dominant in the city, with one or the other claiming the Manchester Senior Cup between 1888 and 1893 - Newton Heath four, Ardwick two.
Possibly the most notable meeting of the clubs in this time came in 1889, when the two played in aid of the Hyde coal mine disaster - an early display of solidarity between the two that would continue in the face of tragedy right through to modern day.
It was during these Victorian years that the seeds of the rivalry were first planted. However, it would take time for them to germinate, with even major scandal failing to foster any true animosity between them.
Amid allegations of match-fixing against star man Billy Meredith at the end of the 1904-05 season (for which he was fined and suspended for a year), the now Manchester City were found to have broken the £4-a-week wage cap by the Football Association. As a result, they were fined, manager Tom Maley was suspended from football for life and 17 players were fined and banned from ever representing the club again.
Forced to sell the players that had helped them win the FA Cup just a few months earlier at an auction at the Queen's Hotel in Manchester, City were powerless to prevent Ernest Mangnall - boss of the club now called Manchester United - from signing Meredith, along with Herbert Burgess, Sandy Turnbull and Jimmy Bannister. The quartet would become the core of the side that gave the former Newton Heath their first league title in 1908. The FA Cup would follow the next season and a second league title in 1911.
In contrast to how such a situation may be viewed today, the moves were welcomed by many fans as a show of Mancunian solidarity.
It would be 25 years before City would win their first title, although they did make the final of the FA Cup in 1926, beating United in the last four en route. However, in what is possibly the first example of a habit that would come to rest at the very core of the club's identity, they snatched defeat and more from the jaws of victory, losing to Bolton at Wembley before being relegated to the second division, all in the space of a week.
They would pull off another feat of unfathomable self-destruction just over a decade later when they followed their maiden title, under manager Wilf Wild, with a season in which they scored more goals than any other side in the division (80) and still managed to get relegated. To rub salt into the wound, they were replaced in the top flight by United, who had spent the last few campaigns yo-yoing between divisions one and two at the end of a long period of mediocrity.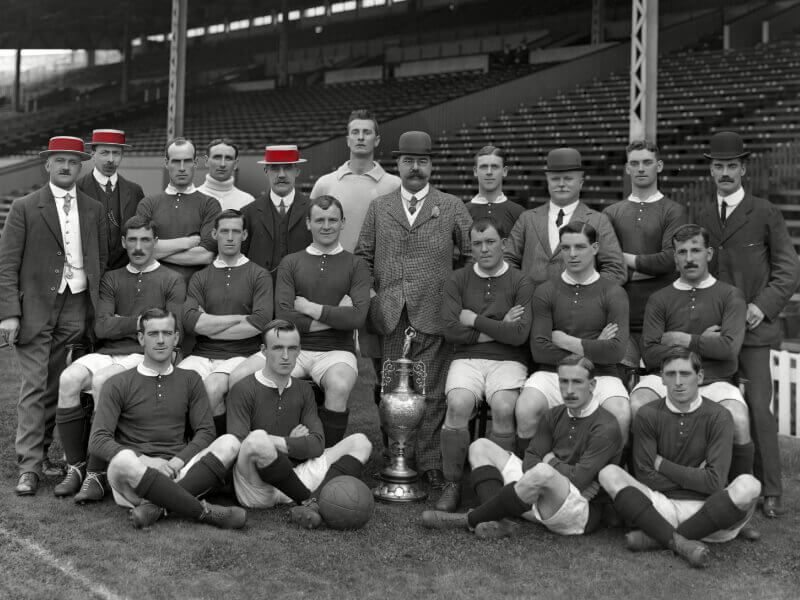 While these years were beginning to cement City's unwanted reputation, they now serve to counter another claim often levelled against them by detractors from the Reds side - that they lack a history comparable to that of their rivals.
In their first 43 years together in the Football League, up until the start of the second World War, City finished highest in the league standings 28 times to United's 15, with each claiming three major trophies (City two FA Cups and a league title, United two titles and an FA Cup).
Adversity would continue to bring out the best in them, though. After Old Trafford was damaged by bombing in the second World War, City agreed to share Maine Road with United - an arrangement that lasted until 1949.
One of United's most notable periods of history is the 24 years following the second World War, in which the Reds became a true force in the game under the management of Matt Busby. Aged just 36 when he took over, Busby had only recently finished a distinguished club playing career that had begun at City and ended at Liverpool.
During Busby's reign, United won five league titles, were runners-up seven times, claimed two FA Cups and became European champions for the first time in their history.
How much more Busby's team could have won had it not been for the tragic deaths and career-ending injuries suffered in the Munich air disaster in 1958 will never be known.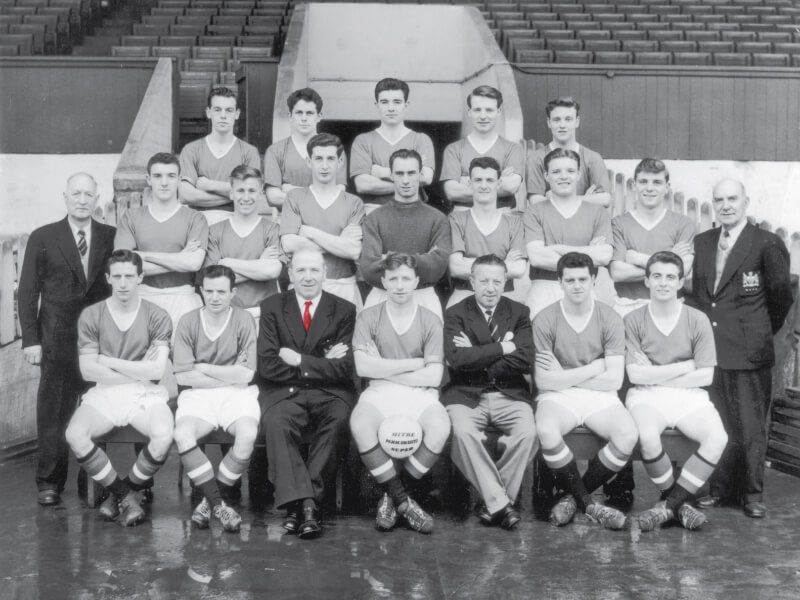 It is the ultimate testament to the ability of Busby and the side he subsequently rebuilt, and to the fortitude of a club to continue unbowed after such a tragedy, that they were able to not only rise once more to the pinnacle of the domestic game but achieve something never before managed by an English side in Europe.
By comparison, it was something of a fallow period for City, although they did reach successive FA Cup finals in 1955 and 1956, losing the former but beating Birmingham 3-1 in the latter. Come the late 60s, though, they were a very different proposition.
The season that contained United's historic European Cup triumph showcased the first of two dramatic title races between the Manchester clubs - both of which went down to the wire, both won by City thanks to victories in final-day thrillers.
In 1968 - 44 years before Sergio Aguero's last-gasp heroics against QPR - Francis Lee, Mike Summerbee and Neil Young saw City over the line at Newcastle to pip United to the title by two points.
Coincidentally, United were facing Sunderland - the side they also played on that final day in 2012. However, unlike the more recent occasion, they lost to the Black Cats, meaning City could have lost the game at St James' and still taken the title on goal difference. Not that they knew this at the time. A 4-3 win made sure.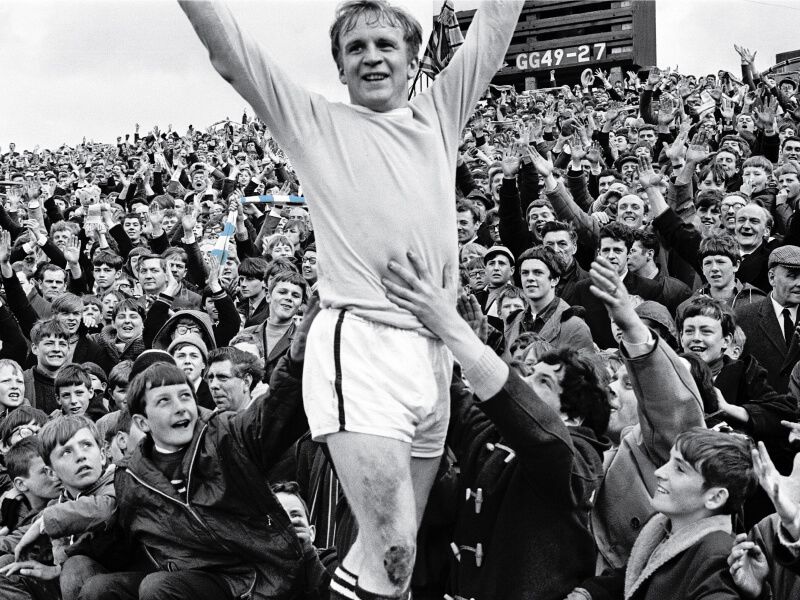 City's title win was overseen by Joe Mercer, who had taken over as manager in July 1965 before hiring the flamboyant and outspoken Malcolm Allison as his assistant.
The recruitment of Summerbee, Colin Bell and then Lee to play with the likes of Young, Tony Book and Mike Doyle helped Mercer forge a side described by BBC commentator Kenneth Wolstenholme as "the most exciting team in England".
"I remember that team off the top of my head better than my seven times table," says Rothband. "That was City dominating and they were the team to beat.
"Mercer and Allison were the perfect management partnership - the studious and slightly serious Mercer, who managed the boardroom, and Allison, who was an eccentric, extrovert and ahead of his time as regards his coaching methods. It was a fabulous time to be a City fan."
An FA Cup, League Cup and European Cup Winners' Cup were all delivered in a two-year period, but it was that title race of '68 that really lit a fire under the rivalry with United, at a time when fandom in England was becoming increasingly tribal.
"We used to stand in the Platt Lane and later moved to the Kippax Stand. I took a box and stood on it, with my dad with me," adds Rothband.
"In those days, for derbies, the United fans were to our left and shared half the Kippax. I remember bottles and coins flying over. I got a coin across my nose that cut me in one game.
"It was pretty brutal on the pitch in those days and I think part of that was because much of the team then were Manchester lads. Mike Doyle, for example, who was City through and through – he bled sky-blue blood. A lot of those players were City fans themselves, from the local area. I think that fuelled an even greater rivalry.
"At school in Manchester you were either City or United, that was it."
On the field, the growing ferocity of contests between the two was born out in a series of infamous incidents in the 1970s.
In December 1970, George Best broke Glyn Pardoe's leg with an awful late sliding tackle in a 4-1 City win at Old Trafford. The City player almost lost his leg as a result.
The next season Lee comically demonstrated what he felt to be serial diving by Best in a 3-3 draw between the sides, flopping to the Maine Road turf as if diving into a swimming pool, much to the delight of the home fans.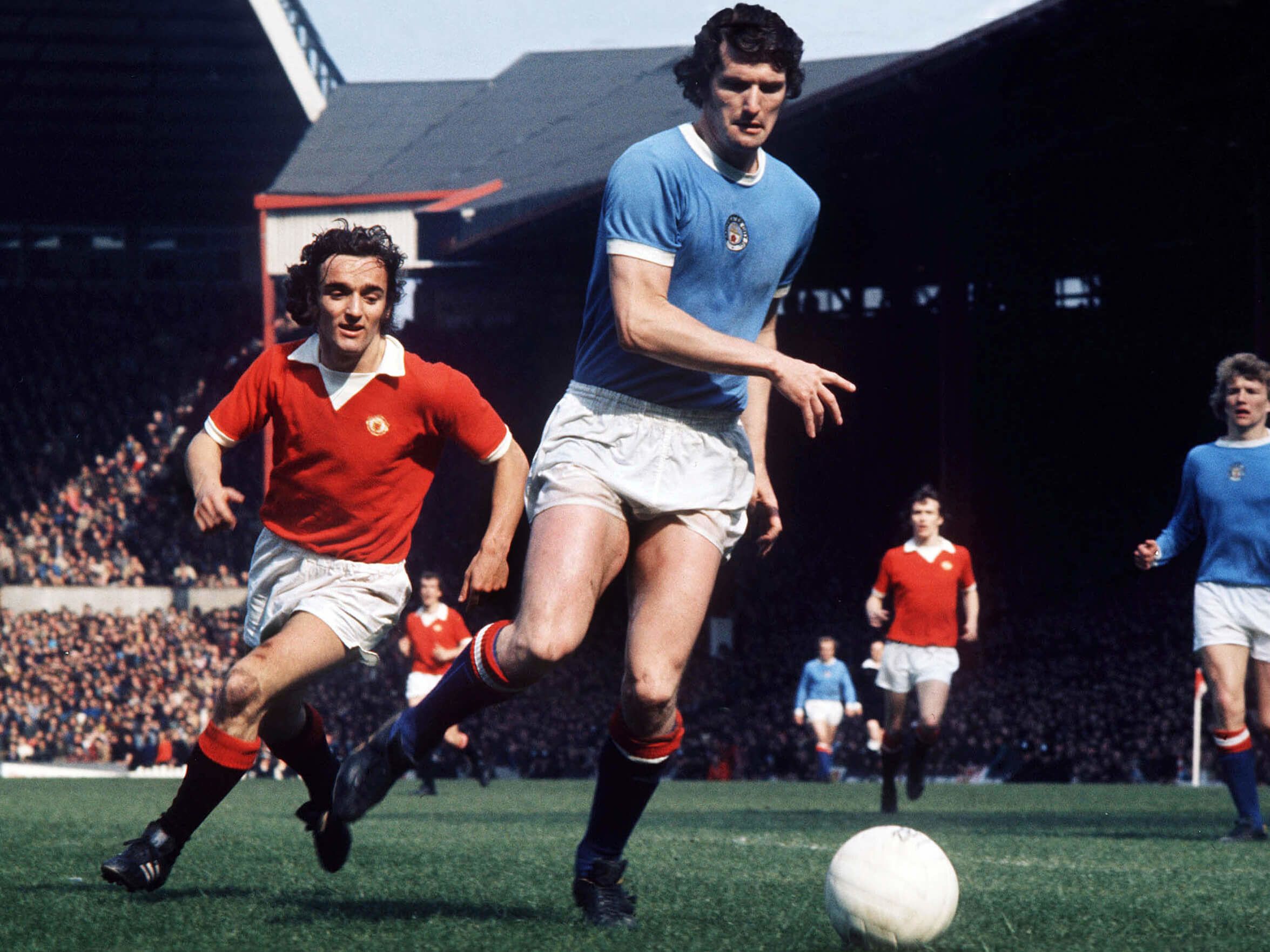 There was more controversy in the first derby of 1973-74, when City's Doyle and United's Lou Macari were both sent off but refused to leave the field, forcing the referee to lead both sides back to their dressing rooms until the players accepted their dismissals.
And then there's Denis Law's backheel - a moment that runs through Manchester derby folklore like a stick of rock.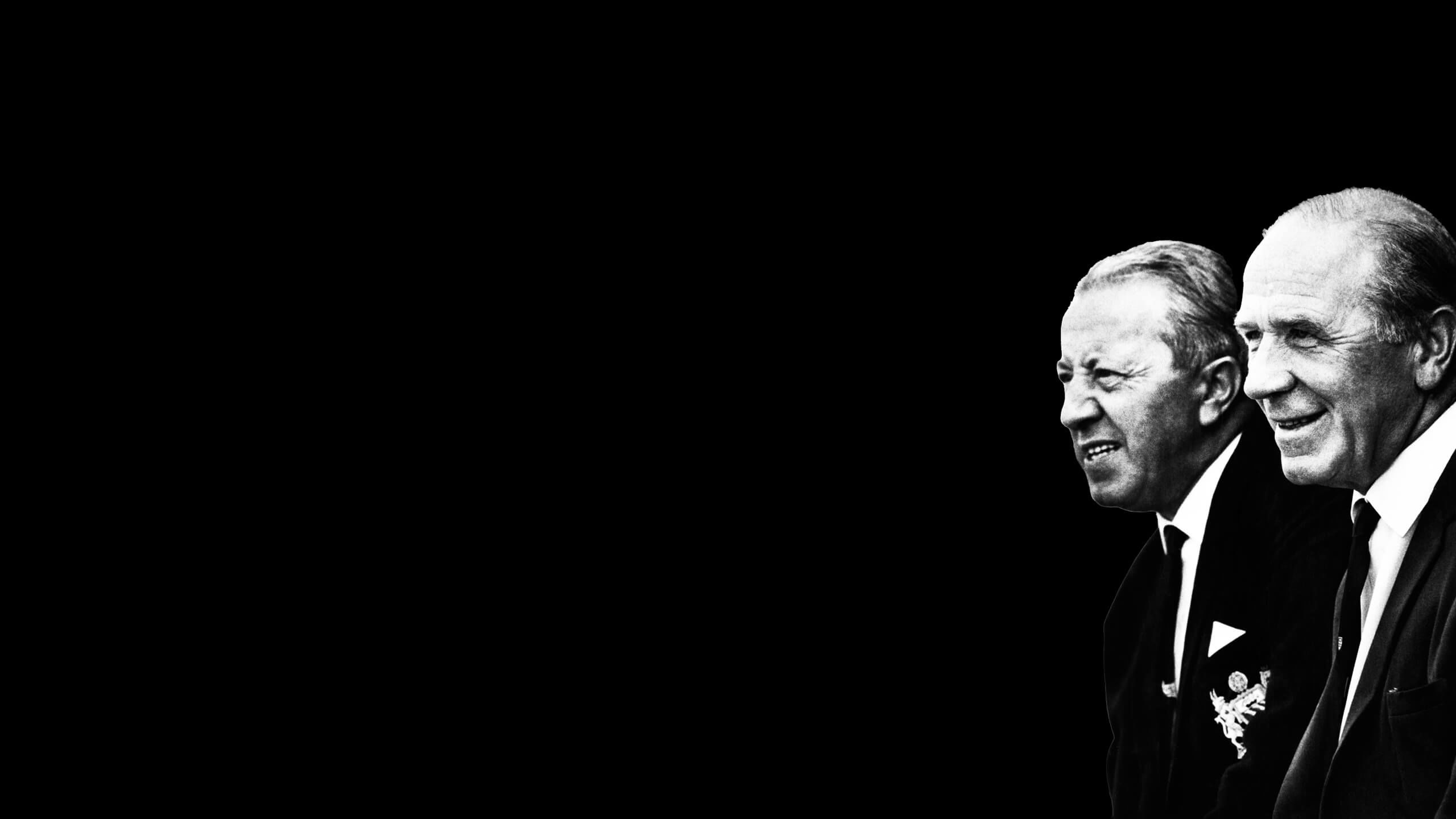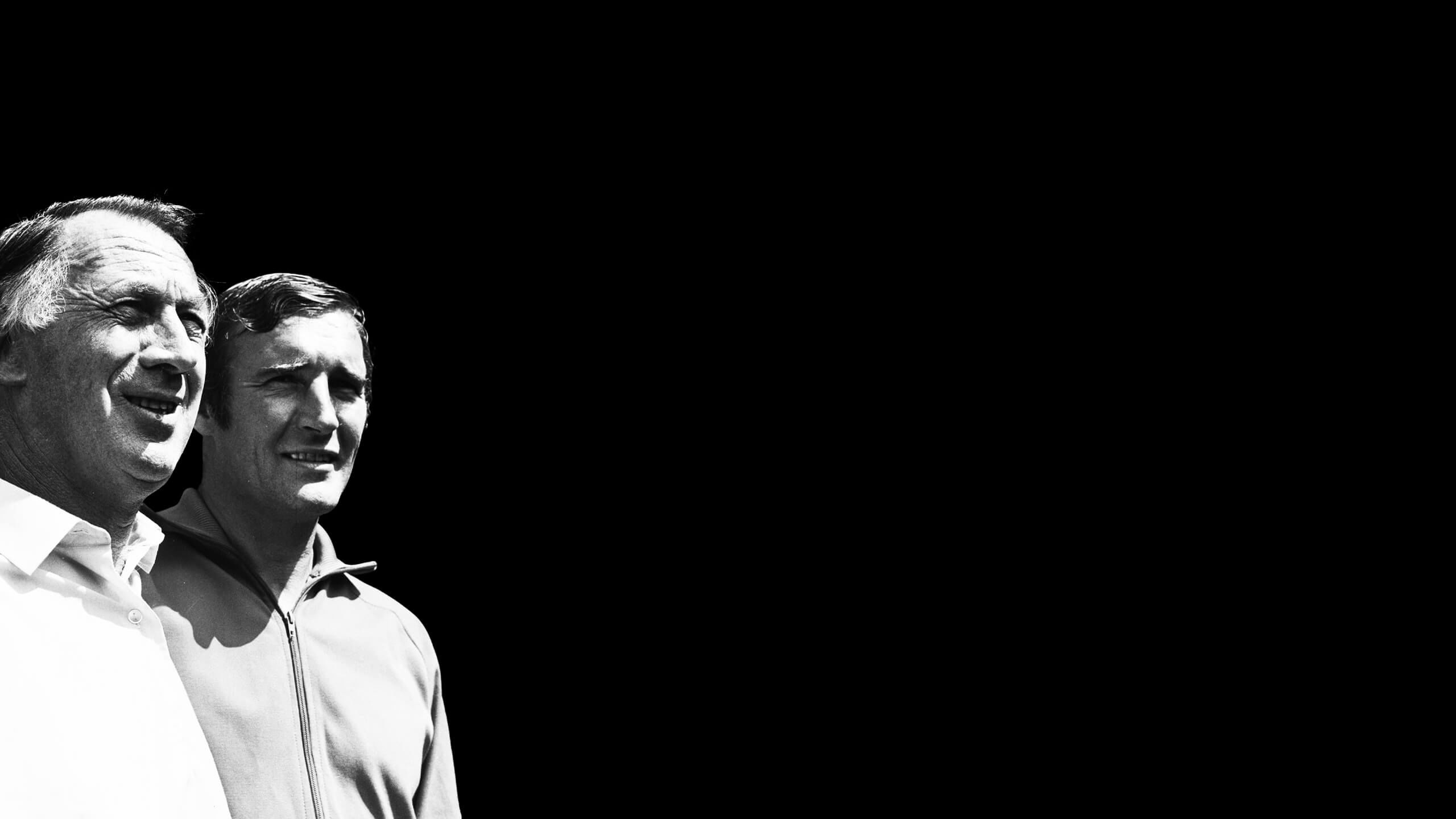 "After 19 years of trying my hardest to score goals, here was one that I almost wished hadn't actually gone in. I was inconsolable. I didn't want it to happen."
Law is a United legend, a forward of supreme talent who won a Ballon d'Or with the club and scored 237 goals in 404 appearances for them between 1962 and 1973.
But when City visited Old Trafford on the penultimate day of the 1973-74 season, he was wearing blue and his former club were in serious danger of relegation.
With 80 minutes gone and the game goalless, Law was set up by Lee with his back to United keeper Alex Stepney's net. In a flash of inspiration he backheeled one of the most famous goals in derby history. Soon after, home fans invaded the pitch and forced the abandonment of the game. It left the Football Association with a tricky decision, but they later decided the result would stand. United were relegated.
Law's goal is often mythologised as the one that sent United down. But the truth is results elsewhere meant they would have been relegated even if they had won that day.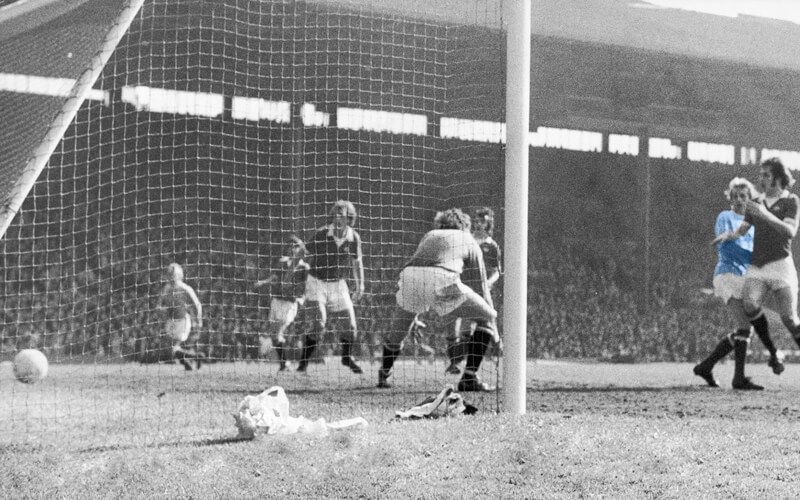 "We all like to say we relegated them but the facts don't bear that out," says Rothband. "We didn't relegate them.
"But it is a good story, so why let the facts get in the way.
"The ball came across to Law, back to goal, backheel in. Colin Bell went across to congratulate him but he wasn't interested. Bell slapped him on the face a couple of times but Law walked off and never played again."
Law's United legacy remains intact, though - he is still the only man to have two statues dedicated to him at Old Trafford.
"It does annoy me the myth that is built around that and the narrative that Denis Law and City relegated us. They didn't," adds Motty. "We could have won that game 10-0 and still gone down.
"And we've all seen the footage of the backheel and his reaction. I've spoken to Denis Law a few times and he is a United legend, a lovely bloke.
"I get it. Sometimes there is a bit of bending of the truth when it comes to rivalries."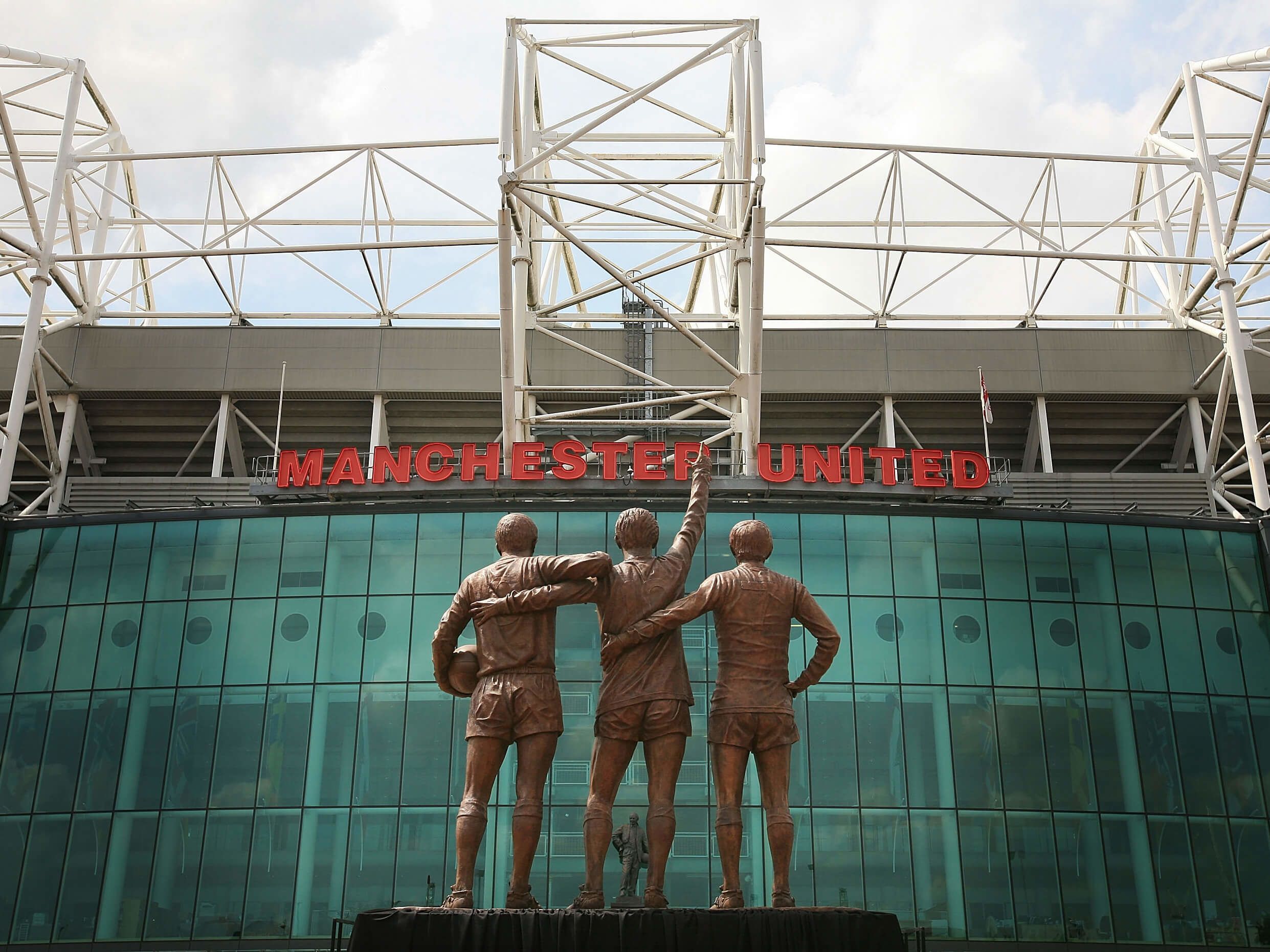 Two years later, City won the League Cup to claim further bragging rights over their rivals, but this would be the high point of a period of stability under ex-player and now boss Book before a steep decline set in.
Barring a handful of isolated results, it would be 35 years before they could properly crow to their neighbours again.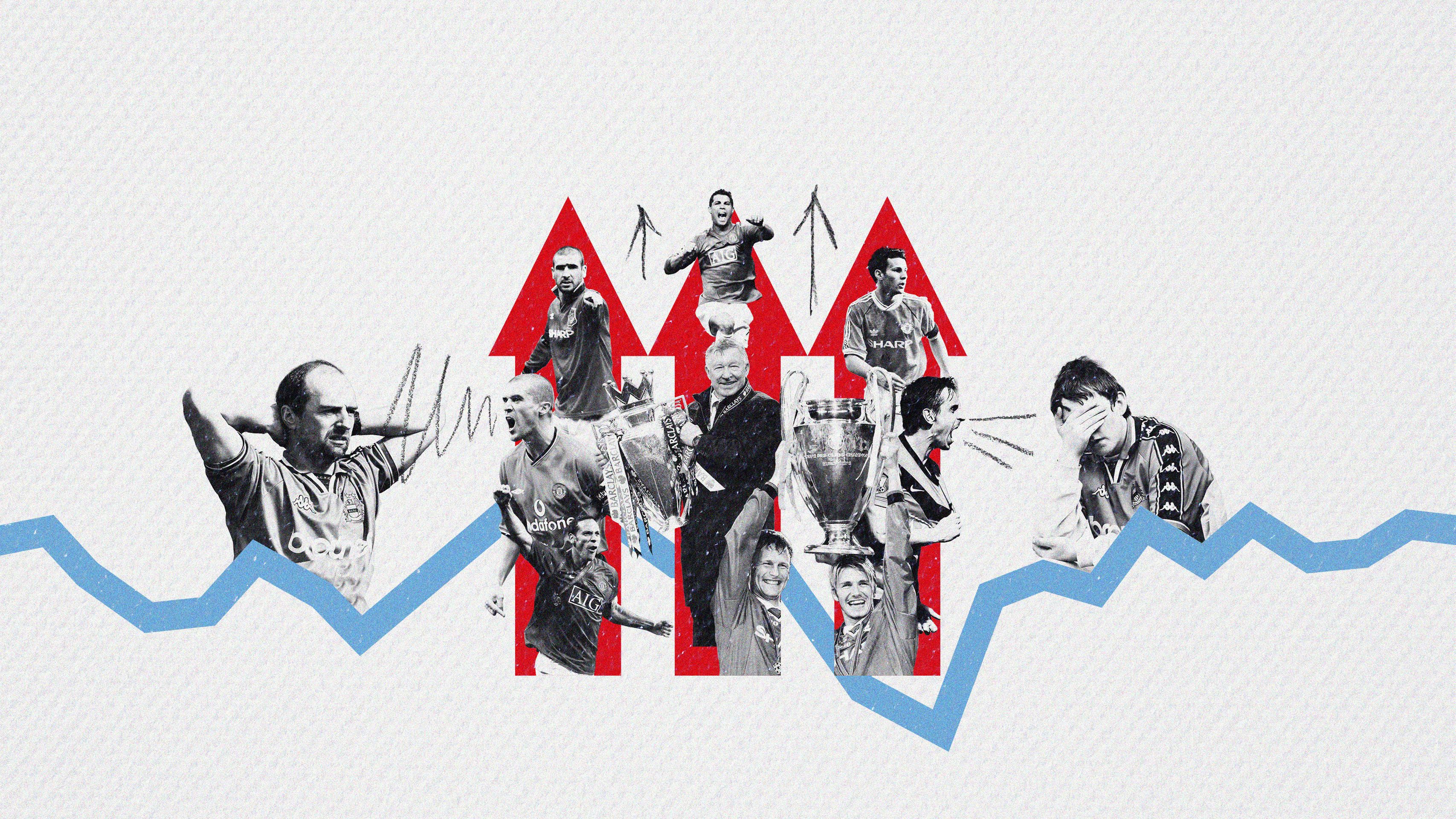 United's Era
For close to three decades either side of the millennium, United painted Manchester red.
In 31 of the 32 seasons from 1980 to 2012, they finished above City in the league ladder, suffering just two derby defeats in that time - 1-0 in 1981 and 5-1 in 1989, both coming at Maine Road. The latter of those two games is one our two fans remember well, but understandably for different reasons.
"It was a freak result, really," says Rothband. "Our FA Youth Cup-winning side of '86 had come through with Steve Redmond, Paul Lake and Ian Brightwell and so on and it was just one of those moments where you can think 'that was good' – a joyous moment in time.
"It was a moment to have some bragging rights in the city and with your friends who are Stretford fans."
Motty adds: "My first derby memory is of that 5-1 hiding at Maine Road. Most of my mates at school were United fans, but there were a few who supported City. They gave us a bit of stick and it was horrible.
"The only goal I can remember from that day was Mark Hughes' volley, as you can imagine. But the derby was very kind to us after that for a long time."
It certainly was. United would remain unbeaten against City for the next 13 years.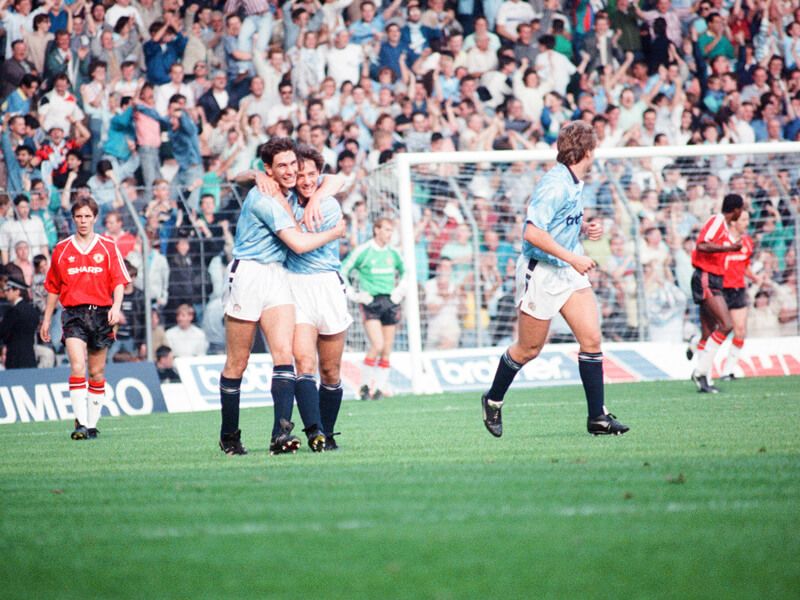 What began as a gap between the two in the 1980s - illustrated by United claiming a trio of FA Cups and consistent top-four finishes as City bounced between divisions one and two - became a vast gulf in the following decade, during which United remained undefeated against a City side heading to their lowest ebb.
Key to United's dominance was the arrival at Old Trafford of Alex Ferguson, who overcame a sticky start to oversee a period of unprecedented success at a time when English football became the biggest show in town following the top-flight's rebranding as the Premier League.
In 26 years as Red Devils boss, the Scot won a remarkable 38 trophies, including 13 Premier League titles, two Champions League crowns, five FA Cups and four League Cups.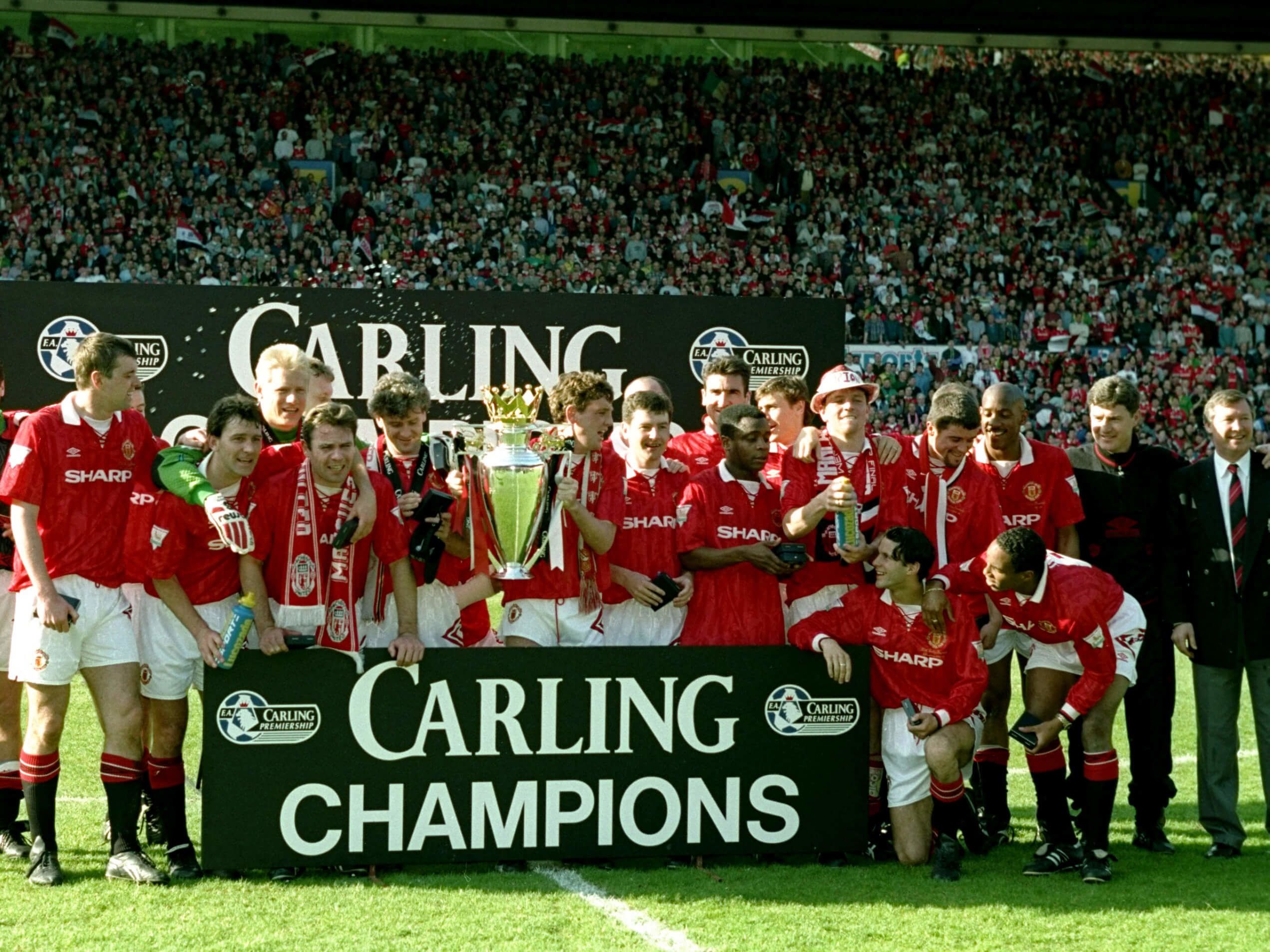 Even when United were beaten to the title in that period it was often by the slenderest of margins, with the Reds never finishing lower than third between 1991-92 and 2012-13 - the last of Ferguson's seasons in charge.
So consistently brilliant were Ferguson's sides in this period they became the nemesis of practically every team in the division, certainly those with title aspirations.
Few could live with them, certainly not over a prolonged period. Arsene Wenger's Arsenal managed it briefly, as did Jose Mourinho's Chelsea. Blackburn and Newcastle gave it a decent shot. Liverpool, the best side of the 1980s, were - as Ferguson threatened - knocked off their perch.
"My earliest memory is of City beating us in '89," says Motty. "The season after, City finished above us in the league. But once we started winning things, we just kicked on, winning titles and the Champions League.
"We were in dream world."
He continues: "During that time City were just a comedy club. They were rattling through managers, never did anything, got relegated. They always seemed to be imploding."
Indeed, as the Scot was establishing his United dynasty, City were in decline, burning through bosses such as Brian Horton, Alan Ball, Steve Coppell and Frank Clark and heading not just out of the top flight but to the third tier for the first time in their history courtesy of a second relegation in 1997-98.
"I remember that game where they thought they were staying in the Premier League if they got a draw and they were timewasting, but really they needed to win," says Motty, recalling the match against Liverpool on the final day of the 1995-96 season - a game that ended 2-2, confirming City's relegation. "The fans were screaming at them that they needed another goal. It was 'let's all laugh at City'."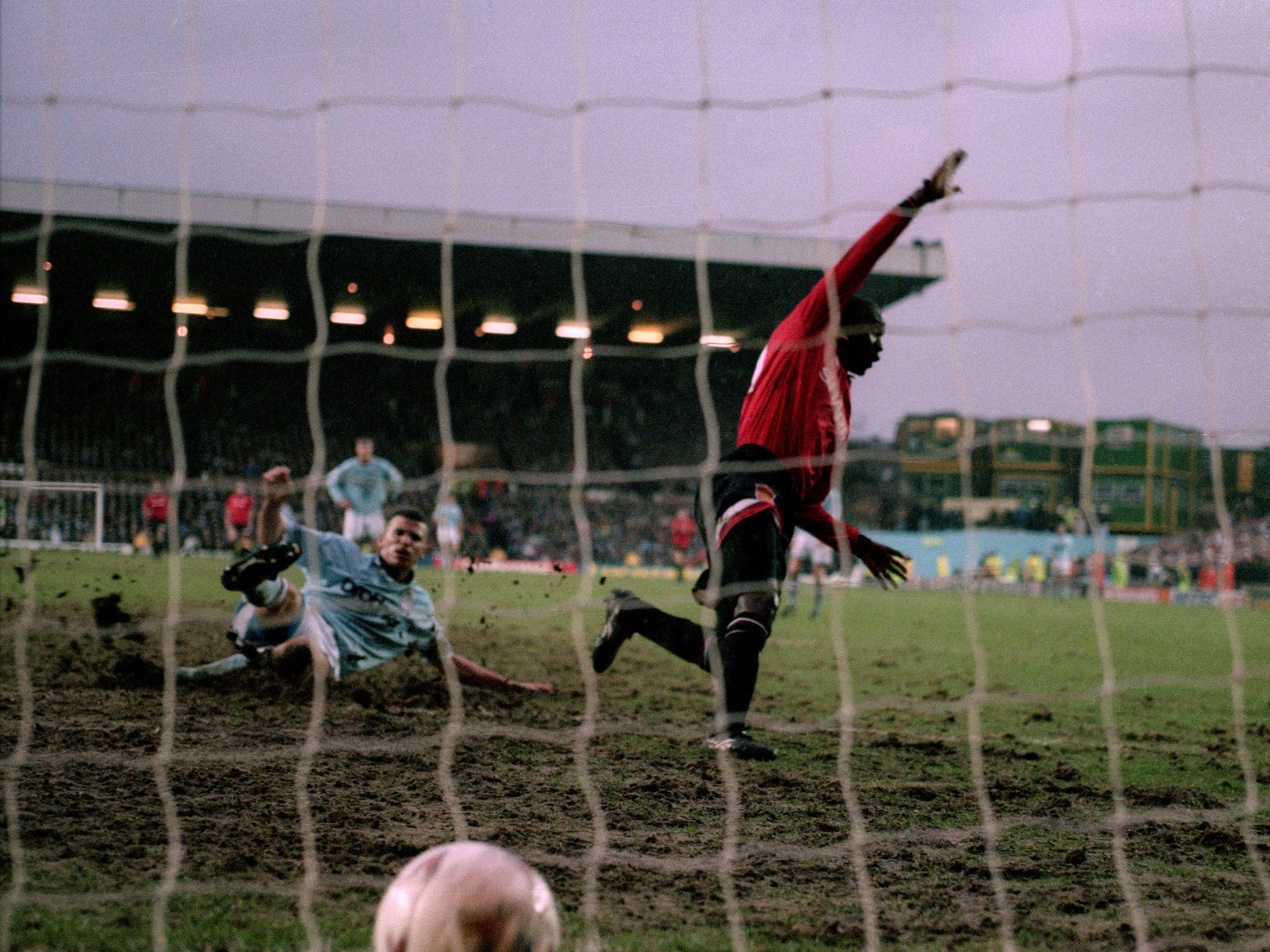 In contrast, City fans struggled to find the funny side of their failure, instead fatalistically leaning into a long-standing belief about their club that can be captured in a simple two-word phrase.
"It is 'typical City'," explains Rothband. "I think we are losing it now but in that period it was the thought that if it can go wrong, it will go wrong.
"We were changing managers every season, sometimes twice a season. In many Stretford fans' eyes, we were a laughing stock.
"But it wasn't really a rivalry then. We were heading off to the third tier of English football and they were winning stuff.
"That just built that hatred I had as a young man and facing all those coins and bottles being thrown across by their fans. To go from those games in the late 60s and early 70s to then a situation where they were riding high – it was painful. I still bear the scars today.
"I wanted them to lose every game they played. Every Champions League final I was desperate for whatever team they faced to beat them.
"People would say to me 'but they're the English side' - but I didn't care, I wanted them to lose every game. I still do. It is ridiculous. I am a 65-year-old grown man."
To cram salt in their wounds, City would suffer some notable and painful derby defeats on the way to rock bottom.
This included a debut winner for a then 17-year-old Ryan Giggs in a 1-0 United win on 4 May 1991 at Old Trafford. The Welsh winger had begun his career with City but switched to United aged 14.
Eric Cantona made his Man Utd debut against City in a 2-1 United win on 6 December 1992. The mercurial French forward would be an especially sharp thorn in the Blues' side during his time as a Red Devil, scoring eight goals in derbies over four seasons, including two the following season as United came from two goals down to win 3-2 in a classic at Maine Road.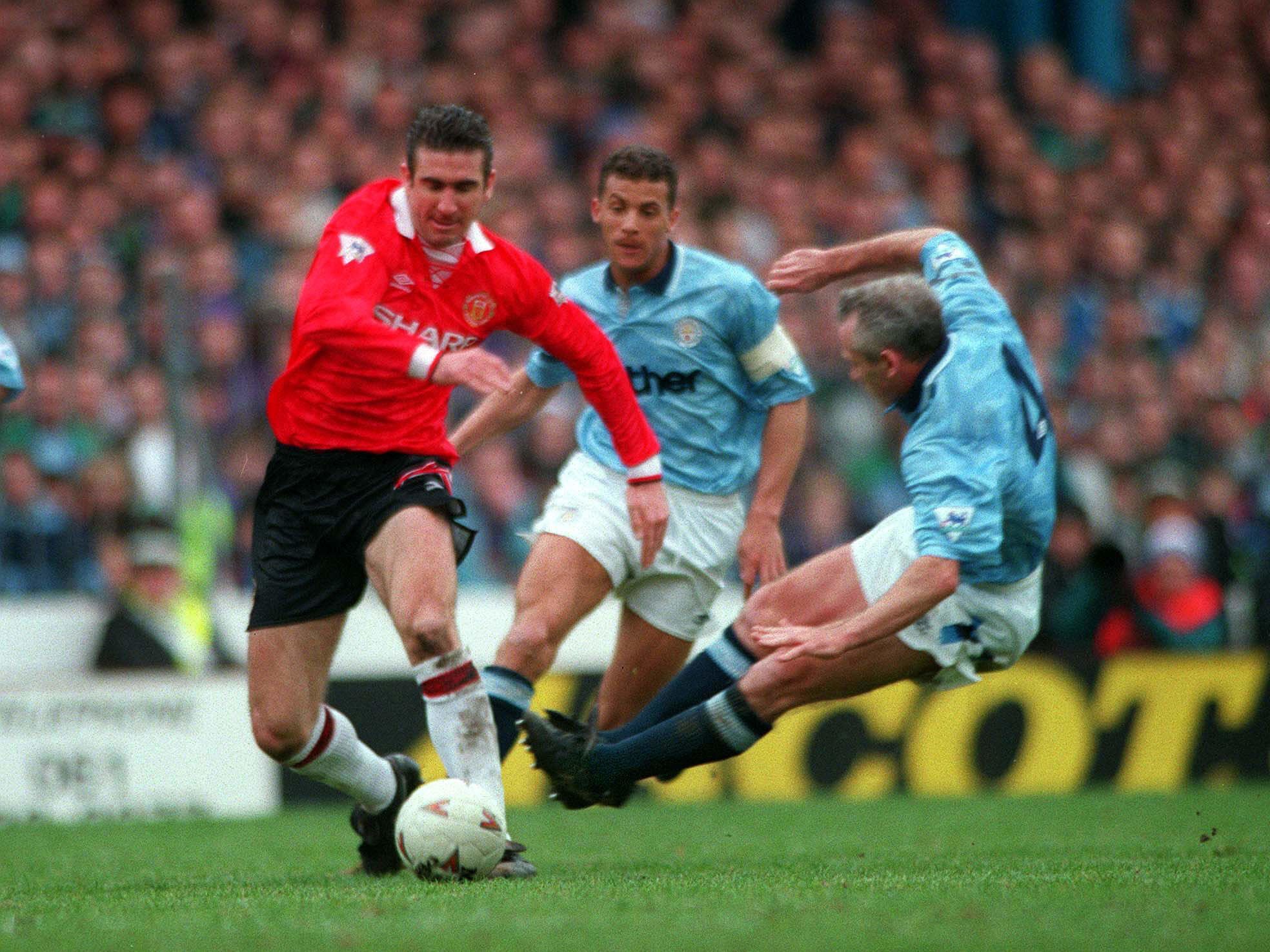 Cantona was on target again the following year but was forced to play second fiddle to Russian winger Andrei Kanchelskis, who netted a hat-trick in a 5-0 thrashing of City at Old Trafford.
The final goal of Cantona's prolific run against City came via the penalty spot in another 3-2 win at Maine Road on 6 April 1996. It would be four years before the two sides met again.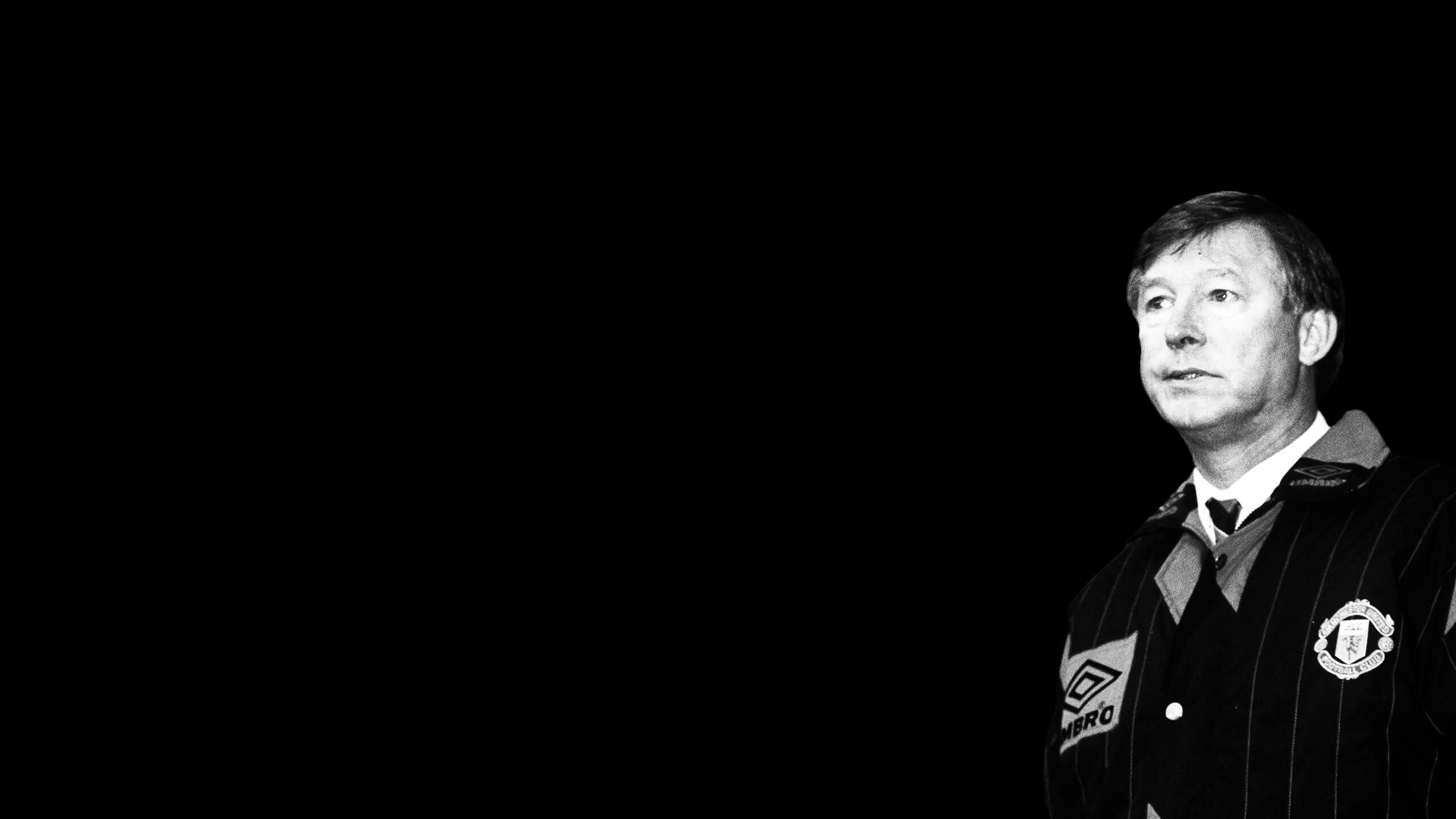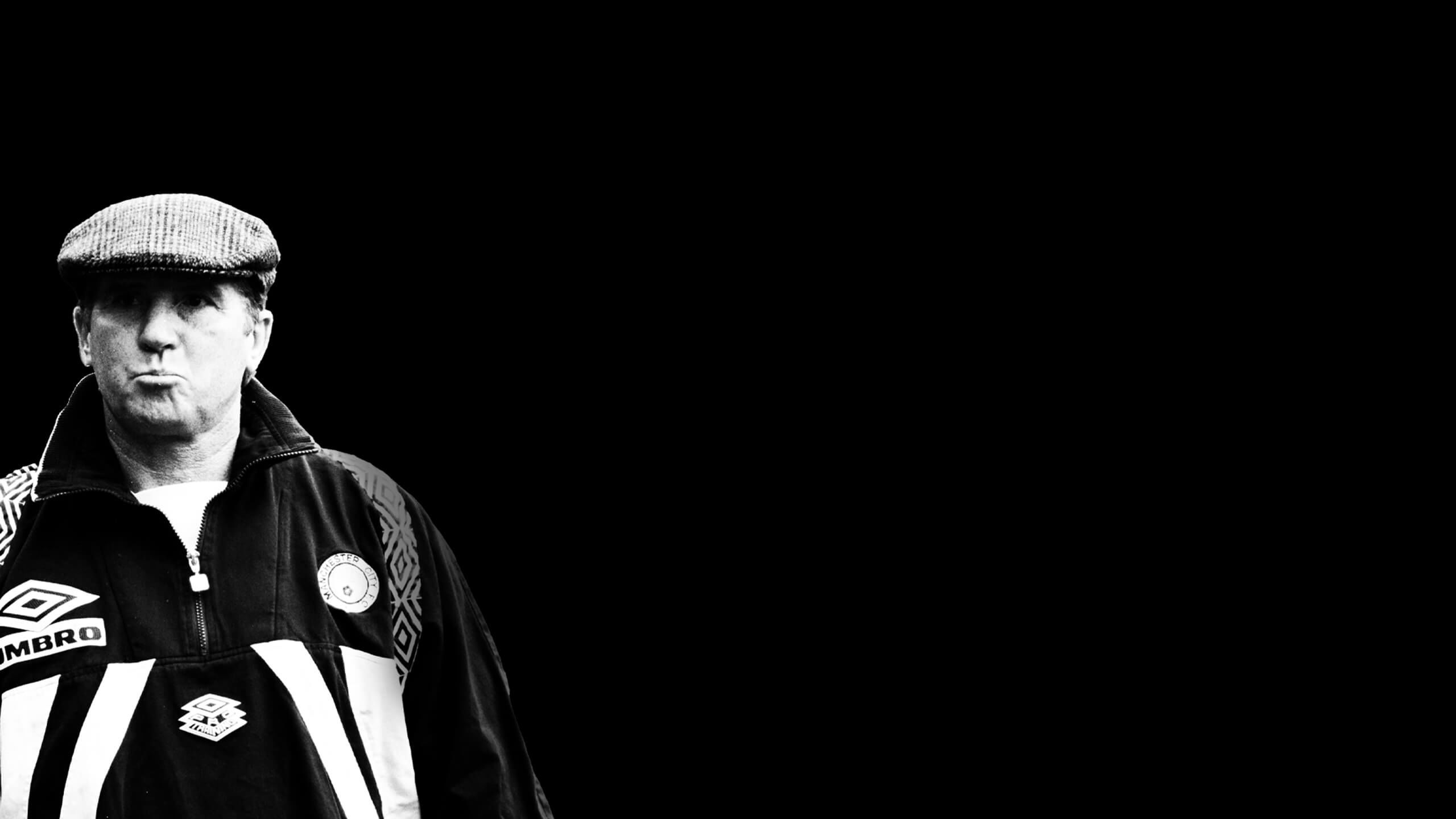 As United were beating Arsenal and Chelsea in the Premier League and Barcelona and Juventus in the Champions League, City found themselves losing at Lincoln, Wycombe and York in Division Two.
Thankfully for the Blues, their exile in the third tier would last only a season as a superb run of form in the second half of the campaign saw them reach the play-offs and set up a genuine moment to celebrate as Paul Dickov's injury-time goal took the game to extra-time and a penalty shootout, which they won 3-1 thanks to some heroics from goalkeeper Nicky Weaver. The tanker had turned.
"For that play-off final, I was fortunate to have my wife stood next to me and my father, who is 103 this August so in his late 70s then," says Rothband.
"My wife has said she's never ever seen me like that before when that Dickov goal went in. I completely and utterly lost it.
"I did, because that moment – and it has proved to be the case – was where everything turned, on that goal. Our whole history on that goal. United were better than us then but we had our moment."
United had underlined just how much better they were four days earlier by completing a historic Treble with their last-gasp comeback win over Bayern Munich in the 1998-99 Champions League final.
To an even greater degree than City at Wembley that season, all hope seemed lost for United as the game entered injury time with the German side leading 1-0.
Goals from substitutes Teddy Sheringham and Ole Gunnar Solskjaer flipped the contest dramatically to give the Reds their second European crown on what would have been the 90th birthday of the man who delivered their first - Sir Matt Busby.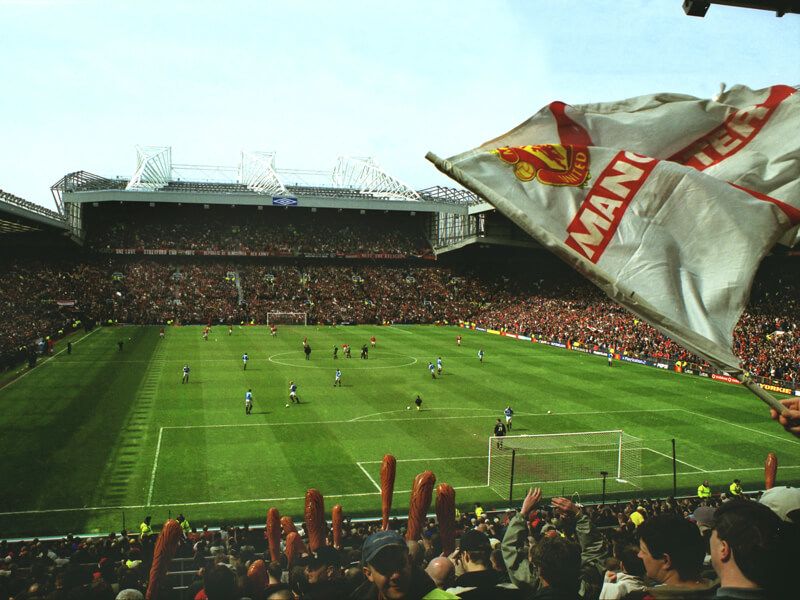 City's return to the top flight under Joe Royle in 2000 not only rekindled the rivalry between the two clubs but acted as a showcase for the culmination of a smaller but no less fierce individual feud.
Back in 1997, United midfielder Roy Keane had suffered a cruciate ligament injury as a result of a foul by then-Leeds midfielder Alf-Inge Haaland, who subsequently accused the Irishman of feigning his pain as he lay in agony on the Elland Road turf. The injury would keep Keane out of action for eight months.
In the first Old Trafford derby in four years, with Haaland now lining up for City, Keane flew into a vicious knee-high tackle on the Norwegian that left him a crumpled heap on the turf.
Keane wasted no time in leaning in to utter a few choice words to his victim. He would continue his diatribe (unprintable here) in the first of his two autobiographies published in 2002, in which he made the tackle appear to be a premeditated assault.
He was sent off in the game, which ended 1-1, and later fined £150,000 and banned for five matches by the FA following his comments in print.
In a second book, published in 2014, he said he did not regret the tackle but attempted to set the record straight by admitting his intent to hurt Haaland but not injure him.
That season United went on to win what would be the second of a hat-trick of titles as City went back down to the Championship.
"I'm disappointed in the other Manchester City players. They didn't jump in to defend their team-mate. I know that if someone had done that to a United player, I'd have been right in there."
City would bounce straight back up to the top flight, this time under the management of Kevin Keegan - a man who brought with him the baggage of his infamous on-camera rant as Newcastle boss during the title run-in with Manchester United in 1995-96.
Keegan did, however, provide some sweet moments for City against their rivals.
Under his management, they won the final derby played at Maine Road in 2002, with Shaun Goater cementing his legend with two goals in a 3-1 win - City's first against United since 1989.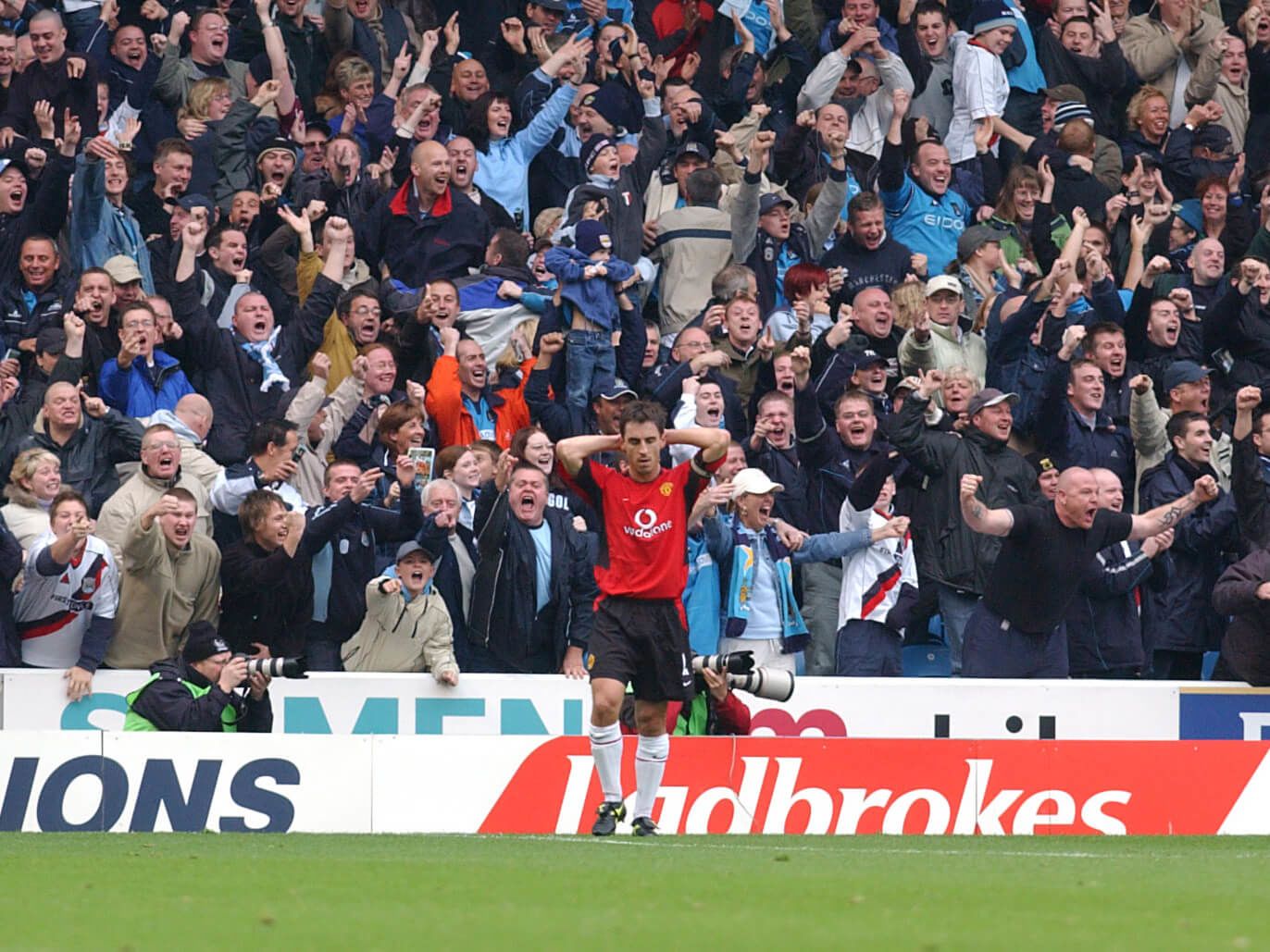 Goater would score again at Old Trafford in a 1-1 draw to ensure City remained unbeaten against United in a season for the first time since 1991-92.
City would also claim victory in the first derby played in their new home - the City of Manchester Stadium - with Robbie Fowler, Jon Macken, Trevor Sinclair and Shaun Wright-Phillips netting in an emphatic 4-1 win.
In the grander scheme, though, United remained in the ascendancy, challenging at the top of the table, albeit not with quite the same success thanks to the emergence of Chelsea under the ownership of Roman Abramovich and management of Jose Mourinho.
The club was also heading for a change of ownership, with the American Glazer family acquiring a majority shareholding in May 2005, before delisting it from the London Stock Exchange. In response, a group of fans set up a splinter club, FC United of Manchester - an early act of protest against the Glazers that would only grow over the years that followed.
Ferguson's side were firmly back in their title-winning groove in the 2007-08 season when the pair met at Old Trafford for what would be a significant and extremely poignant derby.
Having beaten United 1-0 on their own turf, City headed to United on 10 February 2008 for a contest overshadowed by the 50th anniversary of the Munich air disaster four days earlier.
City would win the game 2-1 to give them a first win at Old Trafford since 1974 and a first league double over their rivals since 1969-70.
What many recall of the day, though, is the respectful minute's silence that preceded the game, the scarves held aloft by both sets of fans and the kits worn by both clubs - City's without a sponsor, United in the classic 'Busby era' kit worn by the home side, also free of sponsorship and numbered 1-11.
"Whether red, blue or uncommitted, the city of Manchester was totally united in grief. It was a Manchester tragedy, a football tragedy...
"City fans grieved as much as United fans did. They lost one of their greatest ever players in goalkeeper-turned-journalist Frank Swift - there was a sense of oneness in that."
City won the battles between them that season but United emerged victorious in the greater conflict, claiming the middle title of what would be a second hat-trick of Premier League crowns while also winning their second Champions League trophy under the now Sir Alex Ferguson.
City finished ninth, an improvement on their previous two campaigns but still a somewhat disappointing one following the optimism that had greeted the takeover of the club by former Thai Prime Minister Thaksin Shinawatra and his appointment of ex-England boss Sven Goran Eriksson as manager.
Neither would last long at the club, with the Swede's reign ending with a humiliating 8-1 final-day away defeat by Middlesbrough and Shinawatra's ownership thrown into chaos and uncertainty by the freezing of his financial assets in his home country.
However, just around the corner lay a change of circumstances that would not just bring City back from the brink of ruin but make them the envy of football fans across the world.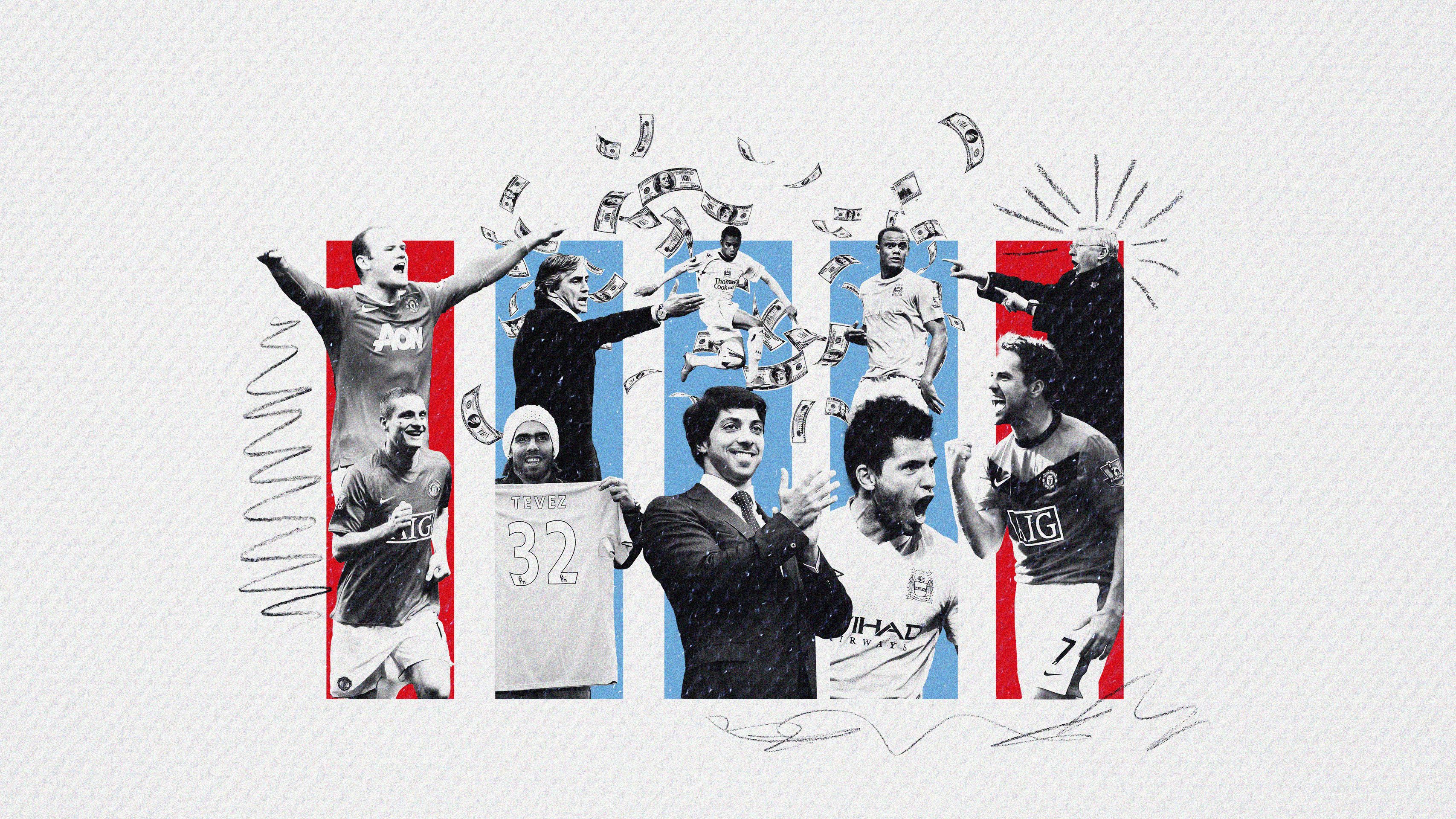 City hit the jackpot
It wasn't immediately apparent but football in England fundamentally changed on 23 September 2008, as did the course of the rivalry between the two Manchester clubs.
This was the date on which the Abu Dhabi United Group, backed by Sheikh Mansour Bin Zayed Al Nahyan, took control of City.
"I think at that time we just all thought 'oh, well there's some money coming in and it might not be here to stay' - because our history didn't suggest it would be any different," admits Rothband.
It was a sentiment shared on the other side of the divide, as Motty explains: "I was down in London studying at the time and a mate of mine asked me: 'Are you worried about City?' And I remember saying: 'It'll go the same way it always does with City.' I didn't see it working out."
Their first player investment was a serious sign of intent, as forward Robinho was signed from Real Madrid for a British record £32.5m. The Brazilian showed flashes of brilliance but was ultimately a disappointment. However, his capture was a indication of where City were heading.
The immediate future was a now familiar one - United won another Premier League title, a League Cup and added the Club World Cup to their list of honours in 2008-09, also reaching the semi-finals of the FA Cup and the Champions League final, where they were beaten by a Barcelona side managed by one Pep Guardiola.
An inconsistent City, then managed by ex-United striker Mark Hughes, failed to lay a glove on their rivals that season, losing both derbies as they finished 10th in the league, although they were able to enjoy a run to the quarter-final of the Uefa Cup.
They were about to ruffle a few feathers at Old Trafford, though, thanks to some transfer opportunism and a very cheeky marketing ploy.
"It's City isn't it? They're a small club with a small mentality. All they can talk about is Manchester United; they can't get away from it. They think taking Carlos Tevez away from Manchester United is a triumph. It is poor stuff."
In their first full summer transfer window in charge, City's new owners sanctioned a spending spree that saw the club acquire talents from other Premier League rivals - Emmanuel Adebayor and Kolo Toure from Arsenal, Gareth Barry from Aston Villa, Roque Santa Cruz from Blackburn and Joleon Lescott from Everton.
It was the capture of Carlos Tevez that really got people talking, including the United manager.
The Argentine forward had excelled in red during a two-year loan spell, scoring 34 goals in 99 games including one in a 2-0 derby win over City in May 2009 that prompted home fans to chant: "Fergie, Fergie, sign him up."
However, after rejecting United's offer of a permanent deal, he instead joined City, stating they had shown him "their ambition to be one of the biggest clubs in the world".
In response, City erected a blue billboard on Deansgate, in the middle of the city, with a picture of Tevez and 'Welcome to Manchester'. Ferguson's retort was to brand them a "small club with a small mentality".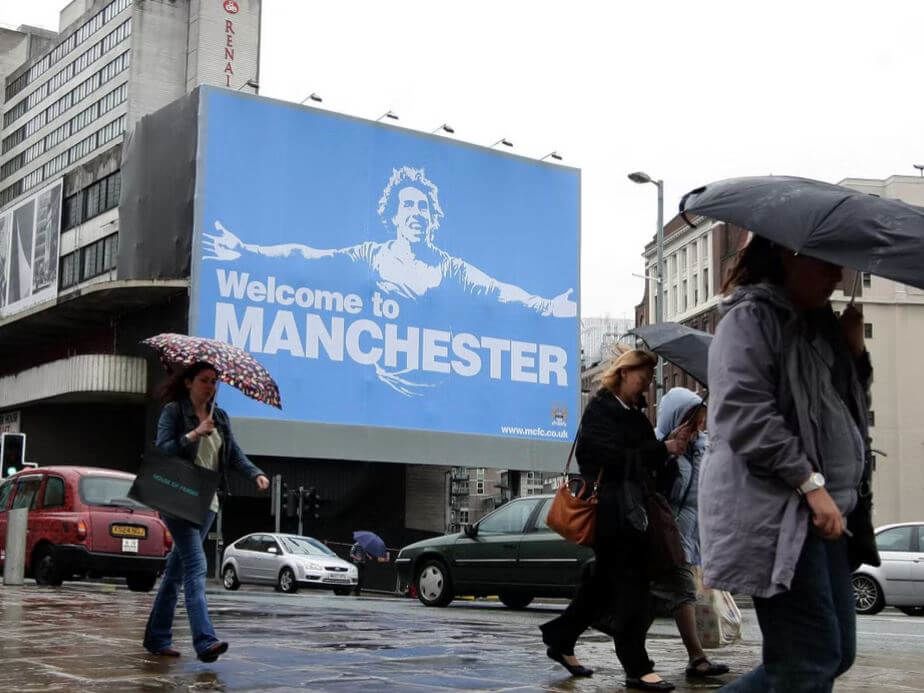 City were certainly talking the talk, but they were yet to fully walk the walk.
A much-improved season saw them finish fifth after Roberto Mancini had succeeded Hughes as manager, but they lost three big derby contests. United won 1-0 at the Stadium of Manchester and also came back to beat City 4-3 over two legs in a League Cup semi-final. But it was the first meeting of that 2009-10 campaign that was the most memorable.
In a thrilling see-saw encounter at Old Trafford, with Tevez in the City side, the visitors thrice came back to level the game, with Craig Bellamy making it 3-3 in the 90th minute.
The final word would go to United and the man they signed to replace Tevez, as Michael Owen dramatically won the game with a typically-efficient poked finish six minutes into injury time.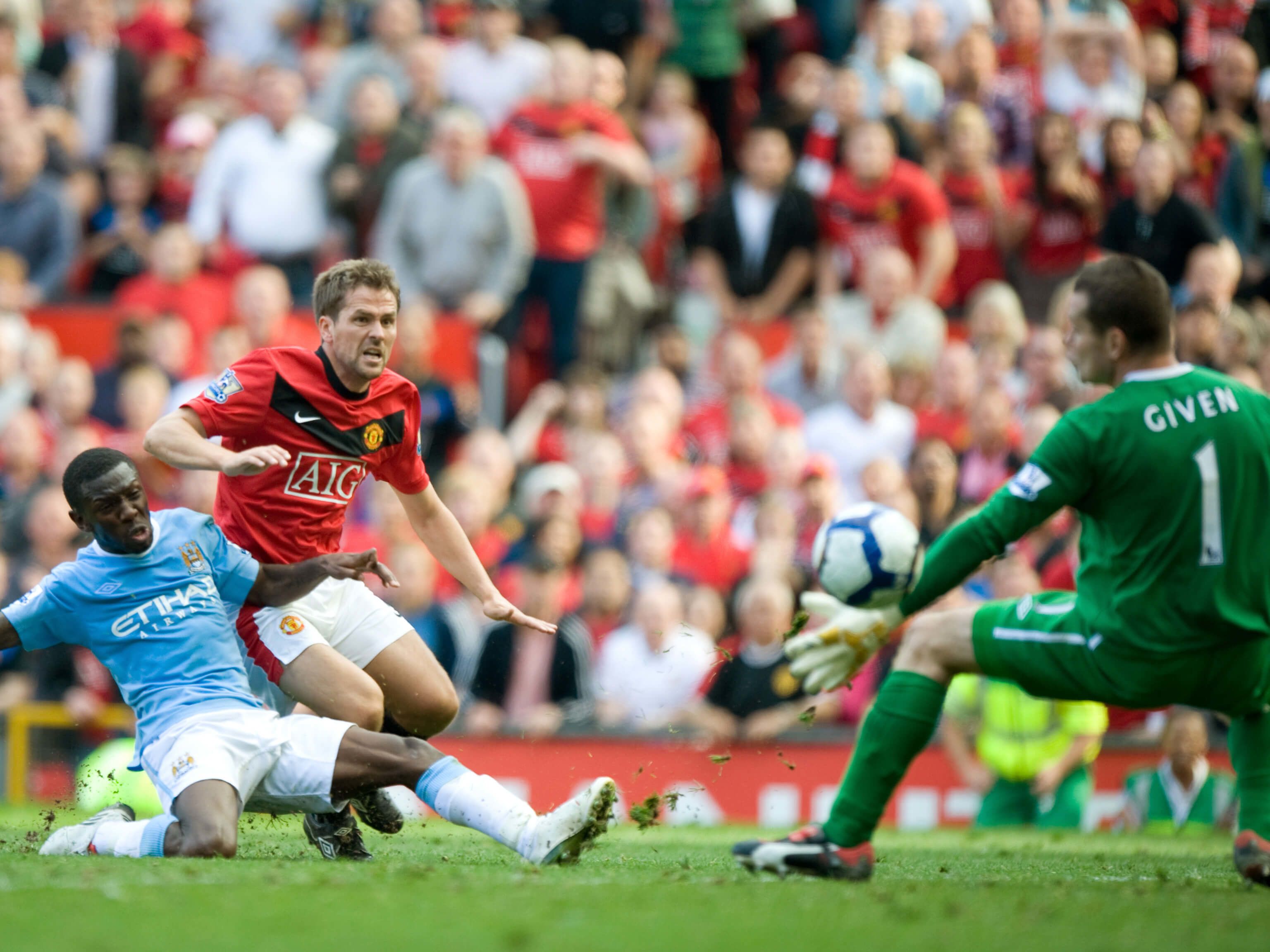 Bragging rights remained with the reds, but it was clear the gap was narrowing between Ferguson's side and the team the Scot had now branded as the "noisy neighbours".
"I love Sir Alex Ferguson," says Motty. "He made my life immeasurably better. He is the greatest manager of all time. But I think he suffered a little bit of what we all suffered from a United point of view – maybe not taking them [City] seriously enough.
"I don't blame him but in hindsight it was a mistake not to take more seriously the threat they posed.
"It felt like a club that had come into money but didn't have a huge amount in terms of history, at least not in comparison to United. They were struggling to sell out a ground that had 25-30,000 fewer seats than ours.
"There was still the feeling that United are the bigger club, the dominant force and will remain that.
"I got the impression, and I still do a bit, that everything they do they measure it against United. They weren't in our heads enough while they were thinking 'we need to do what United is doing and do it better'."
The space between them narrowed again the following season as City struck a significant blow, winning an FA Cup semi-final between the two at Wembley before going on to win the competition with a 1-0 win over Stoke on 14 May and end their 35-year trophy drought.
"I remember really well driving to Wembley and there were Stretford fans along the way," recalls Rothband. "To be fair to them they really made me laugh because they were pointing the way down the motorway to the ground and how to get there.
"It is now Etihad South, of course, but it had been a while for us back then.
"Yaya Toure got the goal and I hated every minute of it, because I hate playing them anyway. To win that and then go on to beat Stoke and win our first trophy was really, really significant. It put down that marker. And we know what happened from there on in."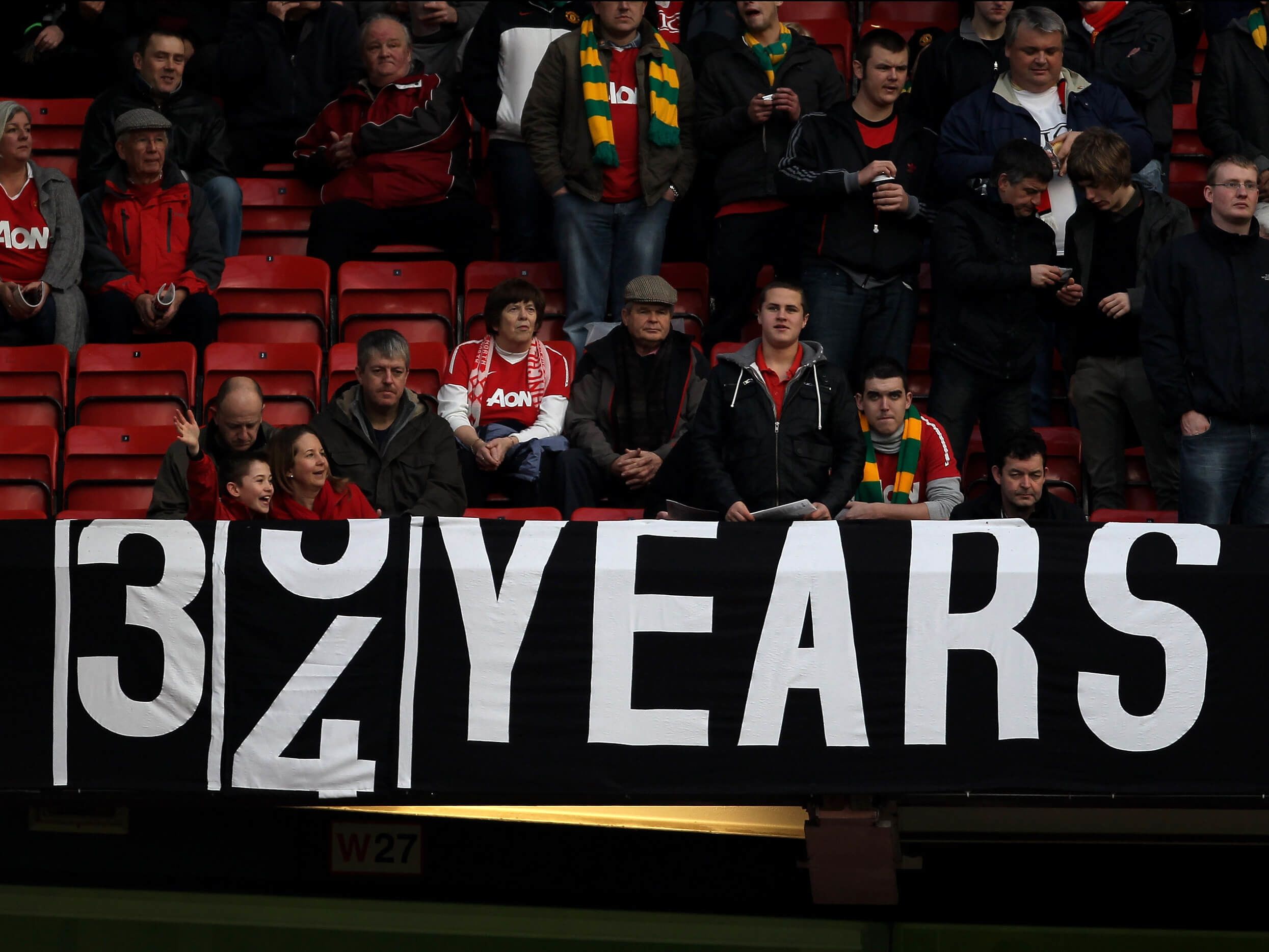 However, while the banner at Old Trafford mockingly stating the time since City's last piece of silverware would have to come down, United were not prepared to cede the limelight just yet.
Fixture congestion meant league matches were played on Cup final day for the first time since 1934, and United's result that day - a 1-1 draw at Blackburn - gave them a record 19th top-flight title.
United would be at Wembley themselves for the final match of the 2010-11 season, but once again suffering defeat by Guardiola's Barcelona in the Champions League final.
It was a blow, but little did the red side know that even tougher times lay ahead.
"Don't ever forget this day, Manchester United"
City had struck a significant blow with their 2011 FA Cup semi-final win. But they floored United in the next meaningful meeting between the two.
On a stunning October Sunday at Old Trafford, a City side inspired by David Silva, Sergio Aguero, Edin Dzeko and, most notably, Mario Balotelli destroyed a United team reduced to 10 men early in the second half, scoring six to inflict on them their worst home defeat since 1955. It was also the first time the Reds had conceded six at home since 1930 and equalled City's highest score in a derby - also 6-1 in 1926.
In celebration of his goal, Italian international Balotelli famously lifted his shirt to show the message 'why always me?' - the question a response to all the media stories concerning his supposed wild off-field antics, including fire crews having to attend his house on the eve of the derby because he had been setting fireworks off inside.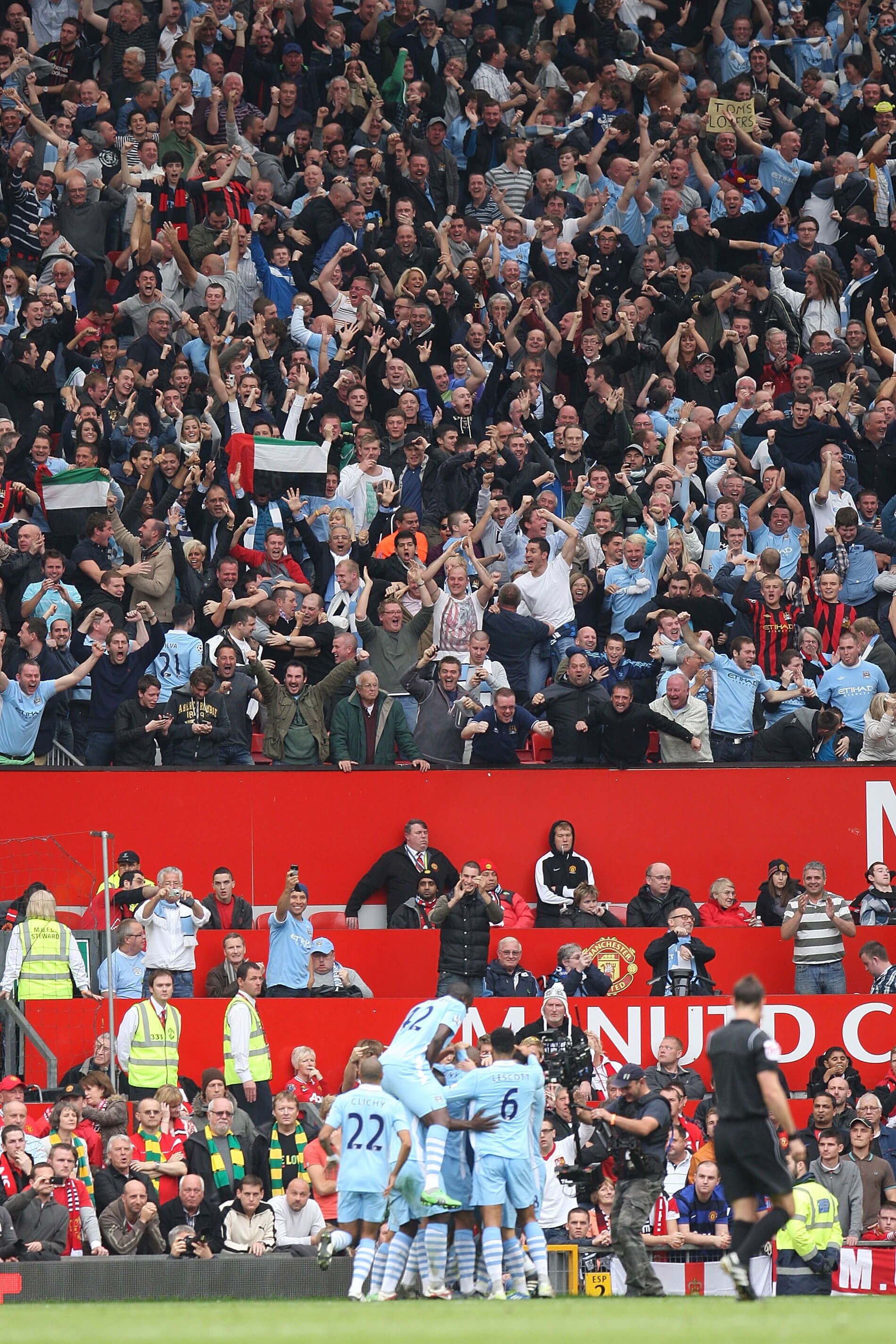 There were verbal rockets from Ferguson in the aftermath, with the Scot describing the game as "our worst ever day... It's the worst result in my history, ever".
It lit the blue touch paper on a season characterised by the tussle between the two sides of Manchester.
United would strike the next blows, knocking City out of the FA Cup via a 3-2 third-round win before then seizing top spot and establishing an eight-point gap as their rivals faltered after dropping just four points from their opening 14 games.
However, after losing to Arsenal on 8 April 2012, City rallied, clawing back ground to set up a crucial clash between the two at the Etihad Stadium.
In a tense and fiercely-contested derby, which saw managers Ferguson and Mancini clash on the touchline, Vincent Kompany's header gave City a 1-0 win and control of the title race again, but only on goal difference.
It remained that way until the final day - one now carved into English football folklore.
On a barely believable Sunday, the fate of the top-flight crown swung one way and the other, with United completing their win over Sunderland as City were being held at home by QPR.
With a hopeful Ferguson and his players making their way on to the pitch and United fans glued to radios and phones in the away end, something truly remarkable was taking place deep, deep into added time at the Etihad...
Just 13 seconds after full-time at the Stadium of Light, Sergio Aguero's 94th-minute strike sparked bedlam at the Etihad, winning the game and the title for City - their first in 44 years, made all the sweeter by the circumstances.
It is a moment that in many ways transcends club allegiance and taps to the very heart of what it means to be a football fan. For United followers it was crushing, but for supporters of City it was the moment of release and reward for decades of loyal suffering - the emotional high point by which all other successes can be measured. This was atypical City.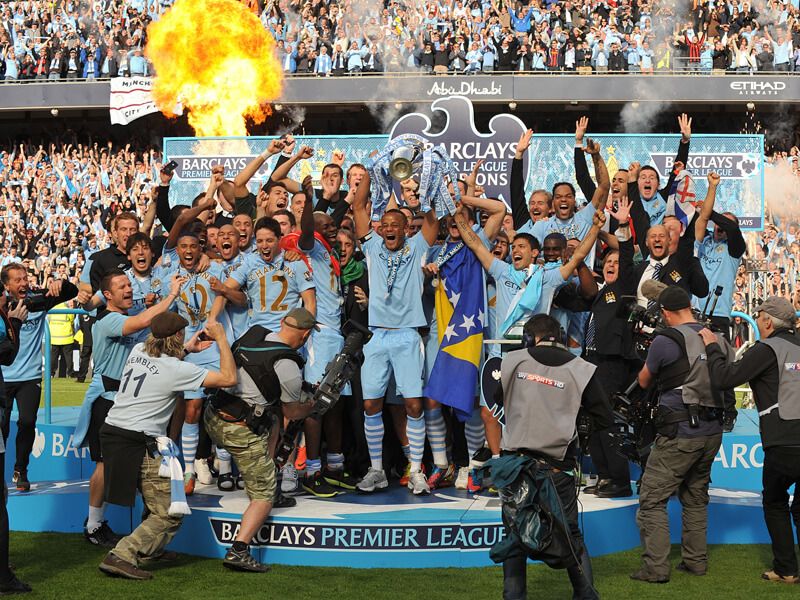 "This is where I get emotional now," says Rothband. "It is so deep rooted. All of that stuff for me from the 60s onwards.
"It wasn't just the points deficit and that we kept going and going and they slipped up and so on. It was the fact they were away at Sunderland and had finished just before us. We hadn't lost at home that season and QPR came and took the lead. What is going on?
"This is where 'typical City' came in. People around us in the stand were all saying it. We were supposed to win the Premier League for the first time ever.
"When Dzeko scored [to equalise late on] I didn't even celebrate, it was just too late. And when that winner went in, I mean, I've spoken about losing it for the play-off final. It was just everything.
"You think of that rolling banner they had at Old Trafford for how long we had gone without winning anything.
"The thing that got me, and they had clearly prepared this, was that on the big screen at the Etihad City had produced a mock up of that banner and it scrolled down and scrolled down and scrolled down to 0. I just thought 'yes!'.
"My dad is 103. If it wasn't for him, I wouldn't be a City fan. He is not going to be around forever. I will not stand next to him at a football ground again. For so long, during all those years of not winning stuff, we wondered if it was ever going to happen again.
"We will probably win the Champions League at some point, but it will never be like that. I can't imagine I'll ever have that moment again. That is what it is all about - those emotional connections."
United would hit back the next season, with Ferguson guiding them to the last of his 13 top-flight titles with the club before retiring.
It included United ending City's unbeaten run of 37 games with a last-gasp 3-2 win at the Etihad, given to them by key summer signing Robin van Persie.
Ugly scenes followed, with United's Rio Ferdinand suffering a cut eye as he was struck by an object thrown during the celebrations and City keeper Joe Hart having to restrain a pitch invader as he advanced towards the defender.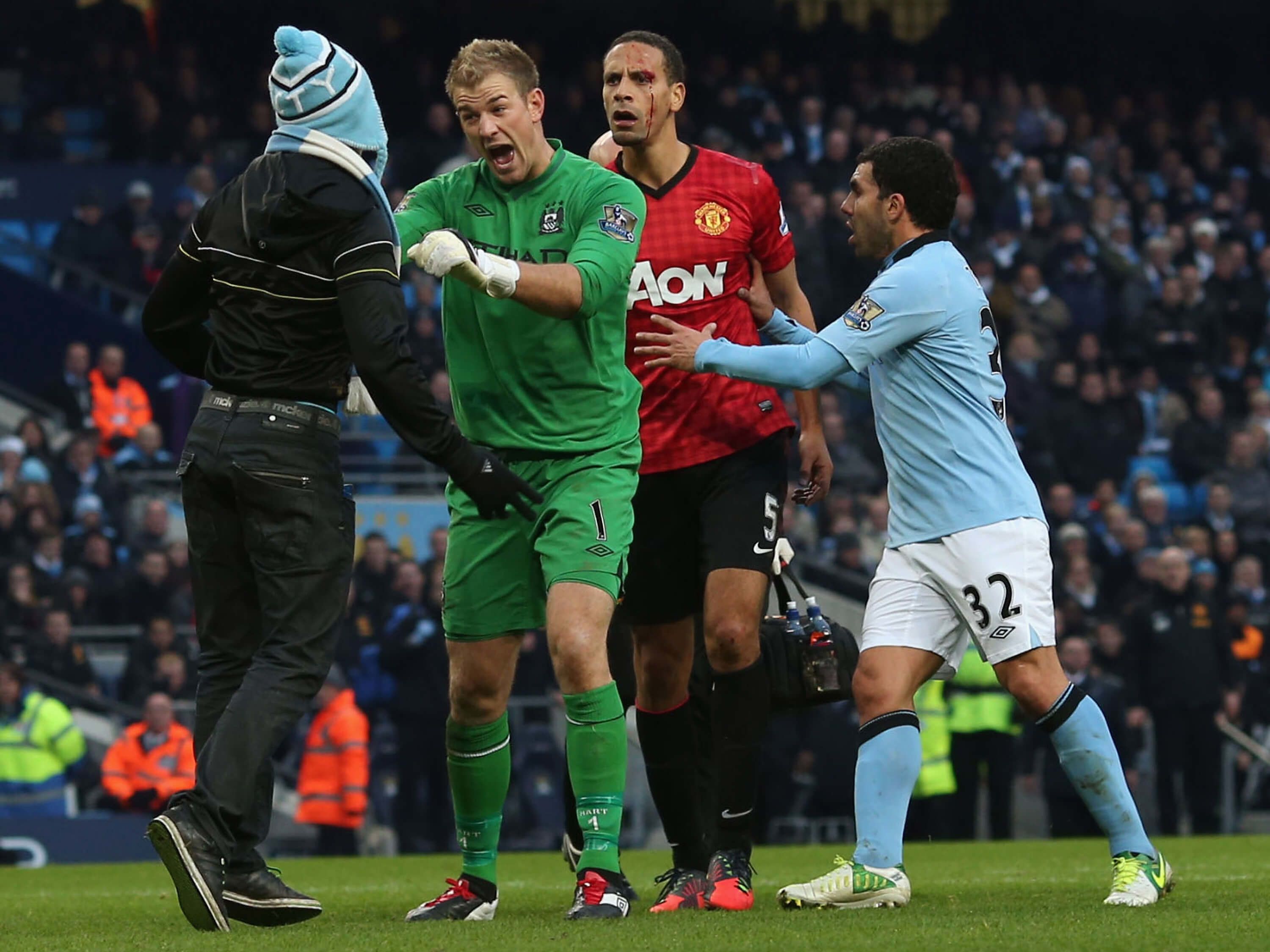 City would win the return game 2-1 but finished 12 points behind United. It remains the Reds' last Premier League title.
"Because we won the title back, we were able to think 'City winning it was horrible, but it feels like a one-off'," says Motty.
"Now you look back and it was such a big moment. It set the tone of what was to come. In 2013, it was actually almost like our last stand."
City, meanwhile, have largely gone from strength to strength.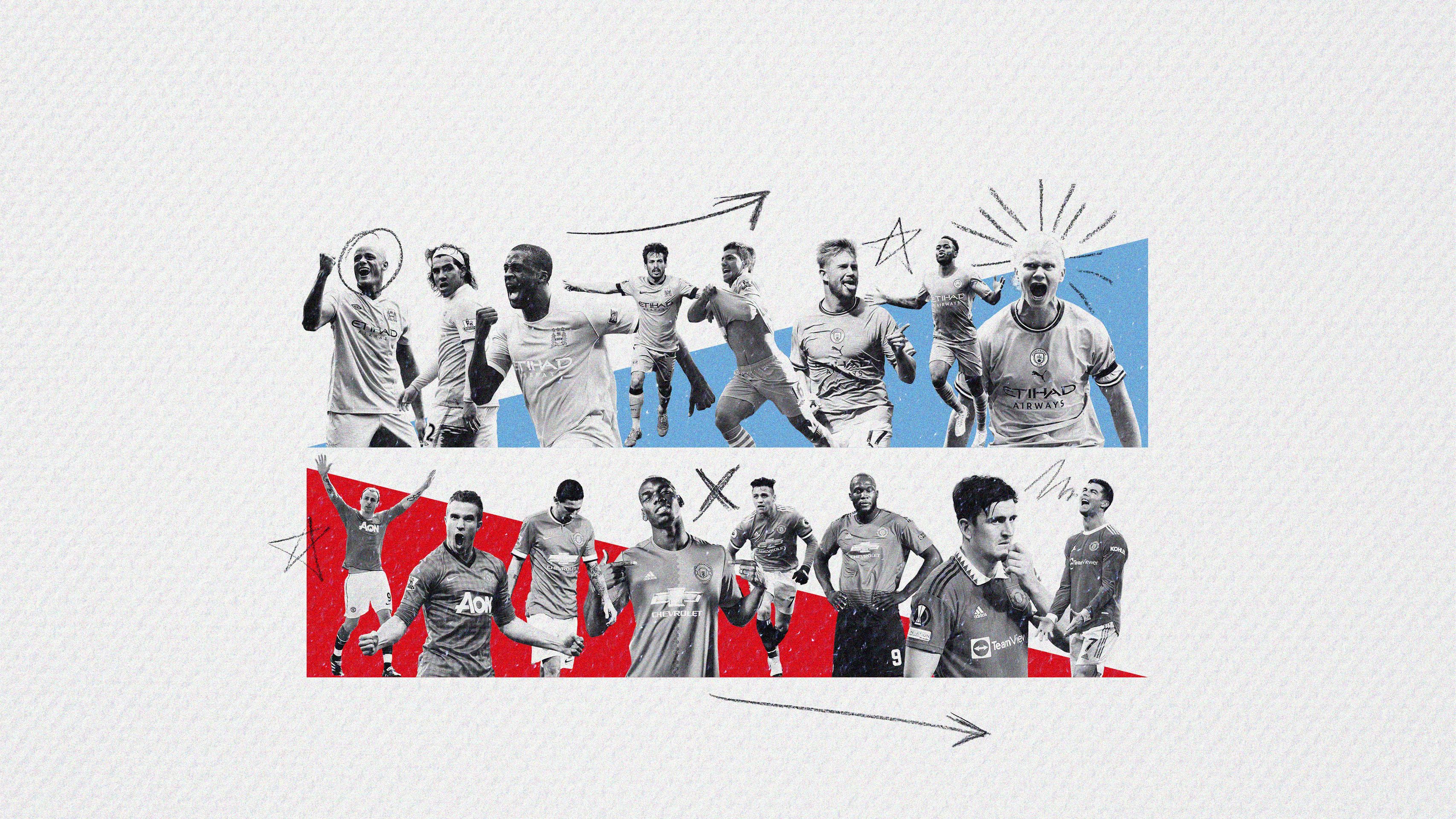 An Arms Race
United's dominance over much of the first 20 years of the Premier League, in an era when more money than ever before was flooding to the English game, gave them enormous clout with transfers.
Until the arrival of Roman Abramovich at Chelsea, they were able to out-gun pretty much anyone else in the market.
City's takeover propelled them into the same spending bracket, their subsequent success making them an equal draw.
It has led to something of an arms race over players between the two in the last decade and a half.
Tevez was an early high-profile example of a player snatched by one from the clutches of another - a capture also subsequently used by one to seek acclaim over the other.
With Ferguson at the helm, United were not only strong but smart in their recruitment. Even in the early years of City's newfound wealth, the Scot was able to successfully sell his project to significant players whom their rivals were also chasing - Dimitar Berbatov and Van Persie being high-profile examples.
However, City have learned from mistakes and refined their transfer strategy over the years, helped chiefly by the arrival of a trio of former Barcelona employees - Ferran Soriano as CEO, Txiki Begiristain as Director of Football and then Guardiola as manager.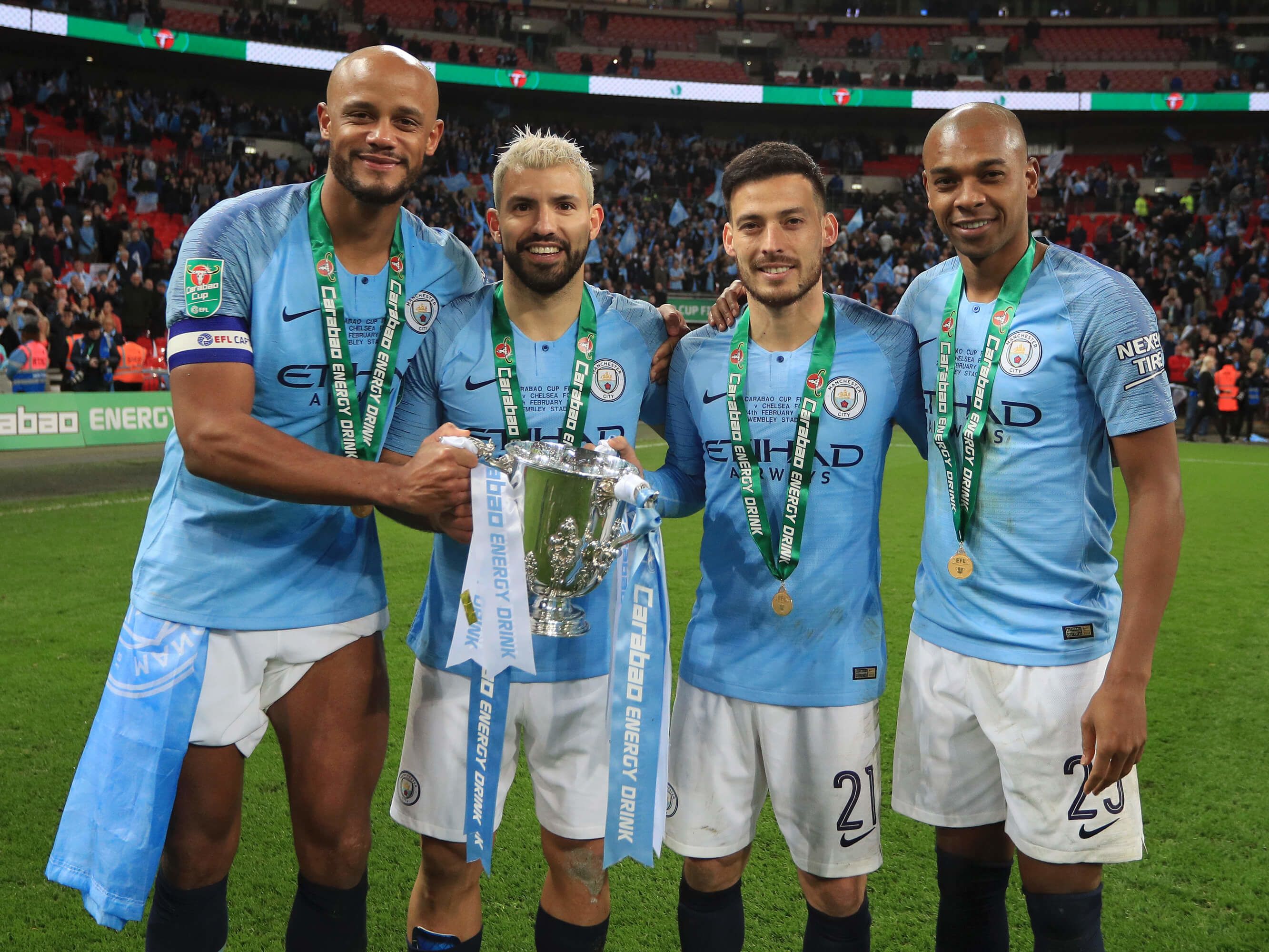 Intelligent recruitment was happening prior to Guardiola's arrival, though, with signings such as Kompany, Pablo Zabaleta, Fernandinho, Yaya Toure, Silva and Aguero providing the core of the side that did the double over United en route to another title under Manuel Pellegrini in 2013-14.
It was in this season that United recorded their lowest league finish in 24 seasons, taking seventh under the initial management of Ferguson's anointed successor David Moyes and then his interim replacement Giggs.
Post-Ferguson, with previous levels of success proving elusive, United's transfer strategy became more reactive and increasingly profligate under a series of differing managers.
Fortunes were lavished on the likes of Marouane Fellaini, Juan Mata, Angel di Maria, Memphis Depay, Paul Pogba, Romelu Lukaku and more - talented players, but none able to form a cohesive collective to provide consistent success.
In some cases their eagerness to beat City to the punch led to expensive missteps, such as the signing of Alexis Sanchez on a £400,000-a-week deal not long after the Blues had opted against it for fear of affecting their team spirit.
The Chilean forward would score just five times in 45 games for United before being moved away to Inter Milan on a loan and then permanent move.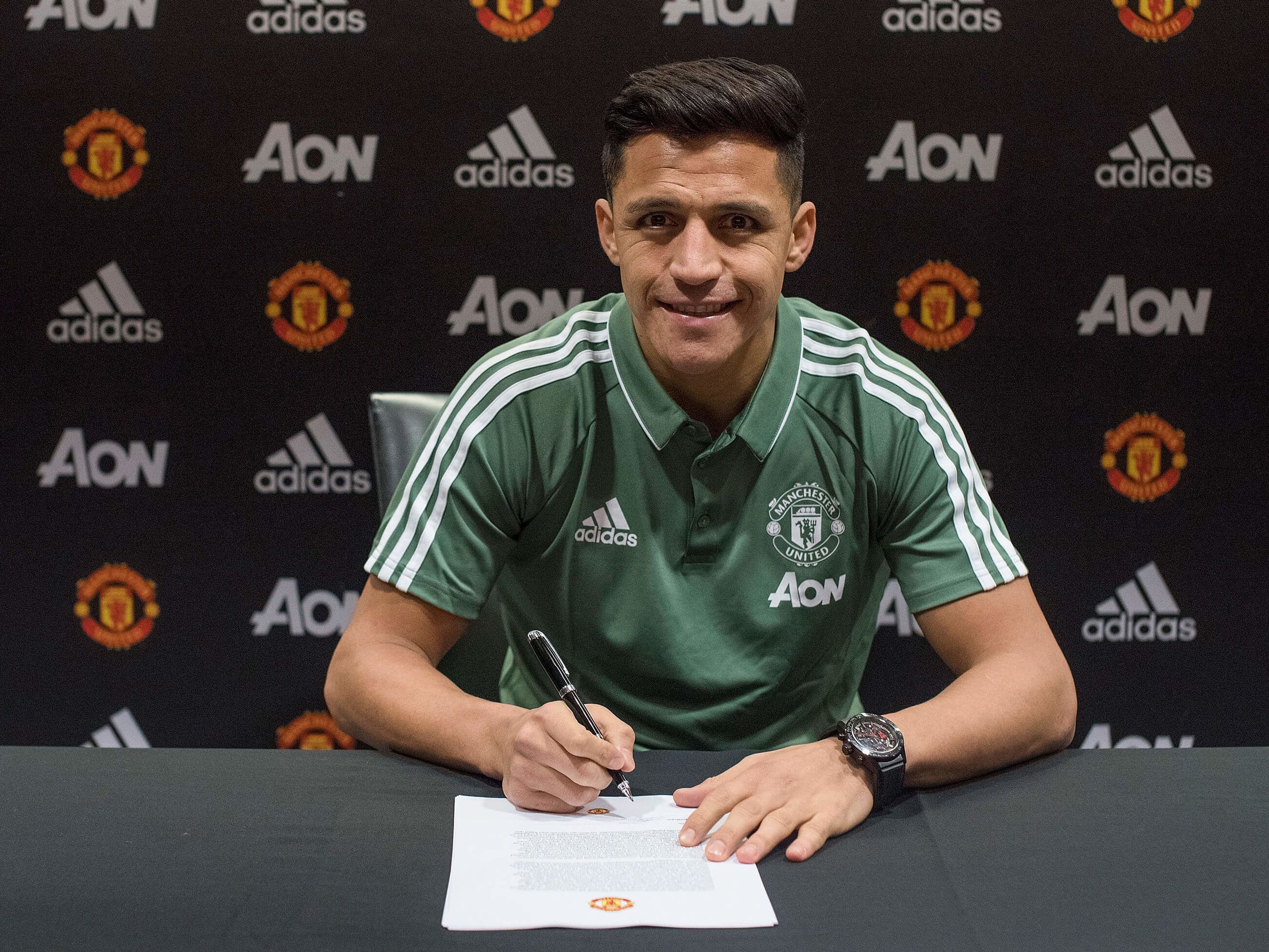 United also signed midfielder Fred in 2018 following interest from City, paying a hefty £47m for a player who has yet to fully establish himself in the side five years on.
More recently, in another move seen as a coup over their rivals, United re-signed Cristiano Ronaldo, who had excelled in his first spell at the club, scoring 118 goals in 292 games before joining Real Madrid in 2009.
It had seemed as though the Portuguese was set to join Guardiola's City in 2021, with reports at the time suggesting personal terms had been agreed.
Ronaldo continued to score goals, but his second spell was played out to suggestions the team had to make stylistic sacrifices to accommodate him. He left abruptly in November 2022 following a controversial interview in which the 37-year-old criticised the club and said he had "no respect" for manager Erik ten Hag.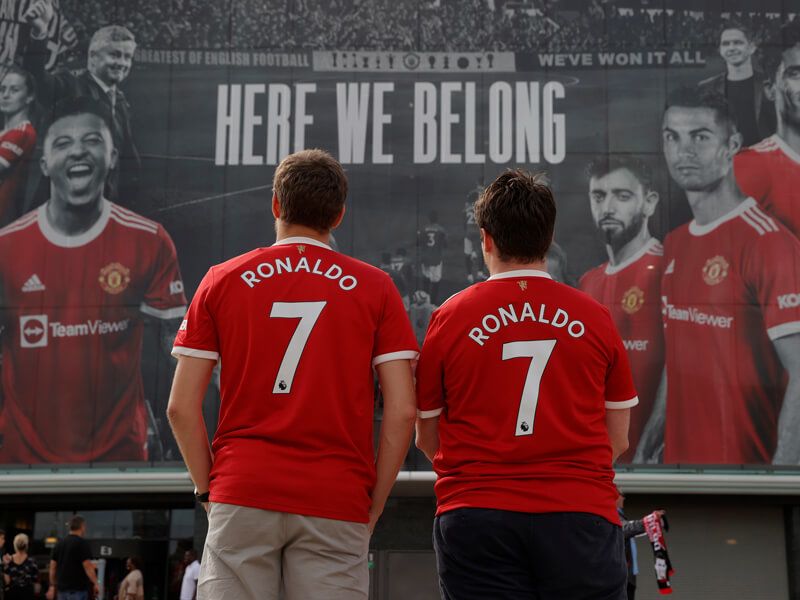 "The big turning points [in the balance of power between City and United] were certain transfer decisions we made," says Motty.
"We were linked with players like Yaya Toure, Sergio Aguero and David Silva and we didn't go for them. We could have paid the money and got them. They'd have come. Are you going to go to the team that is winning titles and the Champions League or the one that hasn't won a title since the 60s?
"But we didn't do that and took our eye off the ball in the market. We have been playing catch-up since. The last time we got it right over City was with Robin van Persie, and that was 2012.
"We've kept getting it wrong. Look at Sanchez and Harry Maguire and Fred. They were all linked with City."
City continue to benefit from United's failings in the market. Erling Haaland was reportedly close to a move to Old Trafford in 2020 but their failure to seal a deal meant he opted for Borussia Dortmund instead.
The Norwegian is now at City, for whom he has scored a record-breaking 52 goals (36 of those in the Premier League) in his debut season as United struggle without a recognised and efficient number nine.
Using the figures published on Transfermarkt, in the Premier League era, City's net transfer spend on player fees is £1.39bn to United's £1.36bn.
Even after City's takeover in 2008, there isn't a wild disparity in the spending of each. City have a net spend of £1.26bn to United's £1.1bn.
There can be no doubting which of the two has spent that money most wisely over the past 15 years...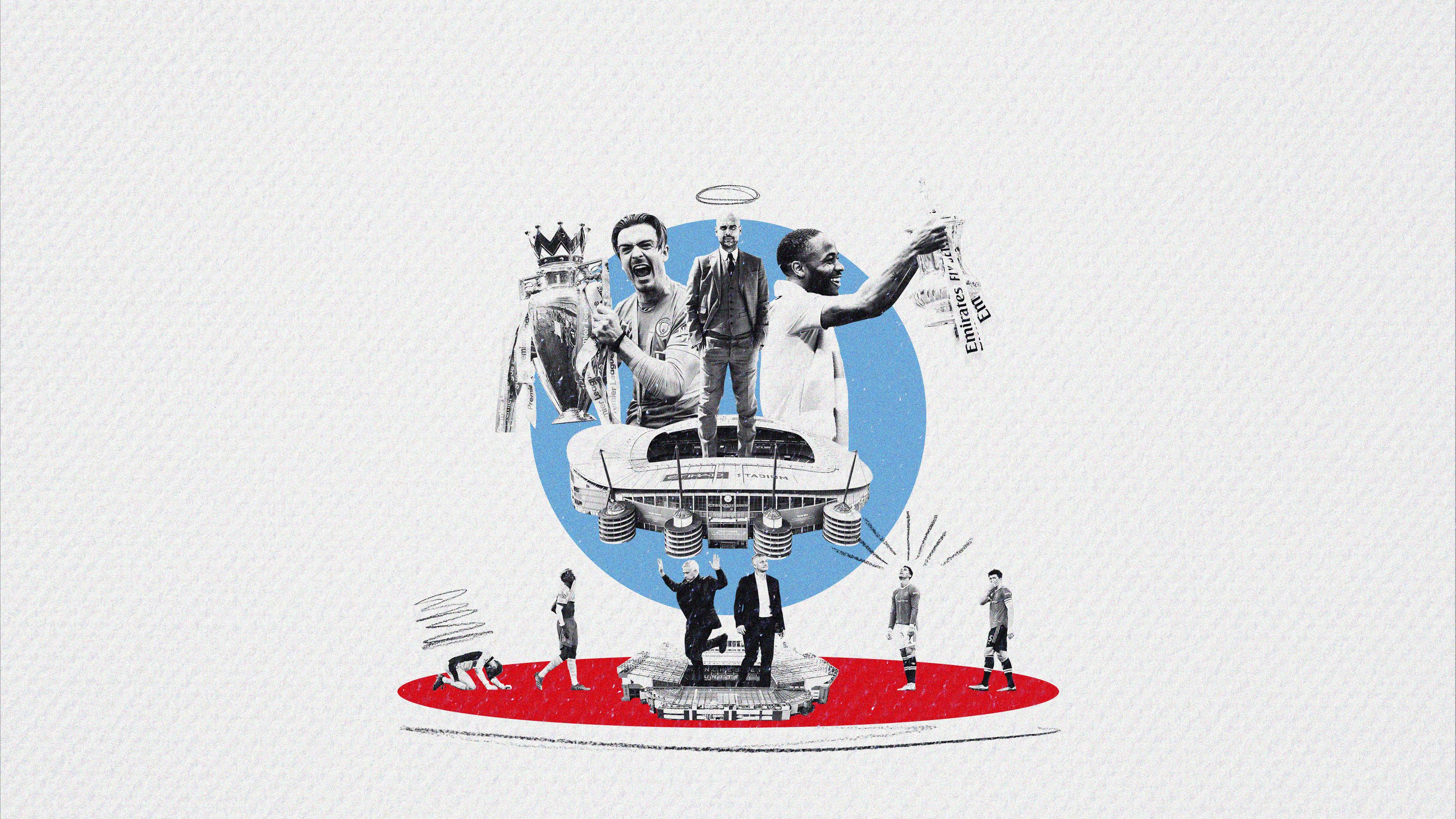 City's era
Since the appointment of Guardiola as manager, City have become the dominant force in English football.
In seven seasons at the club, the Spaniard has delivered the Premier League title in five of them, the League Cup in four and one FA Cup.
They have had challengers in that time, most notably Liverpool, but it has often taken previously unseen points tallies for sides to cling to City's coattails.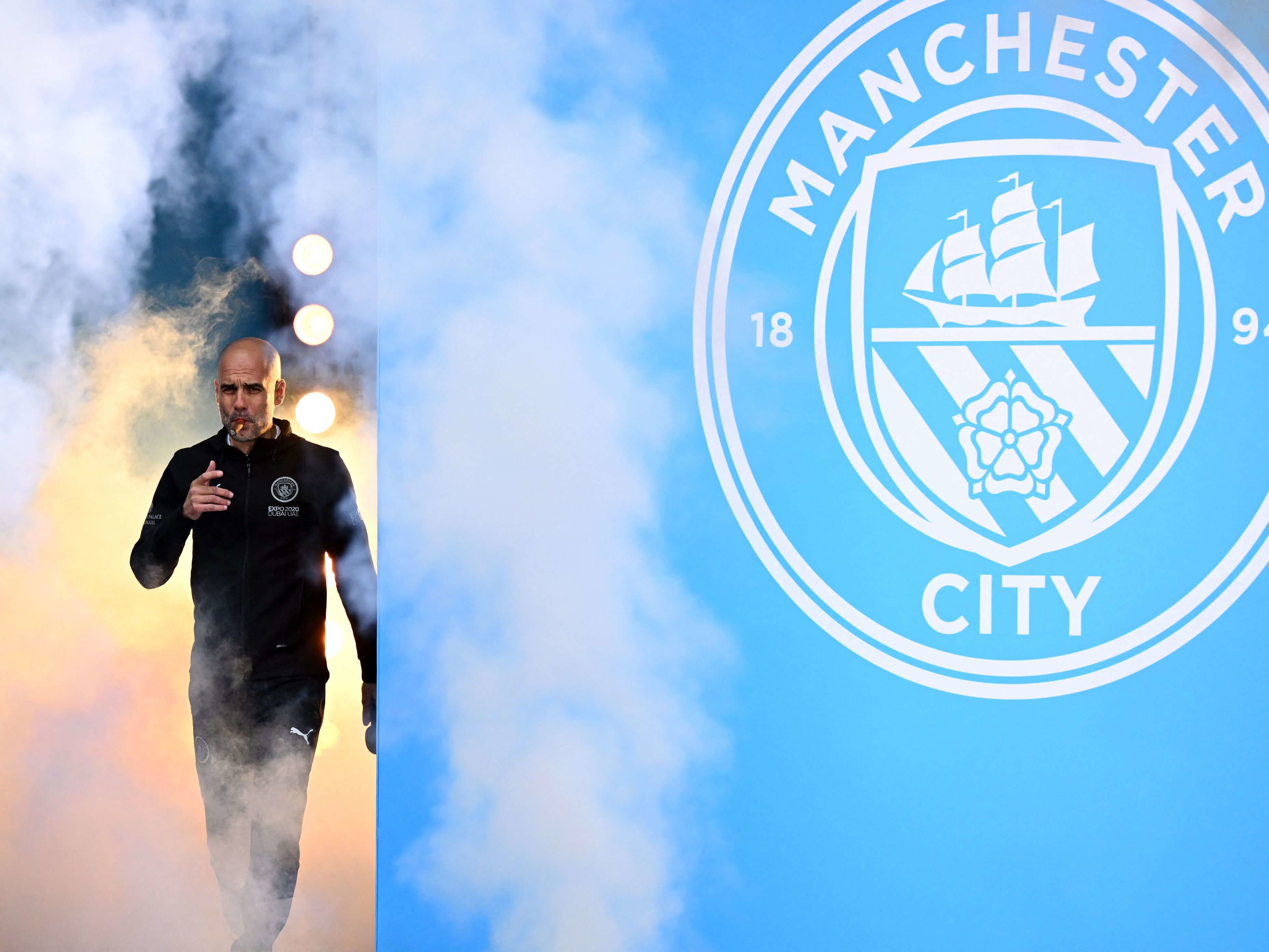 City themselves have shattered top-flight records with wild abandon.
This includes the most points won in a season (100), most goals in a season (106) and biggest title winning margin (19) all achieved in 2017-18. And there are many, many more.
"City is a really well-run club with some really good people," says Rothband. "And that is not just Pep and his coaching team and squad.
"The ownership has set the club up. It is not a here today, gone tomorrow investment. The way it is set up is future-proofing the club. They are going to develop the ground to make it bigger and are continuing to do so all the time.
"Ours is a model of football ownership in this day and age."
This season's league triumph gives them three in a row, taking them into an exclusive group of clubs that also includes Huddersfield Town (1923–1926), Arsenal (1932–1935), Liverpool (1981–1984) and, of course, Manchester United twice (1996–1999 & 2006–2009).
Of the 798 points available for City to win under Guardiola in his seven seasons, the Spaniard's side has taken 625 of them - that's 78.3%.
The City boss is the only man who can boast a better Premier League managerial record than Ferguson, averaging 2.35 points per game to the Scot's 2.16.
As City blossomed, United wilted.
In general, the reds have remained competitive in the top-flight during Guardiola's time in England, never finishing outside the top six and twice finishing second to their local rivals, albeit never really threatening them.
Such was United's perceived inability to properly challenge, the second-place finish in 2017-18 - a massive 19 points behind City - was labelled by then manager Jose Mourinho as "one of my greatest achievements".
There have been some United victories in recent seasons, such as a 2-1 away win and 2-0 home victory in 2019-20 to give them a first double over City in a decade. They also beat them 2-1 at home this season, coming from behind late on to secure victory.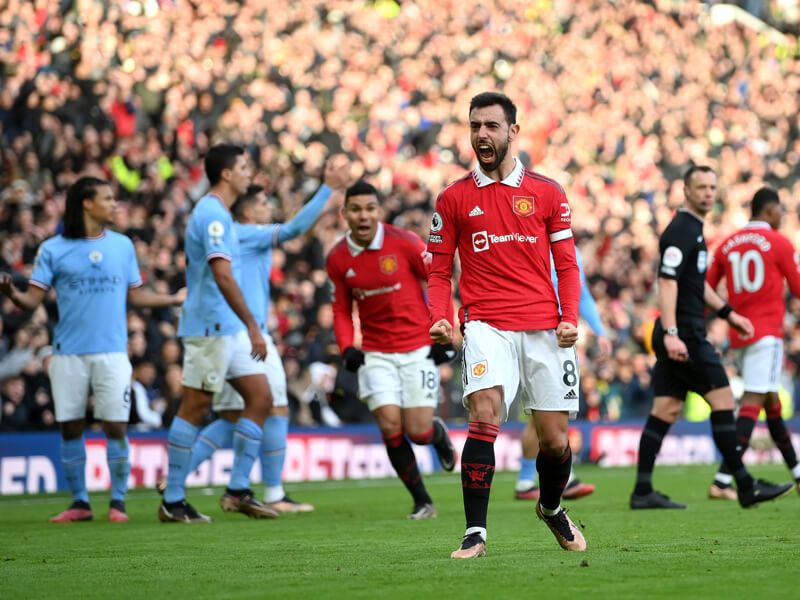 Largely, though, City have had the edge when it mattered. They have met twice in League Cup semi-finals this decade, with the Blues winning both en route to lifting the trophy.
In the league there have also been some handsome wins. They have put 10 goals past United in the last two derbies at the Etihad, including six this season as Phil Foden and Haaland ran riot with a hat-trick each.
"To think of where we are now," says Rothband. "To think of the manager we have, the squad we have assembled and the way the club is run from top to bottom, the employment of local people, the investment in east Manchester, the women's team, the academy. We're in a Champions League final, an FA Cup final, we're Champions of England. In the 80s and 90s I wouldn't have dreamt of anything like this. It is unbelievable.
"We also recognise that these things come in cycles. City in the late 60s/early 70s and the success we had. Stretford had the period in the late 80s and 90s. And now for the last 10 years, Manchester City have finished above them in every single league campaign. Aren't those beautiful words?"
It is not just on the field that City have surpassed United, but off it too. While the former have thrived under their current owners - their structure set up for success and no expense spared on the stadium and training complex - the latter have fallen into a state of disrepair under the Glazers.
Success (or lack of) on the pitch inevitably plays a significant part, but the manner of the American family's financial running of the club and the poor current state of Old Trafford has led to an increasing number of protests among the United fanbase.
This season has seen the first green shoots of possible recovery, with Ten Hag delivering the club their first major trophy in six seasons in the League Cup, but their inconsistent league form shows there remains a long way to go.
City have since eclipsed this with another title victory, secured with a run of victories to close the league season that serve only to underline their current supremacy.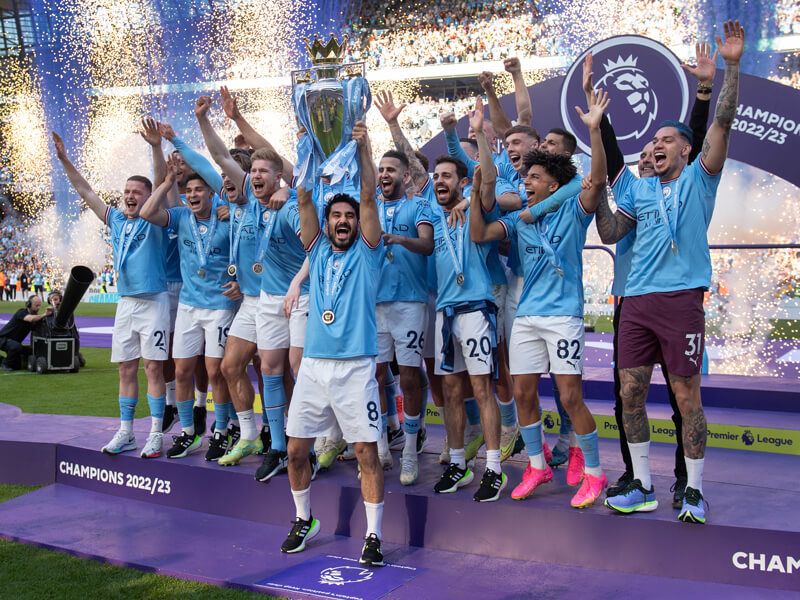 Since drawing with Nottingham Forest in February they have swept all challengers aside, including main rivals Arsenal in a display of such dominance it made a mockery of the notion of a title race.
Guardiola's side could also make it a historic season by claiming their maiden Champions League crown when they face Inter Milan in Istanbul on 10 June. On that night, they may also be playing for the chance to emulate the great Ferguson United team of 1998-99 that secured an unprecedented domestic and European Treble.
Only one side can prevent that being the case - United themselves.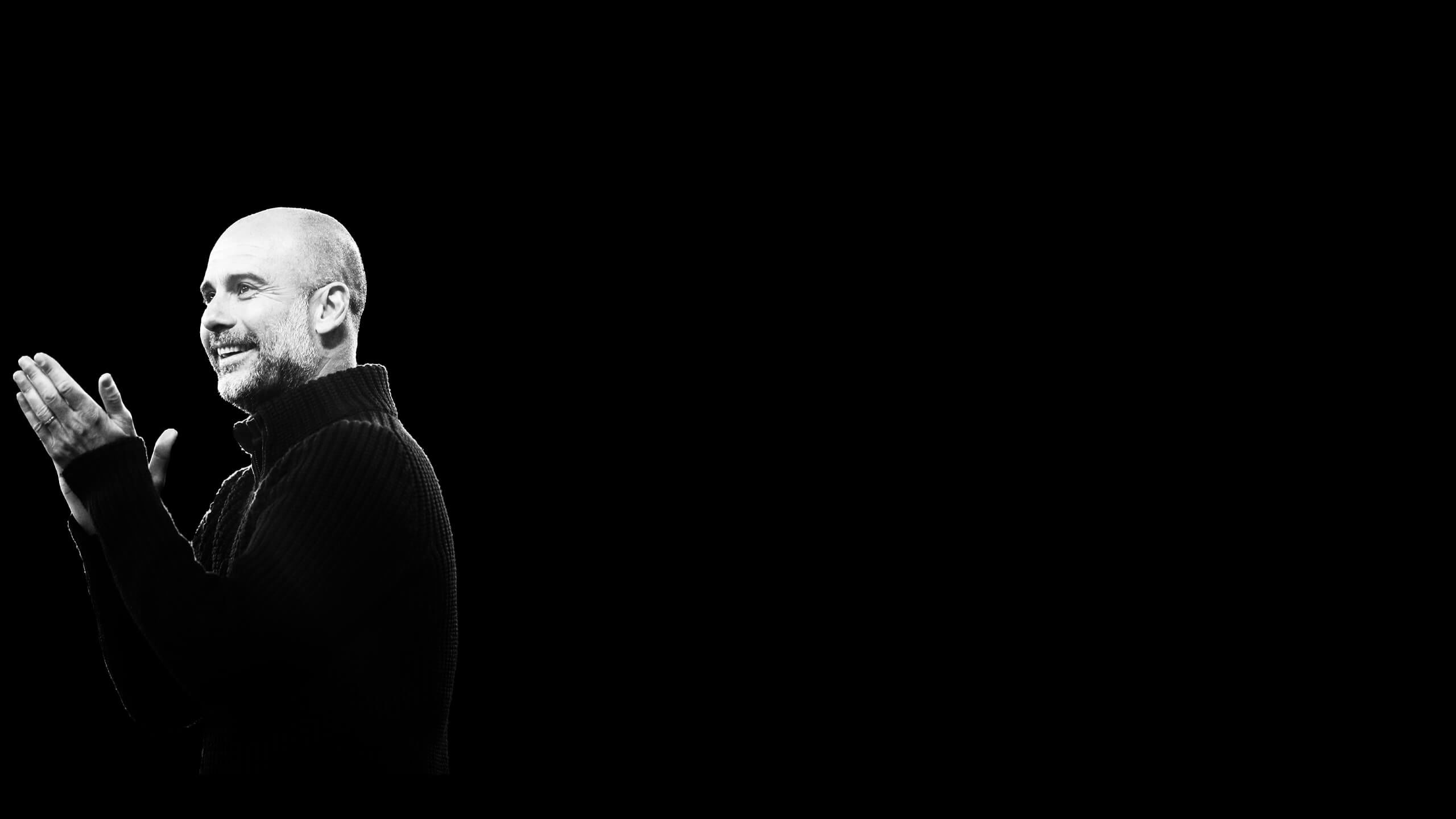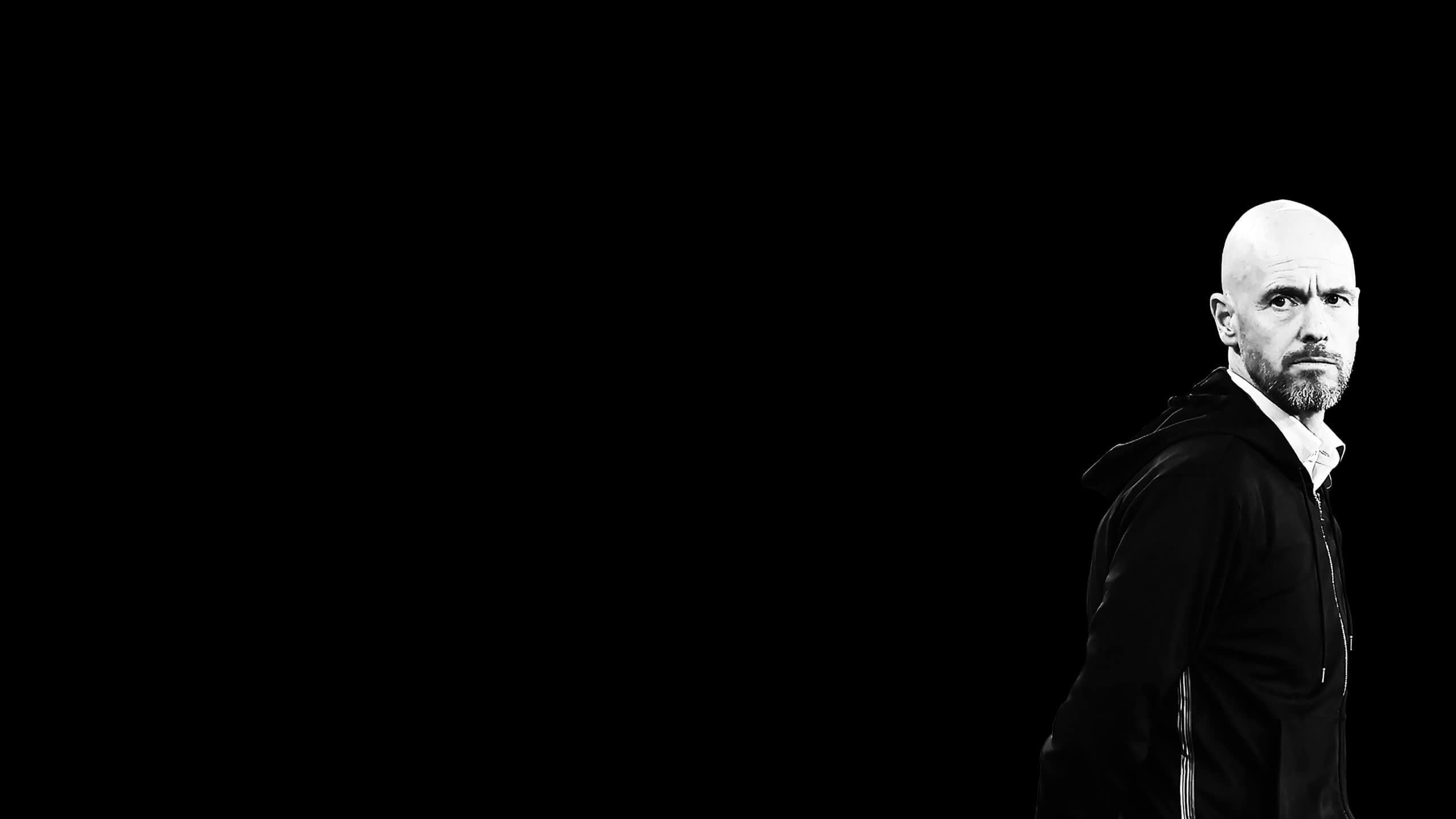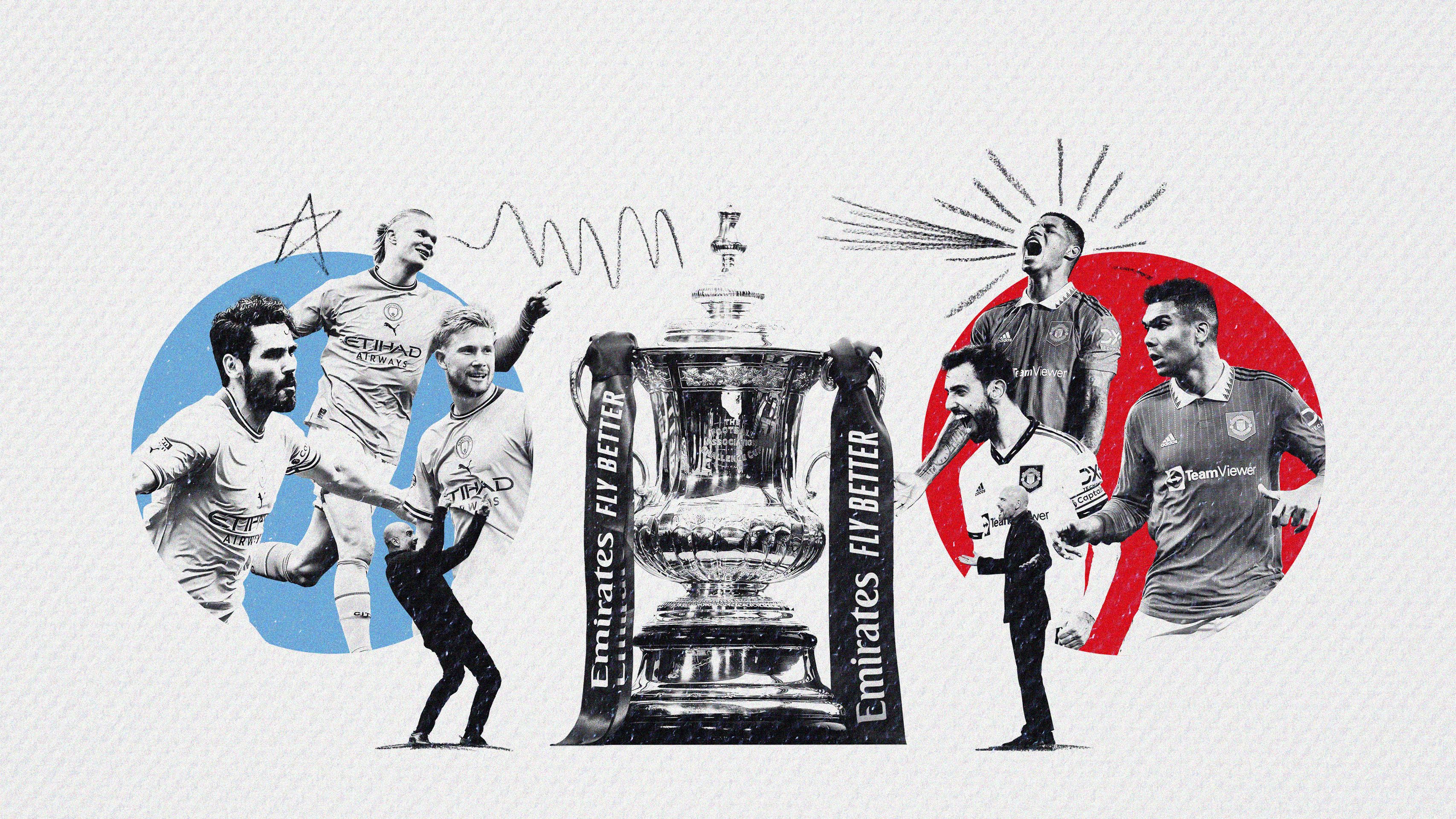 The FA Cup final and the future
As the history of the Manchester rivalry has shown, things change.
City are on top right now, but their dominance over their near neighbours is unlikely to last.
Football being football, all it could take is one or two good signings, a purple patch of form, a sending off in a key derby or an injury-time winner to seal a dramatic 3-2 comeback win to take a title on goal difference to swing the balance from blue to red. And then possibly back again.
There are also specific factors that are in play right now or will be in the near future.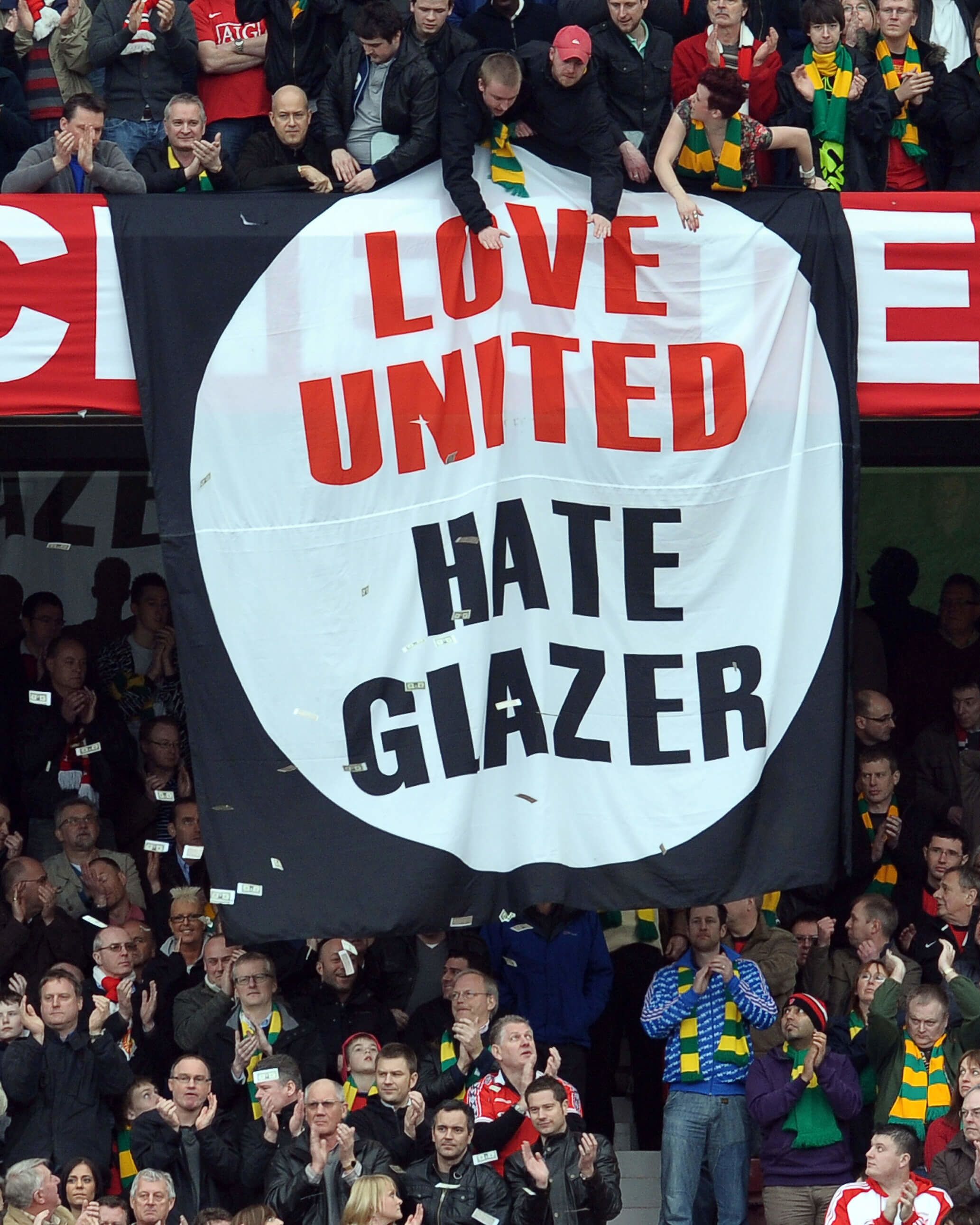 United have a takeover looming, after the Glazer family announced in November they were considering selling the club as they "explore strategic alternatives".
There are some big hitters in the mix - Qatari banker Sheikh Jassim bin Hamad Al Thani and Sir Jim Ratcliffe's Ineos Group are the two main interested parties.
"The Glazers have set us back so much," says Motty. "If you look at what City have spent since the takeover and what United have spent, there is barely any difference. So why have we not won any titles in that period, while City have won six? It is down to the ownership and the mismanagement of the club.
"We have been through so many managers, wasted so much money. There is no long-term planning.
"United have to have an owner come in who understands what is needed to bring success and win trophies. We also need to be careful, though. Just because someone comes in with lots of money doesn't mean they will win trophies.
"You have to have a structure and strategy and have football people in charge of football matters, above the manager.
"That is something that City have got right with Txiki Begiristain. They won titles before Pep Guardiola because they had a system and set-up geared towards success. I begrudgingly respect that. They've done a lot of things right. City have a plan. I hope United can emulate that."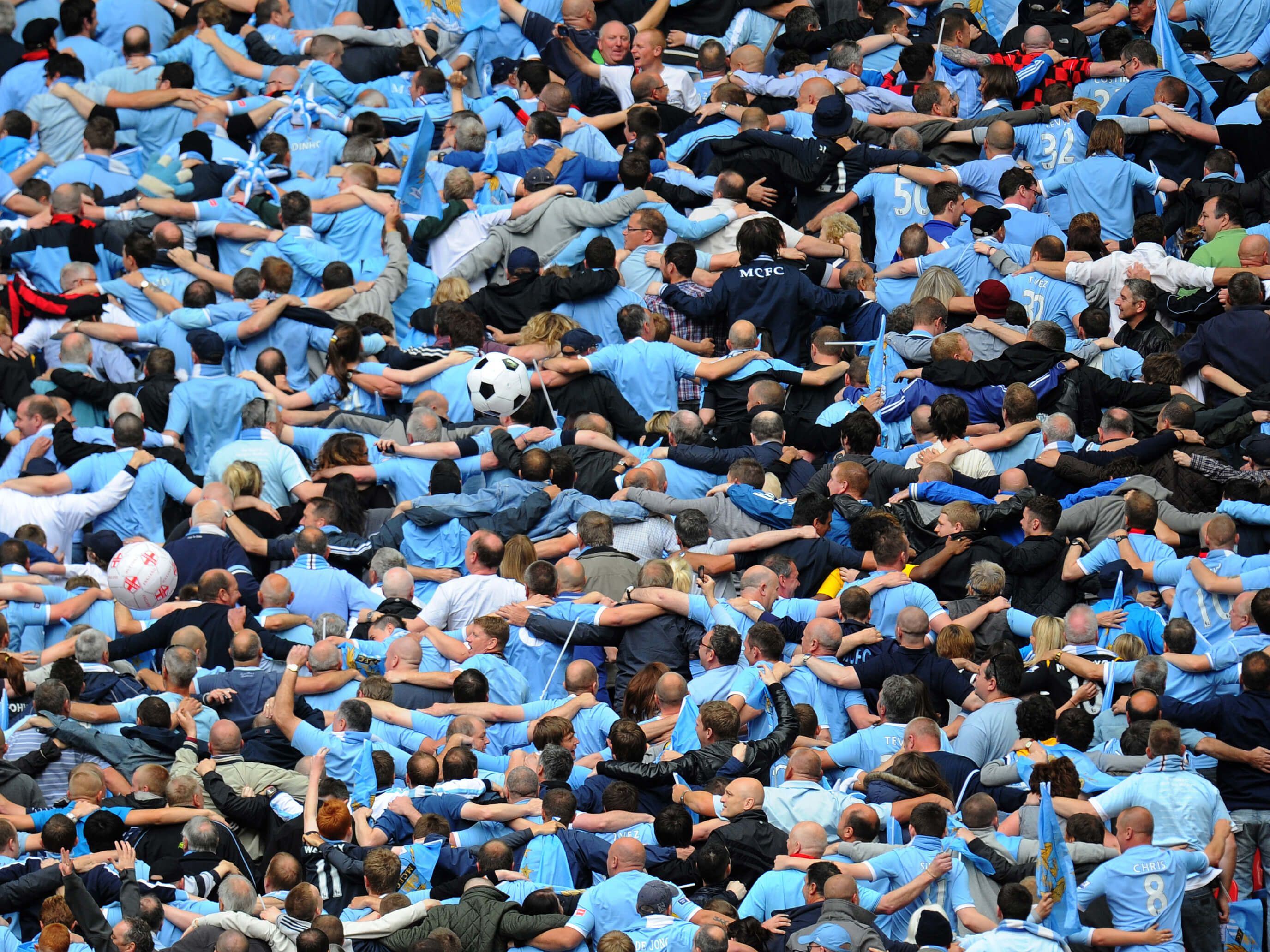 Challenges also lay ahead for City. As United found with Ferguson, the departure of a successful manager can have huge repercussions and Guardiola will not be around forever.
"The ownership has set the club up, they've future-proofed it," says Rothband. "My concern is who follows Guardiola, who is undoubtedly the best manager City have ever had, possibly the best manager the Premier League has ever had. When you lose that it is almost impossible to replace."
There's also the matter of the 115 Premier League charges against City for potential breaches of the division's financial fair play rules between 2009 and 2018.
The club have previously had a two-year ban from European competitions for breaching Uefa's Financial Fair Play (FFP) regulations overturned by the Court of Arbitration for Sport (Cas) in 2020, but City were fined 10m euros (£8.67m) for obstructing the investigation.
City deny any financial wrongdoing and say their innocence is supported by a "body of irrefutable evidence", while Guardiola recently stated he would like the charges dealt with "as soon as possible".
If found guilty, punishments could range from a fine and points deduction to expulsion from the Premier League.
First and foremost, though, the two clubs have a date this weekend, when Wembley will be half red and half blue.
"In a one-off game we have a chance against anyone," says Motty. "We beat them at Old Trafford, we've beaten Liverpool and Arsenal and Barcelona. We can beat the best teams.
"It'll be difficult because we know how good City are and they have hit form at the right stage – in squeaky-bum time, as Ferguson called it.
"I never thought we'd be in this situation – at Wembley trying to stop City winning a Treble. It sounds so small-minded and petty, but I'd look back at this season as a big success, even if they go on and win the Champions League as well as the Premier League. We'd still be the only team to win the Treble. We'd still have that over them."
Rothband adds: "They will be doing everything in their power to stop us winning a Treble and for them to get a double, which will be quite something. There are so many motivations.
"On paper we are the better side. If we play as we did against Arsenal [to beat them 4-1 in the league in April] we will blow them away. But it is a one-off final. It doesn't work like that.
"But I won't enjoy it. I never enjoy derbies. It is too stressful."
Credits
Written and produced by Phil Dawkes
Graphics by Andy Dicks with Lee Martin
Sub-edited by Rebecca Ranson
Commissioned by Andy Cryer
Images by Getty Images and Rex Features
Thanks to Jay Motty and Nigel Rothband. Good luck on Saturday, fellas!