Lewis Hamilton column: Ferrari challenge, Alonso & new contract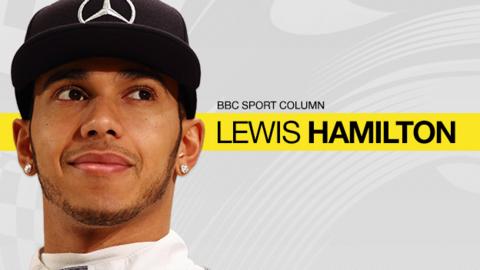 I am going into this weekend's Chinese Grand Prix determined to turn the tables on Ferrari and win again, after they beat us in Malaysia at the last race.
We went into Malaysia thinking we would win - that's what you do when you start from pole. But finishing second there has not changed my thinking in any way.
I have never gone into any season in my career thinking it was going to be easy and I certainly never thought that about this year, even after all the success Mercedes had in 2014.
I've been very open-minded about the likelihood of other teams closing the gap, so when they did, I was not too fazed about it.
I can't predict how the season is going to pan out and how closely Ferrari will challenge us, but their car is obviously not bad at all, and they have made massive strides with their engine.
So I would imagine they are going to be on our tail from this point on for some time.
The thing about Formula 1, though, is that it is entirely unpredictable. So I might be completely wrong.
Either way, I welcome the competition. Of course I want to win. But the races I enjoy most are the ones when you have a real close battle with strategy or on the track.
When you're out in front by a long way, it is less exciting.
And Ferrari's revival has absolutely no bearing on things internally at Mercedes.
My team-mate Nico Rosberg and I are free to race, and having someone else in the mix makes no difference to that philosophy.
A difficult time for a great rival
When I was sitting next to Sebastian Vettel after the Malaysian Grand Prix, it crossed my mind what Fernando Alonso must have been thinking.
Fernando chose to leave Ferrari at the end of last season to go to McLaren, who are now at the back after a difficult start to their new engine partnership with Honda.
As an F1 driver, these choices are very tough. When you decide where to drive, you never really know how it is going to work out.
I was relating Fernando's situation to mine, when I decided to leave McLaren at the end of 2012 and come to Mercedes.
That worked out well for me. Had I not done that, I would have had a terrible 2013 and I would not have won the title last year.
Fernando stuck with Ferrari for five years without getting a car in which he could win the title. I don't know what happened between them, but he had obviously had enough and decided to go somewhere else. It's unfortunate for him that the following year the Ferrari car is amazing.
I'm sure his mindset is the same as mine - he wants to win. And if that was me, it would be hard not to think about the consequences of the decision.
For Fernando's sake, I hope he is back battling at the front where he belongs as soon as possible.
I've said many times that I regard him as my fastest and most talented rival - I think he is one of the best drivers F1 has ever seen.
If he was to finish his career without adding to his two world championships, it would be a tragedy, because it would certainly not be due to his driving.
My contract
I said after the Malaysian Grand Prix that I expected my new contract with Mercedes to be finalised within that week, but it has not turned out that way.
It will get done eventually. I honestly thought it was very close but, as in all negotiations, things drag on longer than you expect.
I don't feel like I am in a rush - we're talking about a contract for next season and beyond, so there is plenty of time and it is not affecting my driving at all.
There are so many pages in an F1 driver's contract and you really have to work hard to understand it.
I've read contracts before, but I'm doing it all on my own for the first time, without a manager to do the negotiations for me.
I can't say I have enjoyed it - it is much easier when you have someone you can send in to be 'bad cop' and fight your corner. I'm sure everyone can relate to that. It's never easy talking about money and stuff like that.
I know people are wondering what's going on, and some may even be thinking that there is actually a bigger problem than we are letting on.
I can assure you that is not the case. Naturally, there are things they want, and things I want, and we have not come to a conclusion yet.
But I have absolutely no doubt that we will in the end.
Expectations for China
In previous years, Ferrari have struggled to get the tyre temperatures up to the ideal working temperature in China, where weather conditions are generally pretty cool.
But there was one race recently - in 2013 - in which they were very quick and Alonso took a comfortable win for them.
After Malaysia, I anticipate they will be quick here again, especially with the long straight. But we will work harder on our balance and set-up and hopefully we won't have the reliability problems that cost us track time in Malaysia, and we will be more competitive.
China is a very different track from Malaysia. It is a front-limited circuit - which means the limitation on tyre usage here is the front not the rear - and that changes things. It also means it's better than a rear-limited circuit to drive.
Twice the capacity of the Nou Camp
Who has won the most grands prix in China? Why were 40,000 stone pillars needed? And why did the 2014 race end a lap early?
Read more about the Chinese GP
Analysing where we could have done better
After any grand prix, regardless of the result, you go away, sit down with the team, look at what happened and analyse what you could have done differently.
I spent some time with the team last week doing exactly that and we have come here to Shanghai hoping to do a better job than we did in Malaysia.
The heat there affected us during the race, especially our tyres, but looking back I still think we might have been able to win the race had things gone differently.
It didn't help that I lost the first practice session and some of the second because of reliability problems.
That meant we did not have as much information about the tyres as we would normally have.
Had we not missed that mileage, we might have set the car up a little bit differently, and that would have meant we could have got more mileage out of the tyres. Perhaps not as much as Ferrari, but enough to make a difference.
Even so, we were still the quickest car in parts of the race but our strategy didn't work out.
Had we been more confident in our tyre mileage, we might have done our strategy a bit differently, and not stopped when the safety car went out early on.
That way, we might have been able to cover Ferrari and been fighting with them rather than trying to claw back a 10-second deficit.
It is difficult to say we definitely would have won, but it might have been a much closer battle.
Best of Lewis on social media
Chinese Grand Prix coverage details.
You can follow Hamilton on Twitter @lewishamilton and you can see exclusive content on his website www.lewishamilton.com
Lewis Hamilton was talking to BBC Sport's Andrew Benson