Lewis Hamilton column: Monaco, music and 'amazing' Canada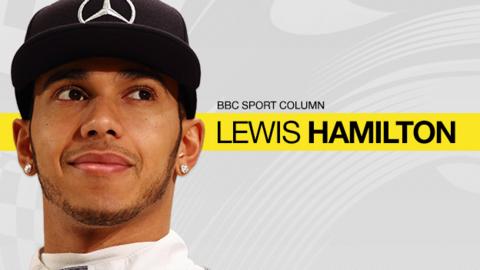 Canadian Grand Prix
Venue: Circuit Gilles Villeneuve Dates: 5-7 June
Live TV, text and radio commentary via the BBC TV, BBC Sport website and app. Full coverage details here.
The events of the last few laps of the Monaco Grand Prix have obviously created a lot of attention over the past couple of weeks but I have moved on and it is in the past as far as I am concerned.
Of course it was disappointing to lose the win in the way I did, especially after I had been so dominant all weekend, but these things happen and you have to look at it as just another race.
In lots of ways it was positive. I was very quick. I finished on the podium. I'm still leading the championship. I'll take what I have and work on building that lead again. The speed I had all weekend in Monaco was very encouraging and I hope I can continue with that through the rest of the year. I have lots of races to come, a great team, a great car and there is a championship to be won.
In the past, I would have thought about it a lot, dwelt on it. I would have wanted to put it behind me but would have found that hard to do. But now I'm a bit older and wiser, I realise there is nothing you can do about something that has already happened.
You can't change the past; you can only try to shape the future. So once that day was done, the next day I was over it.
We always analyse every race after the fact. We have done the same after Monaco and we will make whatever adjustments we need to make as a result of it to make sure it does not happen again. We didn't miss the win by a million miles. It just requires a subtle adaptation in certain circumstances; otherwise we just continue doing what we always do.
Whatever other people might say, it has absolutely no impact on my relationship with my Mercedes team. We won the championship together last year. We are leading it this year. I have just signed a new contract to keep me at Mercedes until 2018. One race cannot change all that.
Handling adversity more effectively
I'm not completely sure how I have been able to get to the position where I can handle disappointments with more balance than in the past, but having two World Championships has definitely helped me grow mentally and mature.
I went through a lot last year. There were a lot of ups and downs. Coming through that has proved to me that if I keep pushing I have the strength to make it. Winning that championship was a real testament to my belief in myself, in God and my dreams. That can't help but solidify your confidence.
From my point of view, Monaco is now absolutely irrelevant. I'm still standing, still strong and I'll be fast this weekend in Montreal.
A great weekend ahead
The Canadian Grand Prix is one of my favourite races of the year - it's right up there in my top three of the year with Monaco and Silverstone.
It is great fun as a driver. The track is like driving around a car park. It's tiny, but massively challenging, with walls all around. Added to that, the grandstands are packed. Most of them are at slow corners, so people can get a good look at the cars. The weather is usually good. And the city is unreal.
Where the Canadians are on to a winner is that they have made the grand prix into a festival. Other countries try, but have not done it anywhere near as well. They make it an amazing week. There is such a great vibe in the city over the weekend. People come here just for that, and getting to go to the race is an added bonus.
All the races should be like this.
Music matters
I have spent some time in the studio in the days between Monaco and Canada; that's always one of my favourite ways of relaxing.
I can't overstate how important music is in my life.
Of course I love racing, and it's my life, but I don't drive every day, and there is not a single day that goes by when I don't listen to music. It doesn't affect my work life, but it is a huge part of the rest of it.
Now, I'm lucky enough to be able to make some of my own music and I really enjoy it when I get the chance. I find it therapeutic. If I have a free day, I'd rather be in the studio making noise than on the beach or going for a walk around town.
I am always trying to learn and to improve and it's a real serious process. There's a lot of stuff to learn and ways you can do it better.
Music is such a powerful tool that people all around the world use to connect in many different ways. It's like the key to the soul; there is an incredible kind of magic in those notes, something that goes right to people's emotions and resonates with everyone, whatever mood you are in.
My family originates from Grenada in the spice islands in the Caribbean. I listened to a lot of reggae as a child, then a lot of rap as a youngster. Right now, I really like The Weeknd. He's coming out with non-stop hits; he's amazing. The new song, Earned It, from 50 Shades of Grey, is terrific.
I also listen to a lot of club tracks - Future and so on.
But if you were to ask me who was my favourite artist, of course James Brown was unreal, but Michael Jackson was the greatest for me. Thriller is my favourite album of all time. Musically, it was just incredible. The production by Quincy Jones and his team; wow. It is just timeless. That album will still be played a thousand years from now.
You can follow Hamilton on Twitter @lewishamilton and you can see exclusive content on his website www.lewishamilton.com