Lewis Hamilton column: Challenge of F1 and why I love social media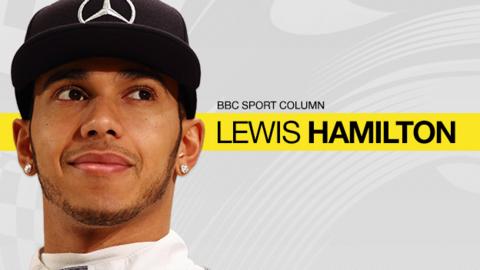 Austrian Grand Prix
Venue: Spielberg Dates: 19-21 June
Live text and radio commentary via BBC TV, radio and the BBC Sport website and app, plus extended highlights on BBC television. Full coverage details here.
Since the Canadian Grand Prix, I see there has been a fair bit of debate about Formula 1.
I'm obviously aware that the sport's bosses are discussing changing the rules to make the cars faster by 2017 but I don't see it as my job to judge what F1 is. My job is to get into the car and drive as fast and as well as possible.
What I can say, though, is that anyone who says F1 is not rewarding or demanding for the drivers is wrong.
The problem is that, for the large part, people watching the television don't understand all of what is going on. They might think it is easy to drive the cars but I can assure you it is not.
One of the areas that seems to have generated the most debate is the way we save fuel, using a technique called 'lift and coast', which we have to do in some, but not all, of the races.
This is where we lift off the accelerator before we would normally brake on a flat-out lap, and then brake later into the corner.
It is the most efficient way of reducing fuel consumption, in terms of saving the most fuel for the least effect on lap time.
It is absolutely not easy, though, and it is not the case that by doing it we are not on the limit. The car is still on the edge through the corners, we are just approaching them in a different way.
The same goes for looking after the tyres. It is still massively challenging. And mentally F1 is just as challenging as before.
The only way it is different to when I started in F1 is physically. It is not as killer as it used to be when the cars were much faster, and we carried more speed through the corners and had much better tyres.
For the first four years I was in F1, it was flat-out all the way. From 2007-2009, we had pit stops for fuel, and through those years and into 2010 we had much more durable tyres.
That is not the case now and we have to adapt.
It is still tough physically, don't get me wrong. We have to be extremely fit to race in F1. But we're not completely exhausted at the end of races any more, like we quite often were in the last decade.
Even if it was changed so we pushed flat out on every lap, it is hard for people to see that on TV.
If people think that would make it more exciting to watch, great, but that's not for me to decide. That's what the big boys - the likes of Bernie Ecclestone, FIA president Jean Todt and the team bosses such as ours at Mercedes, Toto Wolff - are paid to do.
All I can say is that I love driving the cars and I am still massively challenged every weekend.
A window into my life
Some of you have probably noticed that I often post pictures of myself, or things I am doing, on my social media outlets, whether it be Facebook, Twitter or Instagram. I thought I would explain what that's about.
I think it's a shame that people are so quick to put you in a box; sometimes it's as if you do one thing and that's all you're allowed to do.
It's especially bad in F1 - it's almost as if you're expected to be like James Hunt, or some other dude who used to be in F1. And I'm nothing like him or anyone else.
People need to remember that I am the first black driver in F1, so I am obviously going to be different to past drivers.
I post the photos because I lead such a busy life; I am constantly doing interesting things, or meeting new people. I am lucky enough to get to do things a lot of people will never experience.
I want to capture that and give people a sense of what it is like.
It all started really after Nelson Mandela's 90th birthday party in London. I had Oprah Winfrey on my left and Chelsea Clinton on my right. Mandela was two spots away.
I met Bill Clinton, Will Smith and Denzel Washington, who I am a huge fan of. And I didn't take a picture with anybody. I didn't take a single photo all day.
I really regret that I did not capture those moments, and I wanted to make sure I had someone around who could do that when I am not even thinking about it, because I get so caught up in the moment.
And I didn't want it to be just a photographer. I wanted it to be someone who I was good friends with and who I could hang around with and do other things.
That's my friend Daniel Forrest - who we call Spinz - who I do music with as well.
Sometimes I post my own stuff; at other times the photos will have been taken by Daniel.
It could be a nice image, or a picture with my brother, some famous and inspirational saying, something cool that my fans might one day want to have. We might be out with some of my cars and we'll take some pictures, because I am so proud of them. Whatever.
Some people might keep it for themselves but I like to share it because, in total, I have several million people following me on social media, wanting to know what my life is about.
Very few people get to experience what it is like to be an F1 driver. I am part of a new generation of F1 driver and I am one of a kind.
I want people to see me as different, and hopefully over time people will come to accept me for what I am.
My taste for fashion
When I was growing up, we never had money to have nice clothes. All our money went into my racing; not even my dad and step mum could afford to go out and buy good-looking clothes.
In fact, my dad still to this day wears the same stuff he did 20 years ago - it's hilarious to see him going around the house and wearing a sponsor's jacket from when I was 11 or something. I'm like, "Dude, seriously!"
When I got to F1 with McLaren, I was made to fit a square box. You can't show your personality, show any character. You can't do this, you can't do that.
Once I got to Mercedes and really got my feet dug into F1, I felt like I could start coming out of my shell little by little over time.
Sometimes people don't seem to like the clothes I wear, judging from some of the messages I get told about. But I could show you pictures of me when I was 17 and you wouldn't see a huge difference.
I still wore big chains, and my clothes would have been even baggier than they are now.
But now I have got time to really pay attention to how I present myself.
I like to feel comfortable in what I'm wearing and to wear it the way I want to wear it, and I don't care what other people think about that.
Fashion is a great thing to get involved in, especially London men's fashion, because we have a lot of great British designers, many of whom I am avid fan of, and buy a lot of their merchandise. That's why I was at London Fashion Week in the break between the Canadian and Austrian Grands Prix.
It is cool to be a part of something that is inspiring up-and-coming people at college who want to be fashion designers.
I love creativity, in all parts of life, and I hope it will inspire me one day to do something creative, in one sphere or another.
It was a really cool time. Plus I got to try and wear so many different outfits, so that was great!
You can follow Hamilton on Twitter @lewishamilton and you can see exclusive content on his website www.lewishamilton.com