Great Britain end World Fencing without medal success
By Ollie Williams
BBC Olympic sports reporter
Last updated on .From the section Fencing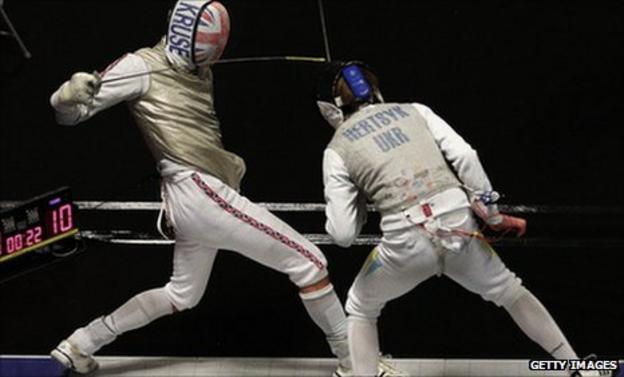 Great Britain's fencers returned from the World Championships in Sicily without any medals after the men's foil team lost in the last 16 on Sunday.
The British team's best individual result was the last-16 place earned by Corinna Lawrence in women's epee.
GB medal hopes Laurence Halsted and Richard Kruse were knocked out in the last 64 of the men's individual foil.
"It is always disappointing when medal hopes go out in the last 64," said British Fencing's Piers Martin.
Jamie Kenber reached the last 32 to finish as Britain's best male foil fencer, while Lawrence posted the best British individual display in Sicily.
But no GB team reached the last eight in any weapon as the British squad fell short of expectations at world championship level for a second consecutive year.
Martin, chief executive of the sport in Britain, added: "All of us naturally expected Kruse and Halsted to be joining Kenber in the 32 and then progress from there.
"We were expecting at least one last-eight position from the men's foil squad in the individual event."
British Fencing embarked on a number of major changes over the summer, installing a new performance director in Alex Newton and subsequently a much-revamped training programme, which doubled the training time allotted to some fencers.
Both Kruse and Halsted told BBC Sport they felt in the best shape of their careers leading into the World Championships, but they were unable to convert this into results in the Sicilian city of Catania.
Prior to the competition, Newton confirmed this was the first at which she would take full responsibility for British performances. However, Martin believes the new regime has had too little time to make any real impact on the squad.
"There was always a plan to have a major review after Alex Newton took control of the programme, and also after the Worlds," said Martin.
"This will still happen in line with her plans. Alex has a tough task building a performance programme quickly enough to achieve success in London 2012.
"I don't think there will be many big changes but [we will now build] on what has been started.
"She has been in-post for six months and most programmes can take over six years to develop success. Alex will continue to roll out her plan including some changes in order to achieve our targets in 2012.
"Our younger fencers including Corinna Lawrence and James Honeybone are performing well. This augurs well for legacy and for 2016, especially if you couple that with the success of our junior and cadets, such as Philip Marsh."