Great Britain win team gold at Olympic test event
Last updated on .From the section Fencing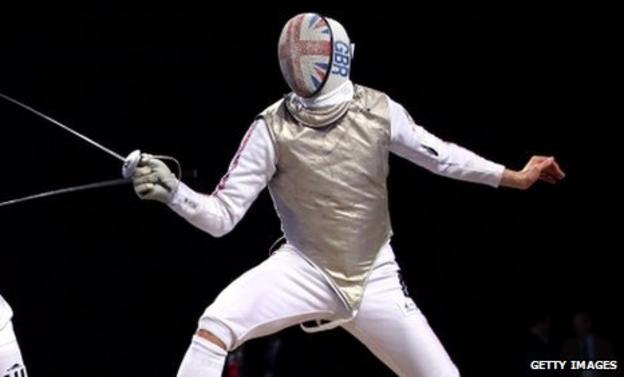 Britain's fencers received a much-needed confidence boost by winning the team foil gold in the Olympic test event at London's ExCeL arena.
Richard Kruse, Laurence Halsted, James Kenber and Ed Jefferies defeated Russia 45-34 in the final after earlier wins over China and France.
The second-string British side also reached the semi-finals with a one-point victory over top seeds Italy.
But they missed out on a final place after losing 45-42 to the Russians.
The performances made up for the disappointment of Saturday's individual competition when only one of the eight-strong home squad managed to reach the quarter-finals in the 32-man event.
Kruse, 28, who lost out to eventual winner Gerek Meinhardt of the United States in the last eight, is ranked 22 in the world and is the only Briton currently in the top 40 in the world.
Russia's line-up included ninth-ranked Alexey Cheremisinov and 19th-ranked Dmitriy Rigine, while the French had two of the sport's top seven and former Olympic champion Brice Guyart and China had two of the top 12.
"It's an amazing feeling," Kruse told British Fencing's Facebook page.
"I think it's all psychological. We've got the same amount of talent as these guys, we train harder than them, it was just the fact that it was on home turf.
"We refused to back down and I think it's such a psychological edge. We usually back down to these teams, we think they're better than us, but they're not. To have something on home turf has proven that to me.
"It's a great feeling and it's a great dress rehearsal for next year."
Italy, who have four of the top five foil fencers in the world, none of whom competed in the London event, will be strong favourites to lift gold at next summer's Games.
Britain are ranked 10th at present, but as host nation can be added to the eight sides who qualify automatically at the end of March.
They will be trying to improve their position in the new year as otherwise it could mean taking on the Italians in the quarter-finals.