London 2012: Jamie Kenber uses poker skills to help fencing
Last updated on .From the section Fencing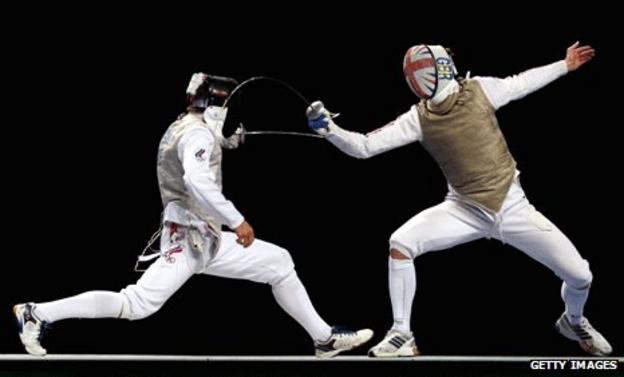 Jamie Kenber offers a simple explanation for why he took up fencing.
"It's not difficult to get an eight-year-old boy interested in playing with swords," he says.
It's a neat observation from a sharp mind that the 25-year-old member of Great Britain's foil team puts to good use away from the fencing piste.
The Oxford graduate, who looks sure to compete at the London Olympics, supplements the funding he receives as an elite athlete by tutoring maths students and playing internet poker.
"If I can't get enough students then I might play a little bit of cards," he says. "I've had some wins, but it's not a reliable source of income unless you have a lot of time to commit.
"I'm a decent hobbyist, but I've made a little bit of money from it. How much I play depends on how much time I've got."
On the face of it any link between fencing and poker would appear tenuous, but Kenber sees a connection.
"There are comparisons. In fencing someone might show you something and you don't know whether they're actually going to go through with it or if it's just an early bluff. That happens in poker as well," he says.
"And if you think people are doing things for the wrong reasons you can end up losing. It's no coincidence that I enjoy both of them."
Allied to that mental agility, Kenber will need to be in peak physical condition if he is to help Great Britain achieve its aim of a fencing medal in London.
After more than two years battling a knee problem - patella tendinopathy - the 2011 season saw him regain full fitness.
"It's also known as jumper's knee," he says.
"My season has been all about trying to bounce back from that. It's feeling pretty good at the moment and by the end of the season I did about as well as I hoped to do."
While team-mates Richard Kruse and Laurence Halsted are generally referenced as Great Britain's leading fencers, Kenber placed higher than both in individual competition at this year's European and World Championships.
But it is the men's team foil event where the best chance of a medal lies, despite Great Britain finishing fifth at last year's Europeans in Sheffield and ninth at the Worlds in Catania, Italy.
"We lost to Germany both times, which is disappointing because we'd beaten them very easily in a tournament before the Europeans," Kenber says.
"We've tried to get to the root of the problem, but there's not any major reason why that happened. A number of factors combined in us not coming up with the goods on the day. We're definitely as good a team as they are."
That is no bold claim from Kenber who helped
The competition offered a taste of what is to come at the Olympics, when sports which largely fly under the radar in this country will draw unprecedented attention.
"I think people will be impressed with what they see from the sport," says Kenber. "It's fun to watch. It takes a fair bit of commitment to learn the rules and tactics, but it's well worth it."
Transferring success from rehearsal to the main event is now the big challenge.
If Kenber and his team-mates achieve that they could get a whole new generation of youngsters interested in playing with swords.