London 2012: British fencers in scramble for Olympic places
By Ollie Williams
BBC Olympic sports reporter
Last updated on .From the section Fencing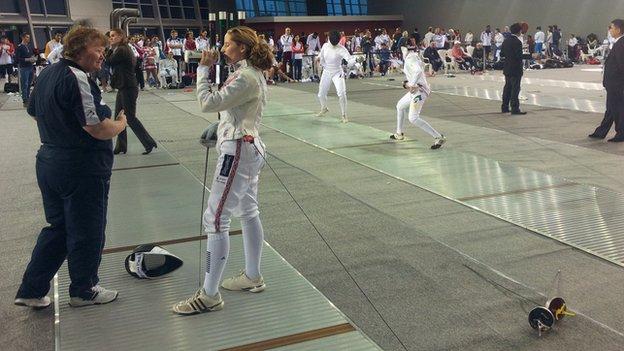 The race is on. Cross the globe, win your fights, outdo your team-mates, go to the Olympic Games.
Fencing's Phileas Foggs have only a little more than 80 days before the team for London 2012 is announced, and a mad scramble for qualifying points is taking them around the world.
With the British guaranteed eight places at the Games as the host nation, plus the possibility of a couple more depending how well the top Brits do on the international scene, every fight in a packed 2012 season is crucial in the scrap to convince the selectors.
"Between January and March there are 24 international competitions," explains the British performance director, Alex Newton. "On the first weekend we were in Italy and France. This weekend it's Doha and Orleans. The pressure is on everybody, and the tension is mounting."
Newton is in Qatar's Aspire Dome, a monument to the enormity of the Arab emirate's architectural ambition, housing a full-size indoor athletics arena and synthetic football pitch among areas for many other sports. In one corner, the world's women's epee fencers have congregated for their latest World Cup outing.
Nineteen British fencers are here under her auspices: eight men and 11 women. Asked how many are realistically contending for those Olympic places, Newton replies: "Of the men, probably two or three. There are maybe a handful, in each weapon, who would consider themselves in contention."
Some are here because British Fencing has used UK Sport funding to pay for them. Others, like Georgina Usher, have paid their own way, regardless of the ever-narrowing chance they will reach their home Olympics.
"I'm out here because I love my sport," says Usher. The 39-year-old has two young children and, before she became a parent, had ranked as high as 13th in the world in women's epee. She missed her son's second birthday to come to Qatar and fence.
"They announced the London Olympics, there was all this energy, and I thought 'you know what, I love fencing'. [To get fit post-pregnancy] I'd tried going to the gym, doing classes, but it wasn't me," says Usher, now ranked 79th in the world.
"This is an opportunity to come away and be Georgina Usher - not mummy, not a wife, just me doing something I love. I'm totally self-funded but this is my passion and, until I can prove I'm really up there, why would I expect anyone to pay for it?
"You can't know the Olympics is on in your country and not be inspired to be involved. I'm lucky that my involvement could be as an athlete. Even if that chance is tiny, tiny, tiny, I can't help but be excited."
At the opposite end of the spectrum lies Corinna Lawrence, also out in Doha, and the only British fencer - male or female, in any weapon - to reach the last 16 at the 2011 World Championships.
For almost the entire British squad, the only chance to make certain of Olympic qualification will be a strong performance at the zonal (i.e. European) qualifier in Bratislava this April. British Fencing says fencers must be in the world's top 50 even to attend that event. Lawrence is, at the time of writing, ranked 51st in women's epee.
"I'm a pessimist, and I'm realistic. I still have to prove to myself that I'm capable of going to the Games, and should be going. It's all ifs-and-ifs, but winning fights will get me there," says the 21-year-old.
Lawrence combines her fencing career with study at the University of Westminster for a degree in finance. In a few hours she will board an eight-hour overnight flight from Doha to Heathrow and, by nine o'clock the following morning, she will be in lectures.
"I'll see if I can stay awake. I struggle normally, even when I haven't been away," she jokes.
"My strength and conditioning coaching, and my competition costs, are paid for by British Fencing. Otherwise I live on my student loan, which is supporting half a sport and a whole degree. But I'd get bored if I just concentrated on fencing. I need my mind to go somewhere else.
"My exams should be in May but, if I'm going to the Olympics, I need to be in Brazil and Cuba for competitions. And then the re-sit period is only two weeks before the Games begin. I'm going to plead special circumstances."
Back in London, Sophie Williams is holding an ice pack to her head. The 20-year-old has won through to the last 64 of her women's sabre World Cup at Crystal Palace, defeating her Spanish rival in a bruising encounter.
"She punched me in the face, for want of better words, with her guard," says Williams. "It happens. Your mask goes into your own face. It was a shock but I don't think I'm concussed."
Williams struggled in France two weeks earlier and, while reaching the last 64 may not sound like much, it keeps her Olympic hopes alive. She is one of four women in the sabre event with a chance of representing Britain, alongside Chrystall Nicoll, Louise Bond-Williams and Jo Hutchison. It is an outside shot.
"This is so important," she says. "We're down to the last few competitions and hopefully I've done enough. I'm definitely capable of going to the Games: my results are as good as anyone's and I'm younger, so that works in my favour.
"Yes, this is as frantic as it looks, but you get used to it. You hit the season and the competitions can be anywhere. There's one in Turkey coming up, then China, then Chicago. You've got to keep going, pick yourself up from each setback, get back and put out a good result.
"Sometimes you think it's completely within your grasp, and you think you'll definitely be at the Olympics. Other days, you feel so, so far away."
Williams starts university this autumn, studying neuroscience at London's UCL. But first, regardless of how this dash to London 2012 turns out, she has a specific holiday in mind.
"You'd think I get to see the world in this sport but, really, I just see the inside of sports halls and airports," she says.
"I'm going to go for a couple of weeks' travelling, going back to some of the places where I've fenced: I want to see the touristy areas, rather than the sports hall and the hotel."