London 2012: Richard Kruse earns last-ditch Olympic berth for Britain
By Ollie Williams
BBC Olympic sports reporter
Last updated on .From the section Fencing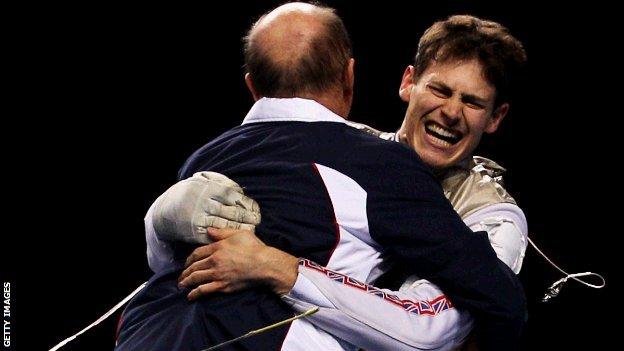 Richard Kruse booked his place at this summer's Olympic fencing, and earned an extra berth at the Games for Britain, with a last-ditch win in Denmark.
Kruse's victory in Copenhagen sent him above Ukraine's Rostislav Hertsyk, whom he beat en route, in a scrap for the last automatic Olympic qualifying spot.
The pair, tied in the rankings, had both come to Denmark for much-needed points as qualifying came to a close.
Had Kruse lost the final, Hertsyk would have gone to the Games in his place.
"We knew it would come down to this little second-tier event and the onus was on me to win this - I'm better than these guys," Kruse told BBC Sport.
"I'm really proud. We've done so much training and the results haven't really reflected what we've done."
Without the win, Kruse would have remained level with the Ukrainian on overall points and, since Hertsyk had more medals to his name at previous Olympic qualification events, Kruse would have missed out on countback.
Britain can now expect to send nine fencers to the Olympics. The team already had eight guaranteed host-nation places but Kruse becomes the first British fencer to qualify on merit.
The 28-year-old Londoner narrowly beat Italy's Francesco Trani in the final to book his ticket, pending ratification by the British Olympic Association.
British Fencing will decide which other fencers take up the eight host-nation places nearer the Games, though the men's foil team (of which Kruse is a part) will almost certainly be the priority as they are considered the best medal hope.
"I didn't want to rely on a host-nation place," said Kruse. "If I can't qualify properly for an Olympics I'm supposed to win then it's a joke, isn't it?
"At least someone else gets to go now, I've helped them out. Someone owes me a beer."
No other British fencers are expected to qualify automatically. Last month, performance director Alex Newton told BBC Sport even Kruse - considered the best in the squad - was struggling to do so.
"The only one of our fencers who could potentially qualify automatically, based on rankings, is Richard. But he'd need to improve his performance and be getting last-16s or last-eights, minimum," Newton had said.