London 2012: Truro fencers dominate GB Olympic team
By Brent Pilnick
BBC Sport
Last updated on .From the section Fencing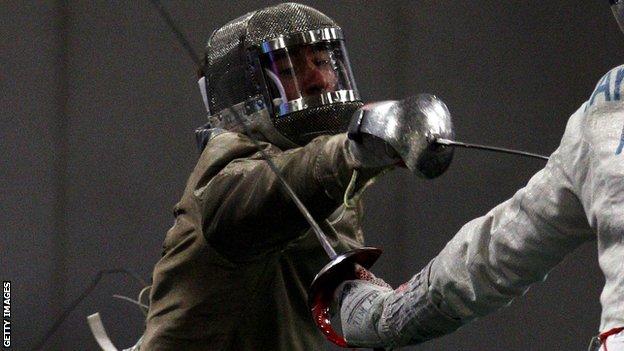 In just a decade, one fencing club in Cornwall has gone from just a handful of members to providing for London 2012.
Truro's Louise Bond-Williams and James Honeybone, both British number ones, and leading junior Sophie Williams will represent Team GB in the sabre.
And Truro Fencing Club's rise has been down in part to coach Jon Salfield.
"Rolling the clock back a few years it would have been inconceivable," Salfield told BBC Sport.
Salfield's expertise in the sabre saw him appointed as a coach for Team GB last year.
But with all three British sabre fencers coming from Truro it has
"It's a difficult situation, of course it is," Salfield said.
"I think it's been handled really professionally by GB Fencing and the BOA.
"I was not involved in the selection of the sabre athletes whatsoever.
"Especially with the women, there were four fencers who all had good and bad points.
"It's not an easy decision and I understand why athletes are unhappy if they have not been picked for the Olympics, but I had no undue influence and it was above board."
At 21-years-old, Honeybone is the British men's sabre number one and has been fencing at Truro for a decade.
"When I started at Truro Fencing Club 10 or 11 years ago it was a tiny club with maybe 10 members and now we're one of the superpowers in Britain," he told BBC Radio Cornwall.
"The Olympics is what I've been working towards for a very long time and it's the dream, it's what every athlete wants to do.
"It's been a very long, nervous wait. No-one really knew what was going on and now it's out in the open and it's amazing."
Truro put together a high-performance programme three years ago and last year Salfield was named as national coach for the sabre.
"That put Truro in a really good position to push forward with their development. There are a number of super-powers in sabre and we're now one of them," Salfield said.
"It's a great PR opportunity for the club in Truro and for the whole of sport in Cornwall.
"It's a high-profile story for the county and the South West and it's a demonstration of the quality of sport Cornwall and Truro can produce."