Olympic legacy: Cornwall aims for GB fencing hub
Last updated on .From the section Fencing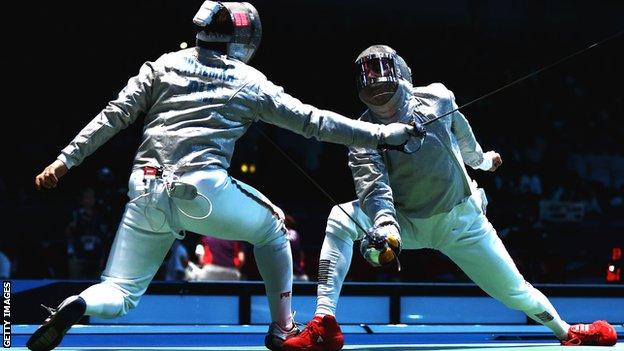 Great Britain fencing coach Jon Salfield says he is close to realising his dream of a national centre of excellence in Cornwall.
Salfield coaches at Truro Fencing Club and says the expertise already in place would help build fencing's 2012 legacy.
Truro dominated selection for Team GB's 2012 Olympic squad and have a high-performance programme in place.
"In a best-case scenario we're looking at the end of 2015 or start of 2016," he told BBC Radio Cornwall.
"It may be longer - we're still looking at various funding pots and we just need to nail down that first big tick in the box.
"I'd love to open in time for the Rio Games in 2016 so our guys can prepare in the best possible environment."
"We've made enormous strides in the last 10 years - not just in terms of the numbers of elite athletes and recreational participants but also in terms of the quality of the coaches and the fencers we have selected to compete for GB at all age groups."
Salfield says an unofficial national hub is already beginning to form in Cornwall, with some of the best fencers in the UK and beyond already gravitating to the south west in search of the best facilities and coaching.
"We have fencers from all over the UK and places like Brazil come down here to work in our programme," he said.
"We're offering what we believe is the most professional training programme for fencers at the highest level.
"If we can realise our dream of having not just a fencing facility but a holistic sports facility that's not just for fencing but for a range of sports, then I believe we can attract international-standard athletes from all over the world to train here."
Salfield says the interest developed by the Olympics was a welcome boost for the sport, but accepts that was a one-off and was unlikely to be sustained over the longer term.
"It's a bit of a mixed bag - during the Games the exposure was fantastic for the sport and we saw an upsurge at grassroots level," he said.
"Subsequently - as often is the case with the Olympics - it's been back to normal. It's been back down to the local clubs to promote the sport.
"As a club we haven't seen an enormous difference in the back-up from central governing bodies in terms of funding.
"To be brutally honest I didn't expect it. The Olympics is obviously an enormous event but alongside that it's a big sponsorship and marketing machine.
"In order for the country to be awarded the Olympics you have to have these taglines which are hopefully not just taglines - there has been a lot of participation increases across different sports from the Olympics."
Salfield also called for elite coaches' salaries to better reflect their talents and expertise in their field.
"It's partly about providing security to the coaches so they can make a good living while they're giving international-level expertise to those athletes," he said.
"For the level of skill they have - remember they're in the best 30 or 40 professionals in the world in what they're doing - they are very underpaid. As in a lot of performances sport, most do it for the passion of the sport.
"We'd like to be able to offer those guys a proper living so they're not worried about paying the mortgage. Then they can focus on how to get their athletes to win an Olympic medal."