James Davis aims to become Andy Murray of fencing for GB
By Ollie Williams
BBC Olympic sports reporter
Last updated on .From the section Fencing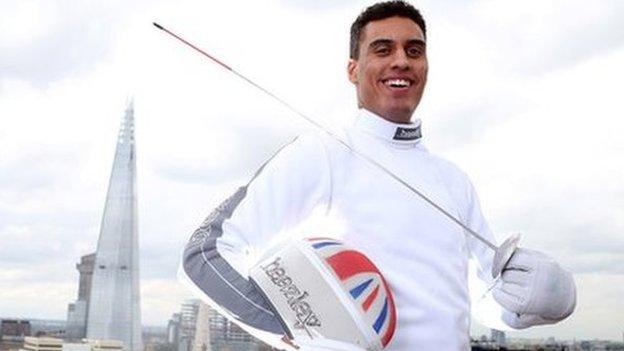 The Wimbledon men's singles title is a ghost vanquished from British sporting nightmares, but the spectre of a fencing world title lingers on.
More than half a century has passed since a Briton won world gold. Nobody has even stepped on the podium since 1965.
This week, James Davis could become fencing's Andy Murray who ended Britain's 77-year wait for a men's champion at Wimbledon in July.
"I hope I don't end up in the Tim Henman role [Henman was four-time Wimbledon semi-finalist]," he says, tucking into an egg-and-cress sandwich after training.
"I'd much rather take the Murray role. Hopefully, by next year, the 'reset' button will be hit."
Davis, 22, has shot to the heights of his sport. In 2011, he was 129th in the world. He goes into this week's World Championships in Hungary ranked fifth.
"The biggest thing was the Olympics," he says. "I had to do my growing up quickly. I was still young at London 2012 and I got a great deal of experience from that - it really spurred me on."
Davis was knocked out in the second round of the London 2012 men's foil event, then helped the GB foil team to sixth place. That much is unspectacular, but the psychological lessons from that week have driven his subsequent assault on the world rankings.
"I realised that the Olympics were the biggest stage. There will never be a pressure bigger than a home Olympics," he says.
"I think I managed to deal with that and I've moved on - I can do it. I can mix with the best."
Davis has proved just that in 2013, becoming the first Briton to win a major senior tournament in four years at the St Petersburg Grand Prix, then picking up two European bronze medals.
Yet for all his ambition of adding to British sport's summer to savour, he knows a world title this year may be too big an ask. He reckons he has about a decade to do it - if he's lucky.
His approach - "focus and small gains, nothing will happen overnight" - is one partly honed while shedding five stone in weight before London 2012. It took him three years of steady effort to lose the weight and then keep it off.
The media picked up on this. The morning before his Olympic debut, Davis could pick up a copy of the Daily Telegraph and read about his former "chronically overweight" self; how his Olympic dream had been "laughable" just two years earlier.
"That was a bold statement," he says now, recalling the article. "But it's not far off the truth. I was always a big lad and I put on a lot of weight during my A levels, when I had to cut down on training.
"At university I hit it hard in the gym. No special tablets, no fad diet; it was done over a proper duration and that's why I've kept it off.
"I'm happy to talk about my weight. One of the things you learn on the way [as an elite athlete] is you're becoming a role model, whether you want to be or not."
Davis is also a role model thanks to his state school upbringing, which he shares with Kruse and several other GB team-mates.
Every victory for Davis, who went to New Barnet's Livingstone School, helps fencing's perennial fight to shed elitist labels. He still wants his sport to do more.
"One of the things holding our sport back is that image. We've got to push it into state schools and make it cheaper; we shoot ourselves in the foot by giving ourselves such a small field to pick from.
"If I go to an equipment store, it's very expensive. We've got GO/FENCE [British Fencing scheme to make the sport cheaper to play] and that's been really good, but what they need to do now is find a way of moving kids from plastic swords to fencing and we're not really doing that just yet.
"Hopefully we'll get there."
British tennis fans had been saying that for the best part of 80 years. Davis is not disturbed by fencing's own ticking clock, stretching back to Allan Jay's world title in 1959.
"Fencing has always been my love but, as a kid, you never really understand," he says. "Every kid wants to be the champion in any sport, but you don't really know, till you're in it, what that actually means you've got to do. You just do it, and if you win you think you're the best.
"My older brother hated my sport - he was dragged to fencing tournaments, sitting in cold, damp halls for hours on end watching me compete. But I knew, from an early age, that was where I wanted to be.
"Then your mind changes and you start thinking this is my career. Then, it's about building up.
"Now, from the outside looking in, there's great pressure. It's expected that I do something this week. But I just don't care - I can deal with it. It's not a problem for me."