How a Star Wars extra inspired Britain's top fencing club
By Brent Pilnick
BBC Sport
Last updated on .From the section Fencing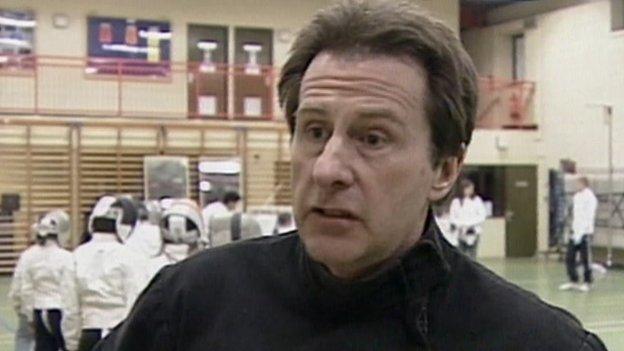 What links X-Wing pilots, Storm Troopers, and Lando Calrissian's trusted co-pilot on the Millennium Falcon, Nien Nunb, with a fencing club in Cornwall?
The answer is Richard Bonehill, the Truro Fencing Club's late former coach.
Bonehill, was one of a team of extras who filled numerous roles on The Empire Strikes Back and Return of the Jedi.
But he was also an expert swordsman and represented Great Britain, becoming World Veterans sabre champion in 2010.

And it is that legacy which has turned Cornwall's 'capital' into a force in British fencing.
He spent 12 years as head coach at the club and became its president in 2007, a role he held until his death at the age of 67.
Earlier this month, Truro achieved unprecedented success, with every British sabre champion from senior to Under-17 level coming from the club.
"He started the ball rolling with sabre becoming the predominant weapon at the club," Bonehill's successor as head coach, Jon Salfield, told BBC Sport.
"Although he hadn't coached at the club for some years, without his input behind the scenes with our coaching team and the structure of the programme, we wouldn't be where we are today. So it's a great legacy that he's left behind."
Truro Fencing Club's reigning British sabre champions

Senior Men: James Honeybone
Senior Women: Sophie Williams

Men's Under-20: Will Deary

Women's Under-20: Maria Chart

Men's Under-17: Jamie Craze
Women's Under-17: Caitlin Maxwell
It is some legacy.
- James Honeybone, Sophie Williams and Louise Bond-Williams.
And just 10 days after Bonehill's passing, every national sabre title at the British Cadet and Junior Championships went to a Truro representative.
"Richard would have been incredibly proud of that achievement, and as a sabre-fencer himself he would have been delighted," said Salfield.
"A lot of the fencers who were competing at the weekend felt that as well.
"I felt a little bit sorry for Will Deary who won the Under-20 title," added Salfield.
"He was the last fencer on, so all the other guys had won their medals, and he knew that if he won that last championship we'd have all the titles, so there was enormous pressure on his back.

"But he was 8-1 up at halfway and totally dominated, so all credit to him; his was probably the best performance."
So what is the secret of Truro's success?
"We've just put in place a very professional and well-structured training programme with really good coaching staff," explained Salfield.
"We have three full-time sabre coaches of international calibre and we have a full-time training programme.
"Young fencers can start at the age of five and go all the way through to Olympic level training at Truro Fencing Club.
"The youngsters that come in from the beginners courses or our schools programme are training alongside national champions and GB internationals almost from the word go, and that's quite inspirational for those guys.
Fencing swords explained
Sabre:
The heaviest weapon in fencing, it was originally used by cavalry soldiers. Target is everything above the hips
Epee:
Lighter than the sabre, a weapon first used for duelling. Hits can be scored on any part of the body
Foil:
The lightest of the three weapons, it was originally used for training soldiers to fight in battle. Hits are only scored on the trunk of the body.
"It's not just that they can see what the top fencers look like and what international fencing looks like, it's also the work ethic and the amount of hours those guys spend in the venue training and all the other things that go around being a successful athlete."
And just as, for a while, the Empire dominated the galaxy in Star Wars, so Salfield is hoping that his athletes can dominate beyond the British shores.
"Our focus is always on the international scene," he said.
"We're doing fantastically well at domestic level, we had some fantastic results at Under-17 and Under-20 level, as well as having three Team GB Olympians.
"But our focus is always on looking to win medals at the European Championships, the World Championships and the Olympics Games, and that's what we'll remain focused on at the moment.
"We haven't yet achieved that, but that's the next step on the path."