Management after the sack
Last updated on .From the section Football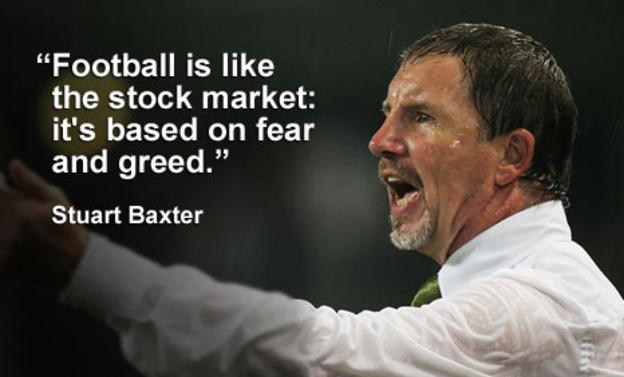 The swatting of football managers as if they are hapless flies is a familiar tale. The sack. It's the manager's lot.
Paul Ince became the 39th boss to be spat out of the revolving managerial door this season in the four English divisions when he left relegation-threatened Notts County on Sunday evening by mutual consent after merely five months at the helm.
So frequent are the dismissals that the reaction of many these days is to give a Gallic shrug of the shoulder and ask: Who will be next?
But what path will the 43-year-old former England midfielder be forced to follow over the next few months, or even years?
Of those managers shown the door this term, a few have hopped back onto the so-called managerial merry-go-round, yet many have been forced to spend the last few months reflecting, adjusting and biding their time until the next job comes along.
Paul Simpson, once hailed as one of England's brightest young managers, having guided Preston to the top of the Championship in 2006, falls into the latter bracket.
Four days into the new year, the former Preston and Carlisle boss was driving his wife, Jackie, back to the north west of England having on that January morning exchanged contracts on the sale of his Shropshire home and the purchase of a five-bedroom semi in Stockport.
It was meant to be a new beginning for the Simpson family and a new era for Stockport County.
Six months previously, newly-relegated Stockport (a club which had spent the previous season in administration) had been taken over by a consortium which had asked the 44-year-old to steer the League Two side through their five-year plan.
"It felt like fate," Simpson tells BBC Sport. "We'd decided to move back to Stockport to be closer to the family and then the club asked me to be their manager."
As the couple drove through the Shropshire countryside, Simpson's mobile phone rang with the number of one of the club's directors flashing on the screen. He answered.
"Is it urgent. Does the meeting need to happen today?" asked the manager. A sense of doom descended and so came the next question: "I take it you're sacking me?"
Stockport had won just three of their last 19 games under Simpson and were four points above the relegation zone, clinging to league football by their fingertips, yet the call still came as a shock.
With a hundred thoughts racing through his mind, the former Manchester City winger drove on until he arrived at Chester services to meet the director.
"There were no arguments," says Simpson of that meeting in the unlikeliest of settings just off the M56. "He said what he had to say. I said what I had to say and we both went our separate ways. It was put into the hands of the League Managers' Association (football bosses union) and Stockport County's lawyer, and I am hoping that this will be resolved in the next week."
Simpson was one of 10 managerial casualties that month and has since whiled away the hours decorating the new family home - "more DIY than I've done in my life", he chuckles - summarising for BBC Radio Manchester and, in what is the silver lining, spending time with his sons Joe, Jake and Dominic.
Yet, three months since his departure from Stockport, there's still an eerie silence around the home which the man who once led Carlisle from the Conference to League One in successive seasons is still getting used to.
"As a manager your phone is constantly ringing, whether it's agents, other managers, coaches or chairmen," he explains.
"For about a week after you've lost your job the phone continues to ring, but not as much as it used to. Then, about two or three weeks later you probably get one or two calls, just from your close friends. It's a massive change."
Simpson admits to a "feeling of failure" when he left Stockport, describing the moment as the biggest disappointment of his career.
"It taints your CV as people look at it and see what's gone on and it does put a bit of a black mark against you," says the man who, in 2006, was head hunted by Preston only for his tenure to be brought to a halt 17 months later.
"If you want to stay in the game you've got to be positive and believe in what you can do.
"It's getting tougher. The time you get given in the job is getting shorter and shorter and there's always younger talent coming through. There are lads in their early 30s who are managing at the moment, which is really good to see, but when you get to Championship and Premier League level people aren't prepared to take a chance on young English managers."
In 2003, Simpson completed a five-year sports science degree at Manchester Met University and is currently studying for a diploma in business management at Warwick Business School.
The studying is to ensure he becomes "the best manager I possibly can", but the mortgage on the new home has to be repaid and Simpson, who has managed over 400 matches, is painfully aware that there might have to be life away from the beautiful game.
"I'm confident I can do the job, I've shown that I can do the job, but, on the other hand, like many of my managerial colleagues, you do occasionally have doubts about whether you want to do the job again after such an experience," he says.
"You read about these managers who get sacked at Premier League level, and even in the Championship, reportedly getting huge pay offs.
"I got paid at the end of December on a normal wage and to this day I haven't received anything in settlement of my contract. My case is in the hands of the LMA. It is a concern.
"I'm enjoying having a bit of time out but us League One and League Two managers, we're not in a position where our compensation leaves us comfortable for the rest of our lives. There's going to come a point where I need to work again. I need to get out and work.
"I'm allowed to work, my contract gives me scope to be able to work, but I want to put closure on Stockport County before I move on and until my contract has been resolved I don't think there is closure.
"I've worked hard in the last eight or nine years to gain experience and knowledge and I just think it'd be a bit of a shame if I didn't continue to use it."
At least Simpson has managed to stay in the profession longer than most - research suggests 49% of all first-time football managers are never reappointed to a second managerial job.
Ideally, Simpson wants to remain in the North West, but many of his associates are looking beyond these shores and over the last 12 months the number of managers opting to bark orders from foreign dug-outs has doubled.
One of British football's most successful managerial exports is former Finland boss Stuart Baxter, who has spent 23 of the last 25 years working abroad.
The 57-year-old parted company with Finland in the autumn and is currently "chilling" in south Sweden, where he lives with his wife and two teenage children, before deciding what adventure to embark on next.
"We're in a period of a little panic in the British market, and a couple of markets," says the multilingual Baxter, who has enjoyed success with club sides in Norway, Portugal, Japan and Sweden.
"People are enquiring and saying 'look, we're at the bottom of the league at the moment and we want you to come in and keep us in the league'.
"But I don't want to put myself in a position where people would say 'his only serious job in the Premier League or the Championship was to take so and so down'. I've got to be a bit careful so I've said I'll wait until June.
"For me at the moment, the right thing is to recharge the batteries. I'm not diving in at the moment, I think that's the right thing to do, but is that easy? No it's not."
This is only the second time in his career that the former South Africa boss, who briefly returned to England to take charge of England's Under-18 and Under-19 teams in 2002, has left a job without having another one lined up.
He is confident he can return to club football and his desire to work with players to develop their skills is as strong as ever, but the experienced Scot admits he is worried that managing a football team is becoming akin to working on Wall Street.
"The emphasis is not on doing the work. The emphasis is on getting results because it's driven by money. It's like the stock market: it's based on fear and greed," he says.
"There are all sorts of situations with football clubs these days. It used to be, do they have any decent players? Does it have a good name?
"Now, you're talking about the owners, the budget, the playing staff and the training facilities. Taking a job is a much more complicated decision nowadays."
But even though the Sword of Damocles seems to be perpetually hovering over nearly every manager - 1,082 have come and gone since Sir Alex Ferguson was appointed at Manchester United in November 1986 - the sack, it seems, is not something they fear.
"There are calculated risks with every job," explains Baxter.
"If I'm standing on the touchline as the Finnish national coach and we're playing against Germany in Hamburg in the World Cup qualifier, the feeling when you hear the anthems being played, when it's a full house and you see the quality of players on the field and you've got a fantastic bench sitting opposite and you've got to try to outmanoeuvre them - that's the reward.
"It's a reward both on the evening and years later. I'll look back on that night and that will be worth so much more than working in a safe, secure job for two or three years."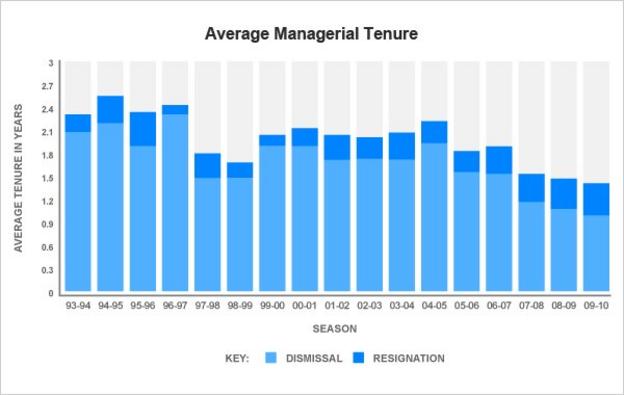 Figures refer to the four top English divisions