Premier League to oppose calls for return of terraces
Last updated on .From the section Football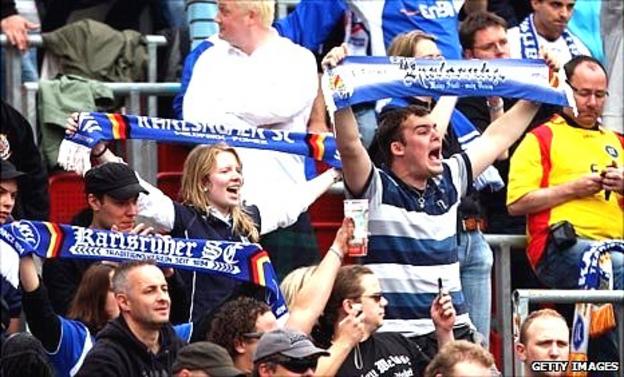 The Premier League will oppose moves to reintroduce standing areas at top-flight football matches in England.
The Football Supporters' Federation (FSF) is to launch an online petition calling for the return of standing areas in the top two divisions.
But Premier League spokesman Dan Johnson said: "Our view is that the benefits of all-seater stadia far outweigh the return of standing areas."
Terraces were banned following the Hillsborough disaster in 1989.
The issue of allowing some standing areas has been revisited a number of times since all-seater stadiums became compulsory in 1994.
Kate Hoey tried to back a scheme when she was sports minister in 2001 but the-then Government blocked it.
The FSF held a meeting on Monday with representatives from the police, Government and football authorities.
FSF chairman Malcolm Clarke argued that many fans already stand all match despite having seats which is viewed as a safety risk.
Clarke told the Guardian: "Fans do believe they have lost something in the move to all-seating. We will be doing further research to respond to the concerns of those who are not yet convinced."
Sports minister Hugh Robertson said he would examine the evidence for safe standing but played down any likelihood of a change to the law.
Referring to the prospect of an accident or crowd trouble if terraces were reintroduced, Robertson told the meeting: "The minister's head would be on a spike on Tower Bridge before he could draft a resignation letter."
The Government insists no compelling case has been made to bring back standing areas.
"Football grounds are safer and more comfortable than they were 20 years ago," said a spokesman for the Department for Culture, Media and Sport.
"All-seater stadia are the best means to ensure the safety and security of fans and have been a contributing factor to the increased diversity of those attending matches in recent years.
"The Government appreciates that there are some supporters who would like to see the return of standing areas at football stadia, but do not believe that a compelling case has been made to change the policy."
Premier League spokesman Johnson added: "They [all-seater stadiums] have led to more women and more children attending the games and no matter how safe standing can be made, seating is always safer.
"We will not be encouraging the Government to change the law."