Robbie Williams rejects Port Vale fans' plea
Last updated on .From the section Football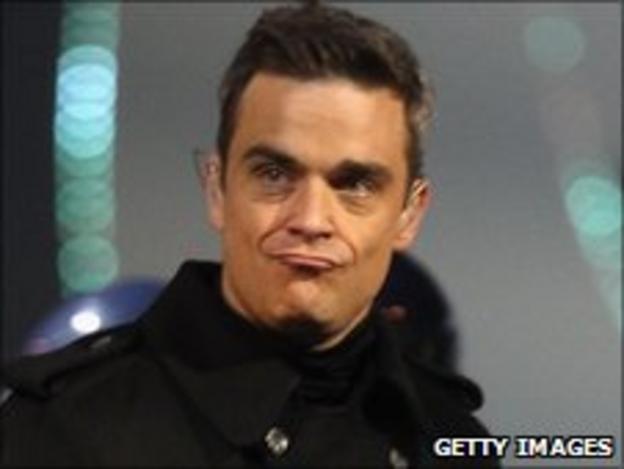 Robbie Williams has rejected a plea from Port Vale fans to back their campaign against the club's board.
Williams, a lifelong Vale supporter, became a majority stakeholder in the club in 2006.
Valiants supporters wrote to the Take That star in the wake of Mo Chaudry's takeover bid.
But in an open letter to the board and fans, Williams said: "I will be abstaining from any vote on the future ownership and running of the club."
Staffordshire businessman Chaudry had an initial bid for the Valiants rejected in December, but met with the Vale board in February.
A large number of Valiants fans who support Chaudry's bid have protested against the current board and chairman Bill Bratt.
In their letter to Williams' representatives, the Port Vale Supporters' Club said: "For any takeover bid to be successful Robbie needs to exercise his vote as a shareholder at the EGM.
"Failing to take an interest and not using his vote plays into the board's hand as it would be as good as a vote for the directors.
"With this in mind, we're asking if this issue can be brought to Robbie's attention so he can make an informed decision that will benefit the club he has supported all his life."
But in reply, Williams said: "Back in 2006, I invested in Port Vale when the club came to me needing money.
"I was happy to help the club because it's a big part of my childhood and roots.
"I made it clear at the time that because I live in Los Angeles, I would not be able to follow the Vale closely enough to be involved in the running of the club or called on to be involved in any future decision-making.
"That position has not changed and I do not feel well informed or close enough to the current debate to vote either way."
Vale, who currently lie ninth in fourth tier, parted company with manager Jim Gannon on Monday.
With Mark Grew in temporary charge, the Valiants drew 1-1 with Hereford on Tuesday.