Dundee aim to retain manager Barry Smith
Last updated on .From the section Football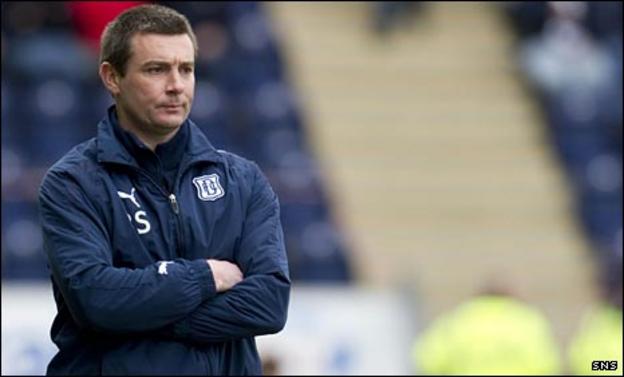 Dundee hope to secure Barry Smith and his high-flying players on new contracts - as soon as the Division One club come out of administration.
The Dens Park side are unbeaten in 22 matches and would be leading the promotion chase if not for a 25-point penalty for their financial problems.
Chief executive Harry MacLean said: "If I've got anything to do with it, Barry will be here for many years to come,
"And, when I talk to Barry, he is quite comfortable working with no contract."
MacLean hoped to be able to offer contracts to the present squad as well as the manager but stressed that it was impossible until Dundee were out of administration, a process that has already begun.
Smith was recalled from a loan spell at Brechin City to take over as player-manager when the financial problems struck and he has been unable to add to his squad because of league rules.
"The fact he has been able to put out a competitive team is down to his skill, but they are all in it together," said MacLean.
"They fight hard, they don't give up in any games and it is great to see.
"We have not had that at Dens for a number of years that the whole place has felt so together."
Dundee have raised eyebrows by supplementing their squad with trialists, with former Swindon and Barnet striker Jake Hyde scoring Tuesday's equaliser against Dunfermline after signing for local junior side Lochee United.
Former Scotland winger Neil McCann came out of retirement to play his maximum three games, while former Dunfermline striker Graham Bayne also guested.
"What we have to do is try to get guys into the team and, when you look at people like Neil McCann or Graham Bayne, it is not just a question about filling the team for this year," said MacLean.
"We are actually looking at the possibility of bringing them in.
"We didn't know when we will be out of administration and, had we been out out of administration now, I can assure you we would be looking at signing people of the quality of Graham Bayne and Neil McCann and the other trialists.
"But the administration thing has dragged on, so unfortunately we are not in the position to offer them a contract."
MacLean stressed that the club had managed to reach a position of financial stability.
"The reason we have managed to keep ourselves above water through administration is purely down to the performance of the players on the park that's attracted good size crowds to Dens park every week," he added.
"Our hospitality is doing very well. We are sold out now until the end of the season and things like the crowd the other night, over 4500 for a game with Dunfermline, I think that was more than all the other games in our league put together.
"It is a bit of a chicken and egg situation. The players have done particularly well and they have attracted the crowd that spurs the players on to do even better."