Celtic and Rangers given six o'clock kick-offs in Perth
Last updated on .From the section Football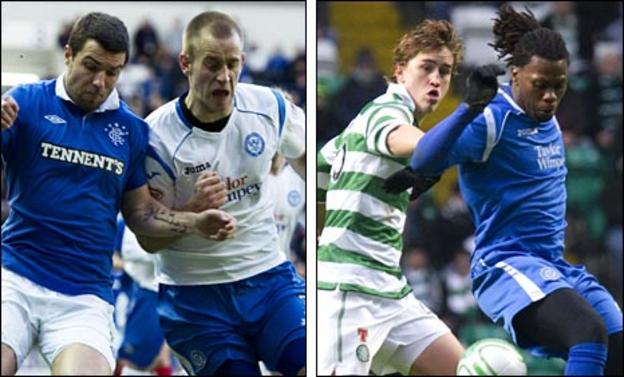 The Scottish Premier League has announced its first six o'clock midweek fixtures, involving Celtic and Rangers in games at St Johnstone.
The re-arranged matches have been moved to the earlier time because they are live on television and cannot clash with Champions League coverage.
Scottish champions Rangers are the visitors to McDiarmid Park for the first 1800 BST kick-off, on 5 April, with the league leaders Celtic travelling to Perth the following Tuesday.
The SPL has announced re-arranged dates for two other postponed fixtures.
Rangers will face Aberdeen at Pittodrie on Wednesday 13 April with a 1945 BST kick-off.
Walter Smith's side will also be at home to St Mirren three days later, with a 1500 BST kick-off for the Saturday fixture.
However, Rangers' outstanding fixture against Dundee United has still to be arranged.
The six o'clock kick-offs were made necessary by the desire to show the Old Firm visits to McDiarmid Park on television.
Scottish Premier League secretary Iain Blair told BBC Scotland: "We are not allowed to go ahead-to-head with Uefa club competitions, so that is the principal reason for the two matches kicking off at 6pm.
"I do sympathise with the fans. I know that those who want to attend the matches will not find a 6pm kick-off at all satisfactory.
"I have actually, as part of my communications with Uefa to keep them informed of developments, advised them of the dissatisfaction.
"It is something that we have seen elsewhere in Europe also - my colleagues at the Italian league have had several matches kicking off at similar times of the night, again involving the top clubs.
"It is an issue which we are discussing across at the European leagues, it is an issue we are discussing with Uefa, but I would be misleading you if I suggested that we are likely to see the Uefa restriction being taken away any time soon."
Blair recognised the problems fans would have reaching the Perth ground in time for kick-off and that attendances might fall because of Champions League quarter-finals being broadcast later in the evening.
Nevertheless, he hoped that clashes with such big European nights could be avoided in the future.
"Fortunately, in most cases, we can actually manage our fixtures such that it isn't an issue and we simply avoid those dates absolutely and completely," he added.
"The severe weather that we've had this winter and the fixture congestion which that's created, combined with our requirement to get the games by and large played by 16 April so I can work out the firxtures are for the last five games, have left us with nowhere to go on this one.
"There hasn't been a strong reaction from the clubs, certainly in my direction.
"I think the clubs do understand that it's almost impossible to balance the demands of the various interested parties and I think we have got to deal with these two games as we have done."