John Ward braced for Colchester United 'downsizing'
Last updated on .From the section Football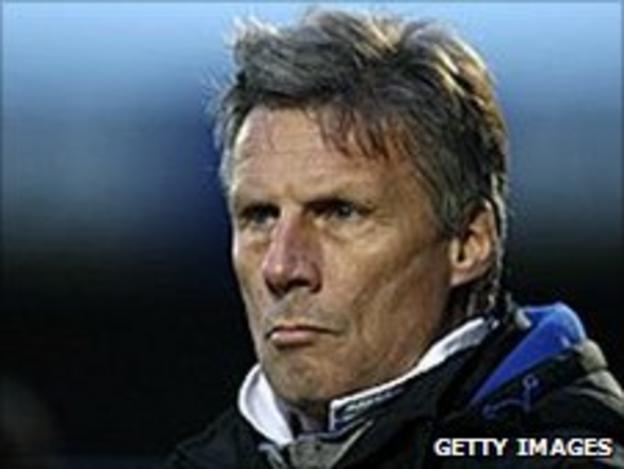 Colchester United boss John Ward has been told his playing budget will be reduced next season.
U's chairman Robbie Cowling, who props up the club financially, has told Ward he wants to make cutbacks.
"We are going to look at downsizing in terms of the finances side," the U's manager told BBC Essex.
"And I'm fine with that, I fully understand, I work closely with Robbie and it's part of my managerial make up that I've had to mend and make do."
Since suffering relegation from the Championship in 2008 the club have made it their goal to return to the second tier of English football.
But, despite Cowling's financial backing, the U's have failed to win promotion from League One and attendances have started to wane.
"Players are going to have to accept that this football club is not the Championship club it was when Robbie came in and money was thrown at it," Ward explained.
"It's going to be carefully run and quite rightly so in my opinion.
"The man who runs this football club has put a lot of money in over the last two or three years and it hasn't progressed the way he'd like.
"So we've got to be very prudent with what we do.
"The attendance we had Tuesday night [2,892 against Oldham] is not one that can sustain this football club, it's sustained by Robbie Cowling, end of story, full stop.
"And if Robbie Cowling leaves this place tomorrow then there's nowhere for anybody.
"There's no work for you guys [the media], there's no job for me, there's no football for anybody."
But Ward is remaining upbeat, and believes investment in facilities and a centre of excellence at the nearby Thurstable School will garner success in the long term.
"It will progress because we're looking at different ways of progressing it, which is with the Thurstable School and the training ground etcetera, etcetera," he said.
"The future is really bright but the future is local."
Meanwhile Cowling has issued a statement on the club's website, laying out his vision for the future but also backing Ward's performance as manager.
"In my opinion the team's performances this season have been mostly good performances, with a couple of 'off days' that all teams suffer, and these performances have been on a par with anything we have seen under our previous managers in League One," he said.
"John has vast managerial experience and although he accepts that he is learning new things every day he also accepts that if we were to win four games on the bounce that won't be because he has suddenly become an unrivalled footballing genius.
"The same can be said of recently losing four games on the trot. John didn't suddenly become a bad manager and if you take those games individually and with the benefit of better finishing and decision making from the match officials, the results could so easily have been different."