Play-off hopefuls Wrexham hit by transfer embargo
Last updated on .From the section Football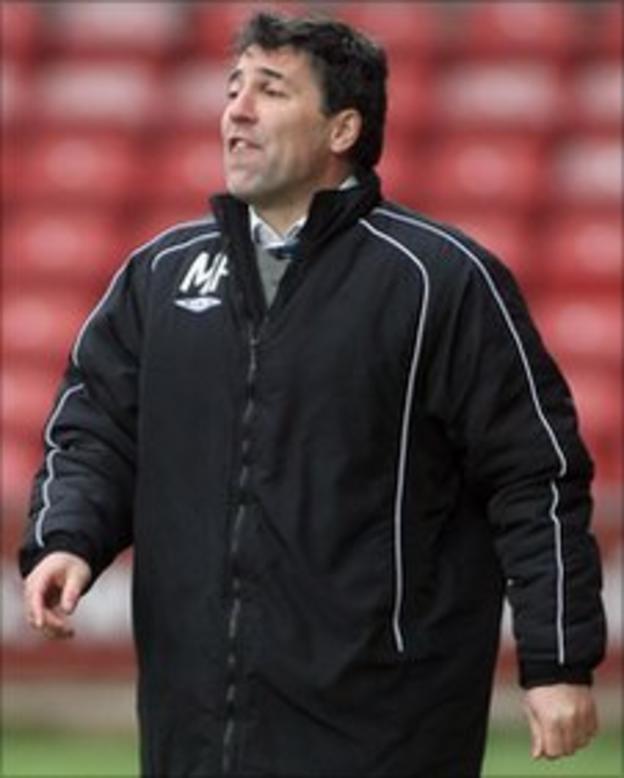 Manager Dean Saunders says his hopes of leading Wrexham back into the Football League have been hit by a transfer embargo.
The Dragons are fourth in the Blue Square Bet Premier and hope to secure a play-off place.
"We can't sign any players until we've paid off some bills, so my hands are tied at the minute," revealed Saunders.
"Everybody else up there will be strengthening and we're not - that's causing me a problem."
Wrexham FC Supporters' Trust are trying to buy the club after joining forces with former rival bidder, businesswoman Stephanie Booth.
But the club's directors have suspended talks with Booth.
A statement on the club's website on Friday read: "The directors of Wrexham FC are disappointed by allegations made by Stephanie Booth that the club is 'days away from administration'.
"These are totally without foundation.
"We consider these remarks to be very damaging to the business of Wrexham Football Club.
"In view of this, all negotiations concerning Stephanie Booth's bid will be temporally suspended.
"Every business has it problems and no one likes them to be aired in public.
"The club's monthly debtors and creditors list currently has a fairly neutral position and it might surprise a few, that the debtors outweigh the creditors.
"We currently have a creditors issue with HMRC, due to the zero tolerance they have taken with all football clubs following some recent high profile cases.
"Negotiations continue to resolve this matter, which we hope will be decided over the coming weeks."
Saunders says the "circus around the club" is not affecting him, but not being able to sign players is.
"It's a problem," he added. "I think we should be strengthening the team as we're in such a good position.
"Now is the time where we can probably spend some money because if we do get into the play-offs, we'll get two big gates and that will pay for all the players' wages."
The club went on to release another statement after Sunday's 1-0 win over Newport County.
"The directors of Wrexham FC would like to apologise to supporters for what they can only describe as the deeply embarrassing media circus surrounding the club at the moment," it said.
"They accept some responsibility for this and feel it best that no more statements are made for the time being."