Newcastle manager Alan Pardew confident of summer funds
Last updated on .From the section Football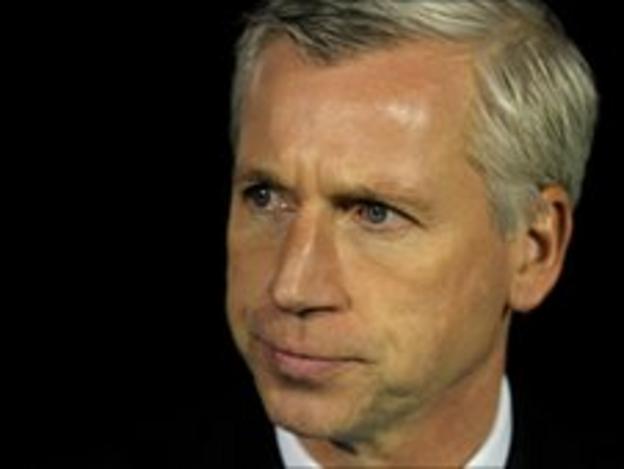 Newcastle United manager Alan Pardew is adamant that owner Mike Ashley will release funds to allow the club to strengthen in the summer.
Liverpool paid £35m to sign Andy Carroll on the final day of the January transfer window, a sum Pardew hopes can swell his summer coffers.
"Mike Ashley has made that commitment that the money will go back into the club," Pardew told BBC Newcastle.
"I'm sure 100% that he will and it's my challenge to spend the money wisely."
Pardew added that he did not really have a chance to replace Carroll in January.
He continued: "We made a few calls and were getting responses that were comical in terms of figures. We couldn't waste the money by paying an over-inflated price for someone who wasn't as good as Andy.
"The most important thing from that deal was that we got over the line, because then we get the opportunity to spend the money to strengthen the team overall."
Pardew said when he joined Newcastle he had been given assurances over transfer policy.
He explained: "In terms of the transfers, when I came in here, I said: 'Look, you've obviously got a scouting system here, but the rubber stamp has to come from me.'
"If you're going to mould a team, then you have to have that assurance, and they gave me that assurance."
He also praised his scouting team. "In terms of the scouting team I've got, I've got Graham Carr here who was the main instigator in Cheik Tiote arriving, and Ben Arfa, so I think I've got to take good advice from him.
"We've been working together, in this last period of three or four weeks, so that we target and get the right sort of player."
Pardew was looking forward to making some big summer signings.
He said: "Unfortunately it's going to seem slightly shallow until we get to the summer and we get one or two names in. But then hopefully by the time we get to pre-season next year, we'll all be excited looking forward to the new campaign."
Pardew was the special guest on BBC Newcastle's Total Sport programme, broadcast every weekday evening from 1730 BST.