Ray Wilkins questions Ramsey choice as Wales captain
Last updated on .From the section Football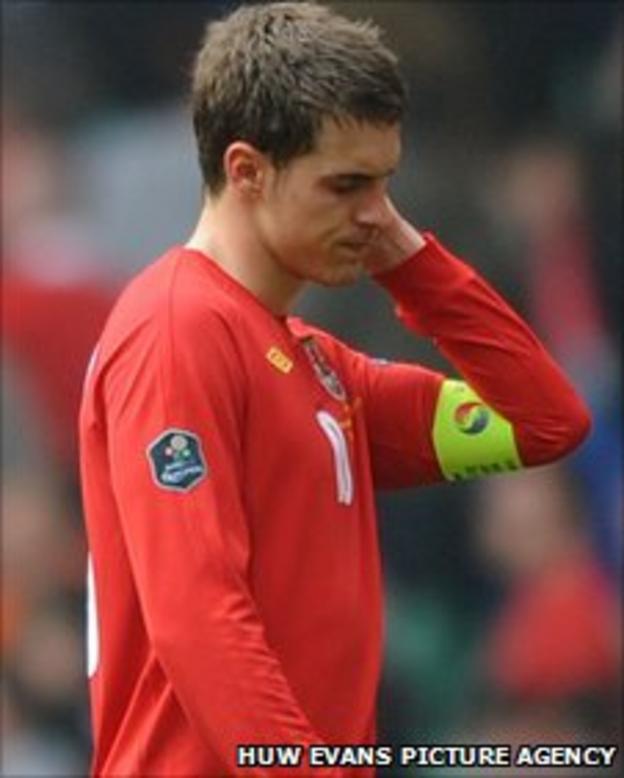 England legend Ray Wilkins believes it was a mistake for Wales manager Gary Speed to pick Aaron Ramsey as captain.
Speed chose the 20-year-old as his skipper for the Euro 2012 qualifier against England at the Millennium Stadium, a game Wales lost 2-0.
Wilkins insists Speed should have chosen a more experienced captain like James Collins.
"That was the only decision that Gary made at the weekend I would have gone against," said Wilkins.
Ramsey was national team skipper on Saturday despite winning just his 12th Wales cap in their defeat against England.
Wilkins, meanwhile, was just 18 when he was made Chelsea captain in 1975 taking the role from long-time leader Ron Harris.
But the former Chelsea, Manchester United and Milan midfielder admits he would have chosen a more experienced player as Aston Villa defender James Collins and Swansea centre-back Ashley Williams had led their country.
"I would have made big James Collins the captain at 27," said Wilkins.
"He has still got a lot of international football to play and I would have just allowed Aaron to play and enjoy his football.
"Obviously, to lead your nation at a tender age is very difficult especially when you are not actually playing regular first team football for your club.
"I don't think Aaron will be playing regular first team football for Arsenal for a good couple of seasons to come because of the quality they have at the Emirates."
Speed suffered his first competitive defeat as Wales manager on Saturday but the 2-0 reverse to Group G rivals England was Wales' fifth successive defeat and they are bottom of their qualifying group without a point.
But despite the poor run - where Wales have only scored one goal - Wilkins insists the long-term future of Welsh football is bright and says that the Wales-England clash has to be put in its full context.
England were packed with Premier League talent, despite being without injured duo Rio Ferdinand and Steven Gerrard, Wales missed their star player Gareth Bale, who pulled out with a hamstring strain.
"It was always going to be a very difficult game for them in the fact that England are packed out with very, very experienced Premier League players, also Champions League players and experienced international players," explained 84-times capped Wilkins.
"In contrast, the Welsh guys are extremely young and several of the guys don't play in the Premier League and I thought that was a major factor on Saturday.
"In that when England started to play a Premier League intensity and pace I felt the Welsh side were left a little bit wonting.
"[Wales] have a number of very, very good young men that are coming in and doing an extremely good job.
"I think it would be extremely unfair to take Saturday's game alone on how Wales are going to develop.
"I say most sincerely that the loss of Gareth Bale was probably the one threat that England needed to be lost before the game. [Wales] lost an exceptional footballer at the weekend.
"You have lost a number of players over the last couple of years which has made it extremely difficult for Wales in qualification.
"When you losing such experience and then are you're putting young men in to do that job it's extremely difficult.
"Gary's philosophy will always be to play football, and I commend him on that, but to have played football in the first half against England was a little bit premature, in that England were able to put pressure on the Welsh guys and make it extremely uncomfortable for them.
"I am absolutely delighted [Wales] have chosen a Welshmen to lead [the] country because I think that is the right way forward.
"Gary is an extremely level-headed young fellow and I like him a lot and I think he has got a lot to offer the Welsh.
"I don't think [Wales] should start panicking as yet. Wales do have a lot of young men and the Welsh Under-21 team over the last couple of years has done very well indeed.
"Hopefully in the near future we can see a lot of those guys come to fruition."