Aston Villa's Gary McAllister denies mutiny reports
Last updated on .From the section Football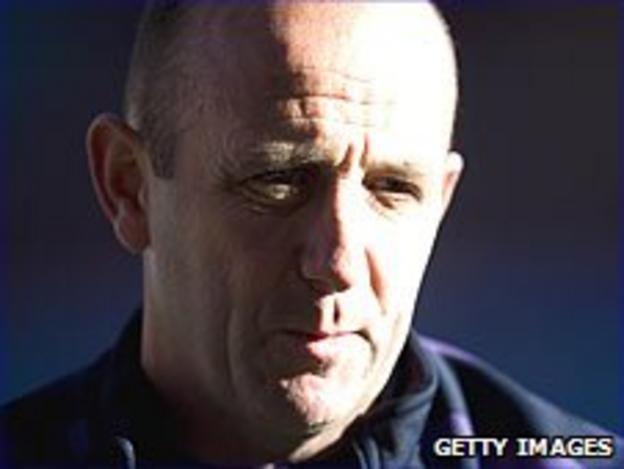 Aston Villa assistant manager Gary McAllister has rubbished suggestions there is a mutiny taking place at the struggling Premier League club.
Players were reportedly unhappy at new rules allegedly brought in by manager Gerard Houllier, including the banning of mobile phones.
"I don't think there's any mutiny here," McAllister told BBC Sport.
"There's been little arguments here and there but nothing outside the realms of what happens at most clubs."
Villa have won only six of their past 25 Premier League games, leaving them one point above the bottom three.
Some fans called for Houllier's head after the 1-0 home defeat by Wolves, but he has since received a vote of confidence from chief executive Paul Faulkner, who said the club's best chance of staying up is with the Frenchman in charge.
On Sunday, goalkeeper Brad Friedel also said rumours of a player revolt were "laughable".
Friedel added: "Supporters need to know there is nothing in this story."
Meanwhile, McAllister denied suggestions Houllier had made draconian changes to the club rule book and dismissed rumours that players were unable to speak to chairman Randy Lerner without Houllier's permission.
"The facts are most football clubs have a rule book which is set by the PFA [Professional Footballers' Association] and apart from little tweaks here and there, it's a standard rule book," said McAllister.
"Mobile phones aren't switched on inside the building and Gerard had this rule when I was a player at Liverpool.
"It's to encourage people to speak to each other rather than be texting and phoning. But when they get to the car park, it's fine.
"And I've never worked under a chairman who's more accommodating. I've probably spoken to him more than I've spoken to any other chairman."
McAllister added that the staff and players' "passion and feel for the club" will see them avoid relegation, despite many of Villa's players being unfamiliar with relegation battles.
"I've seen some of the players talking about pride, playing for the fans, playing for the jersey - they know we're in a bit of trouble and we need to produce," he said.
"I agree some players in other teams are a little bit more hardened. But I don't think it's going to be a problem because players' pride and quality will lift them above it.
"We've got enough quality and goals in the team and we all believe we'll be good enough to come out the other side."
McAllister also denied suggestions that Houllier, his former boss at Liverpool, was losing his appetite for the task.
"Gerard Houllier is a proven manager - I'm working under somebody who's had to make big decisions, won things," said the Scot.
"I don't think he does anything by half measures. One of the things he said to me when he asked me to join him is that there's an opportunity to get a project going.
"It's a club that's got most things in place - the training ground, the stadium, the fans, a squad that's done well in the past - and he's here to try to take it to the next level, to pick up a trophy."
Villa's next game is a Premier League fixture away against Everton on Saturday.