Newcastle's former electrician lights up Premier League
Last updated on .From the section Football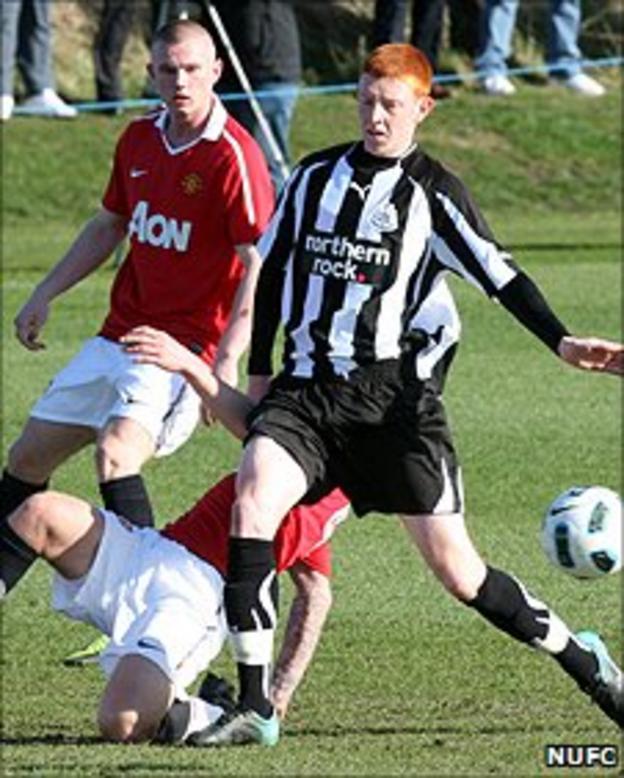 Newcastle United provided the setting for Santiago Munez's fictional journey from overlooked youngster to Premier League star in the 2005 film 'Goal!'.
Michael Richardson's story seems scarcely more likely.
In July 2010, he was working as an apprentice electrician for Newcastle City Council, filling his weekends by playing in midfield for local team Walker Central.
Had he still been playing there, the 19-year-old midfielder would have been at a loose end on 5 February after a match against Heaton Stannington was postponed.
Instead, he had a ringside seat as one of boss Alan Pardew's substitutes to see Newcastle climb off the canvas and snatch a 4-4 draw against Arsenal.
To describe Walker Central as "non-league" is only half the story.
You have to delve 10 tiers below the Premier League, past the Blue Square Bet Premier, the Evo-Stik Premier League, and several more cumbersomely named divisions, before you discover them in the Northern Alliance Premier Division.
Richardson had impressed in the club's under-18 side, which won a hoard of silverware including the Durham Youth Cup, but never attracted the attention of a professional club.
After leaving school at 16, he instead made a living rewiring houses and fixing council residents' faulty electrics in his home town.
Luckily for Richardson, despite their lowly status, Walker are a particularly well-connected club.
Former Newcastle star and current Huddersfield boss, Lee Clark and former Magpies scout Brian Clark were two of the club's founders.
Impressed by Richardson, Brian Clark managed to get him a week's trial at Newcastle's academy in August.
From there he progressed through the academy side, to the under-20s and on to the reserves, doing enough to convince Pardew to promote him to the senior squad.
After warming up on the St James' pitch ahead of the 1-1 draw against Tottenham, he was named on the bench against Fulham and Everton either side of the Arsenal clash.
"I still don't think it has sunk in really yet, from going out with my mates on a Sunday for a kickaround to sitting on the bench in front of 60,000 people," Richardson told BBC Sport.
"It has happened so quick and I am just loving every minute of it.
"I never thought I would get this far in six months, but I was just going out and enjoying my football, playing well, playing hard and seeing what happens.
"You look up to these people who you see playing and they are just like idols.
"To go from watching them playing, to getting a contract here and running out and training with them and passing it round with them is just unbelievable."
Michael Jeffels, Pardew's counterpart at Walker Central is not surprised by how his former charge has done.
"He has the vision of a Paul Scholes and the engine of a Steven Gerrard. I think he is one of the young lads who could possibly go all the way," said Jeffels.
"In whatever game you went to see him play, he was probably the outstanding player.
"He was quick, but not just pacy, his speed of thought was pacy too. He seemed to be able to read situations and that made him a pretty intelligent player as well."
As much as his playing ability, it is Richardson's personal qualities that seem to win over observers.
One of Walker's supporters described him as "a little treasure" while Newcastle United's reserve team boss Peter Beardsley has claimed he was "a pleasure to work with" in the second string.
Jeffels saw enough in Richardson to make him captain of Walker's senior side at 16, entrusting him to lead a team containing players almost 20 years older.
"He had that much ability and respect on the pitch. He was vocal and encouraging on the pitch and basically led by example," he added.
"He is very well-liked. Some young kids get into the academy and think that they have made it, whereas Michael appreciated the fact that he has been given this opportunity."
In fact, Jeffels believes Richardson may have been better off slipping through the scouting networks of league clubs to learn his trade at a lower level.
"Once a young player signs up for a local academy he cannot play for his local club and that is difficult in two ways," Jeffels added.
"A lad of 12 or 13 may think because he is with an academy he has probably made it, when in fact at that moment he is probably just a little bit better than the others.
"But also once a child of 15 or 16 is released, psychologically it has an effect on them. They aren't mentally tough enough to take on board that it is just someone's opinion.
"They aren't good enough at that time and then go away and develop their game and some children go out of the game."
Like Richardson, England Under-21 coach Stuart Pearce, knows his way round a fuse box.
He advertised his services as a trained electrician in Coventry's match-day programme even after making the step up to league football with the Sky Blues from amateur side Wealdstone.
Such stories were not uncommon in the days before clubs began recruiting exotic players off video and luring local teens from their school studies.
Alongside Pearce in England's 1990 World Cup side was Chris Waddle, who worked in a sausage and meat pie factory before turning professional.
"When I made that journey from non-league to professional a lot of others did, such as the likes of Chris Waddle, Peter Beardsley, Cyrille Regis and Les Ferdinand," Pearce told BBC Sport.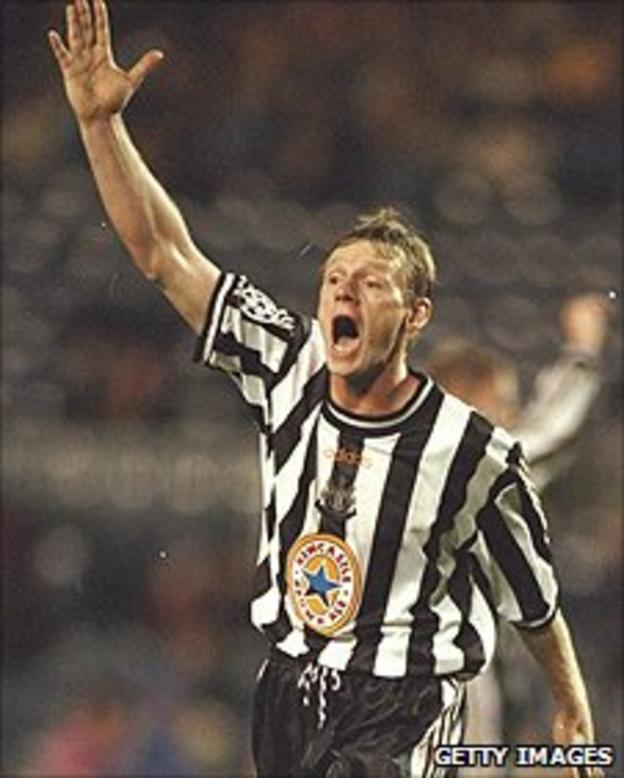 "Nowadays the scouting networks are that much better, but in my three-and-a-half years with the under-21s, a £12m player in Chris Smalling has come out of non-league [Maidstone], and also Michael Kightly at Wolves [previously of Grays Athletic].
"I think you can tell the mentality of players that have played in non-league.
"To play away at places like Scarborough and return home at three o'clock in the morning, always by coach, and then get up and go to work makes you appreciate it.
"They know exactly what's in front of them because they know what's behind them."
Richardson's mates are unlikely to allow him to forget what's behind him.
He admits his mobile has been pinging with messages from former team-mates and work colleagues checking how he is getting on since his world went "crazy".
Those friends have had the chance to hear from the horse's mouth Richardson's enthusiasm for the mud-free pitches at Newcastle's Darsley Park training ground.
"There have been two or three games where Michael has played for Newcastle in the morning and then he has turned up and paid to watch us in the afternoon," said Jeffels.
"That is testament to the type of lad he is. He gets a bit of a ribbing because he has got his Newcastle United gear on and the lads call him a 'Big Time Charlie' and you can see him get a little bit embarrassed by that.
"But he gives as good as he gets and it is testimony to his personality that he is well-liked and can come back and people have time for him.
"You see him sitting with his old friends from last season and there are never any airs and graces."
Whether or not Richardson's career goes on to offer his old team-mates further ammunition, it may give a few jet-setting Premier League scouts pause for thought as they chase ever-younger and more-distant prodigies.
Those teenagers whose hopes are fading outside their local club's shiny youth programme might also take note.