England captain Faye White keen to impress against US
By Tony Leighton
Women's football correspondent
Last updated on .From the section Football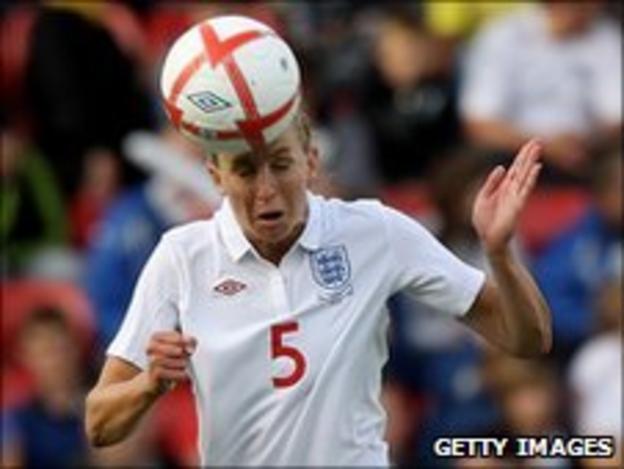 Retribution for a nose-breaking challenge by Abby Wambach will not be on the mind of England captain Faye White when she faces the United States striker in Saturday's World Cup warm-up friendly between the two nations at Leyton Orient.
Centre-back White's nose was smashed by Wambach's elbow on the last occasion the teams met, in the quarter-final of the 2007 World Cup in China.
The game was goalless when the incident occurred just before half-time, but with White badly affected by her injury - and Wambach opening the scoring - the USA went on to win 3-0.
As she looked ahead to England's penultimate friendly on home soil before the summer's World Cup finals in Germany, Arsenal defender White said: "I've got no thoughts of trying to get even with her, I'm not that kind of player.
"It was obviously disappointing when the incident happened, but it was four years ago and she wasn't the last forward to damage my nose with her elbow.
"I'll be as competitive as I always am on Saturday, but I just want to go out and play and help us to hopefully win an important match in our build-up to the World Cup."
Beating the world's top-ranked women's team would provide a tremendous boost in confidence for England as they step up their preparations for Germany.
They have not beaten the USA in eight attempts since a 1988 win with a team whose midfield included current national coach Hope Powell.
Now Powell is hoping to inspire a long-awaited repeat success, though victory will not be the coach's ultimate aim at Brisbane Road.
"The performance will be more important than the result," said Powell. "And if we compete for 90 minutes with one of the best teams in the world, I'll be happy.
"The game will be a good marker for us in terms of where we are at in our build-up to the World Cup and what we need to work on ahead of the tournament."
Though the teams have met on 10 previous occasions - and in five different countries - the USA have never before played in England.
Several of Powell's players will have first-hand knowledge of their opponents, however, having performed either alongside or against them at club level in America's Women's Professional Soccer league.
And White believes that knowledge can be a big help to England on Saturday: "Our girls have matched the Americans in club games over there.
"Now we've got to match them at international level, and it would be a massive step forward for us if we could win this game."
England squad: Bardsley (New Jersey Sky Blue), Brown (Everton), Chamberlain (Bristol Academy) Bradley (Lincoln), Johnson (Everton), Rafferty (Chelsea), A. Scott (Boston Breakers), Stoney (Lincoln), Susi (Birmingham City), Unitt (Everton), F. White (Arsenal) Asante (New Jersey Sky Blue), Bassett (Birmingham City), Houghton (Arsenal), J. Scott (Everton), Williams (Everton), Aluko (New Jersey Sky Blue), Carney (Birmingham City), Clarke (Lincoln), K. Smith (Boston Breakers), S. Smith (Lincoln), E. White (Arsenal), Yankey (Arsenal).