Cardiff City's Malaysian backers to 'stick by club'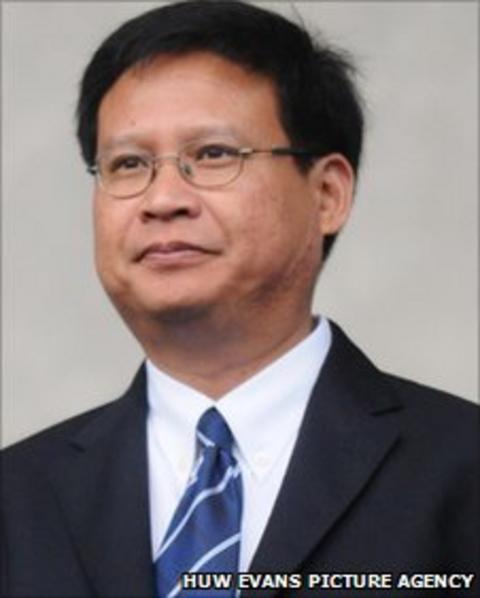 Chief executive Gethin Jenkins has promised Cardiff's Malaysian regime will not abandon the club if they fail to win promotion to the Premier League.
The consortium, led by millionaire Tan Sri Vincent Tan Chee Yioun, has invested millions in the hope of the Bluebirds reaching the top flight.
"They will stick by the club, that is the short answer," Jenkins insisted.
The Malaysian consortium took over the Championship club following their play-off final disappointment in May 2010.
Cardiff suffered heartbreak at the end of the 2009-10 season as they were beaten 3-2 by Blackpool despite twice taking the lead at Wembley.
The backers helped stabilise the club's finances and staved off a winding-up order after HM Revenue and Customs took Cardiff, who had estimated debts of £15m-£30m, to the High Court regarding a £1.9m debt
Property magnate Vincent Tan, who is worth a reported £800m and owns around 30% of the club's shares, and chairman Dato Chan Tien, known as TG, are the main players in Cardiff's new regime.
They have helped manager Dave Jones build what is widely considered as the best playing squad in the Championship at the Cardiff City Stadium.
Craig Bellamy, Seyi Olofinjana, Jason Koumas and Jay Emmanuel-Thomas bolstered a squad that already included Jay Bothroyd, Michael Chopra, Peter Whittingham and Stephen McPhail.
While Cardiff are still in the promotion hunt for the third successive season, Jones's men have stuttered to fourth in the table after four games without a win.
"If you look at their track record, they stood by us after the play-offs," added Jenkins, mindful of the £90m financial jackpot that goes with promotion to the Premier League.
"And they are committed to carrying on with the club. They want us to grow into a strong, sustainable operation and they are fully supportive of doing that development."
Cardiff's Malaysian investors were lured to south Wales because of the possibilities of helping a club with potential into one of the most watched leagues in the world.
"They recognised that they have been able to support a club that was in trouble," Jenkins commented.
"And whatever goes on, we should fully recognise the commitment and support the Malaysians gave us last June and where the club was.
"If you spend any time in Malaysia or the Far East then football is phenomenally big - especially the Premier League as it gets more coverage in Asia than in the UK, believe or not.
"So there are a lot of opportunities for developing football in Asia and Vincent Tan's sons are passionate about football and TG's son has signed a professional contract with team in Malaysia.
"They are football fans but very, very successful businessmen and saw a club that needed help and were there to provide it.
"If the Malaysians hadn't had come in we would have had to look seriously at administration but we didn't do that."
And Cardiff chief Jenkins was adamant that Jones, the Championship's longest serving manager of almost six years, is under no ultimatum to get the team promoted or face the sack.
But he did admit that the Bluebirds would have a "fundamental review" at the end of the 2010-11 campaign.
When asked if there is an ultimatum for Jones to win promotion, Jenkins replied: "No.
"But at the end of the season we will sit down and have a fundamental review whether we get promoted or not and Dave will be fully involved in that.
"We are still going for play-offs and automatic promotion and you won't expect to lose the manager then. But I'm optimistic that we will get promoted."