Kenny Dalglish backs 'focused' Andy Carroll
Last updated on .From the section Football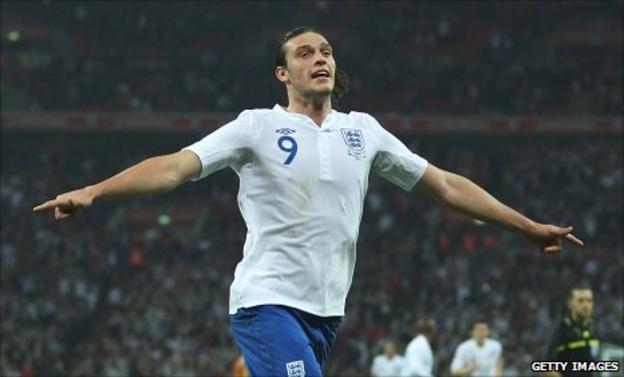 Liverpool manager Kenny Dalglish believes Andy Carroll is "focused" on football after the striker scored his first goal for England on Tuesday.
But Dalglish is confident his £35m signing is concentrating on his career.
"Andy is focused on his football. I would expect him to focus on it to get to where he is," said Dalglish.
Carroll has had off the field problems in the past. In October 2010 he pleaded guilty to an assault charge after an incident at a Newcastle nightclub and was fined £1,000 and two months later a charge of assaulting his former girlfriend was dropped.
Prior to the game against Ghana, Capello said: "He's young. But his behaviour now is really important. He needs to be careful at every moment.
"I spoke with him. Privately. I think not only Andy likes to drink beer. But he needs to improve, to drink less."
Carroll responded by opening his England account with a powerful drive into the corner on the stroke of half-time at Wembley, something Dalglish hopes can spur the striker on in a Liverpool shirt.
"It is a great milestone for Andy to score his first goal, especially at Wembley," said the 60-year-old.
"It is a great reward for his recuperation and it will give him a lift and kick him on further. I think everyone can be proud but obviously Andy will have been happy."
Carroll was struggling with a thigh injury when he arrived at Liverpool from Newcastle in January but the striker has featured four times for the Reds in recent weeks and is nearing full fitness, although he is yet to score for his new club.
Carroll is still eligible to play for the England Under-21 team and manager Stuart Pearce suggested he could call up the forward for this summer's European Championships - which would mean a shorter rest period for Liverpool's record signing.
However, Dalglish refused to be drawn on whether he would oppose Carroll playing for the Under-21s, adding: "We'll wait to see if he is picked first but I can't answer the question until it has happened so I can't see the point in discussing it."
Capello replaced Carroll with Jermain Defoe after 59 minutes against Ghana but said no deal had been struck with the Anfield club over how long Carroll should be involved.
England's last friendly at Wembley in November against France led to Liverpool captain Steven Gerrard sidelined for a month having sustained a hamstring strain after playing longer than the club believed they had agreed he should.
That was under the tenure of former Reds manager Roy Hodgson, who Liverpool will meet on Saturday when they come up against his new club West Brom, but there were no complaints from Dalglish about Capello's use of his Liverpool players.
"The way England treated our players was fantastic," said Dalglish. "They gave Andy the hour knowing it wouldn't have been beneficial to play him any longer.
"They gave Glen [Johnson] 45 minutes because he has a slight problem with an Achilles.
"I thought they were very professional and respectful with the way they treated our players."