Robbie Savage backs Swansea City for promotion
Last updated on .From the section Football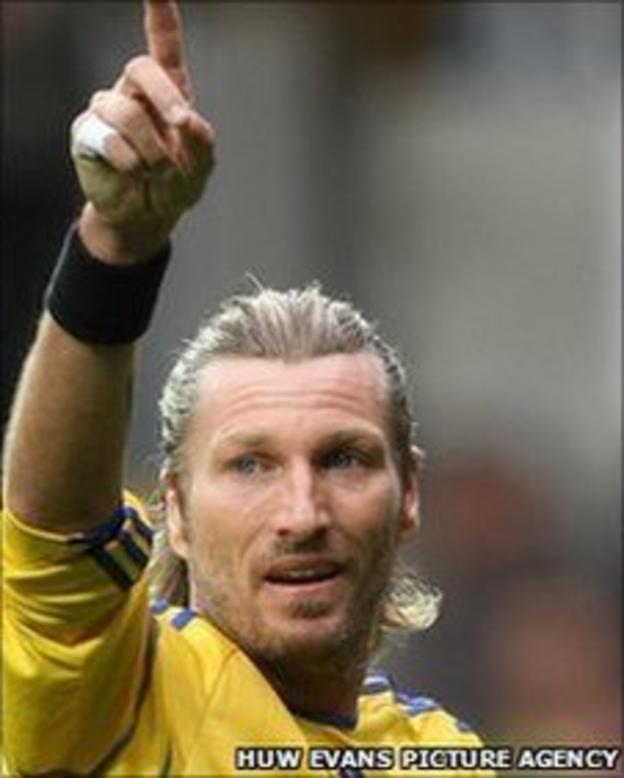 Former Wales midfielder Robbie Savage is backing Swansea City to secure promotion to the Premier League ahead of rivals Cardiff City.
But Savage, who plays for Derby County in the Championship, would like to see both Welsh clubs could go up.
He returns to Wales on Saturday when Derby take on Cardiff at the City Stadium.
"I'd like nothing more than to see both teams in the Premier League - it's fantastic," he said.
"And add to that Wrexham doing great in the Conference and Welsh football is on the up," added 36-year-old Savage.
"With Gary Speed with the Welsh squad, it's a fantastic time for Welsh football."
Analysing both Swansea and Cardiff, Savage believes Brendan Rodgers' side are a better bet for promotion but says the Bluebirds would be better equipped to survive in the Premier League.
"Cardiff has got a lot of high-profile strikers and it's going to be interesting to see which one of the two finishes higher and maybe get to the Premier League.
"If I was a betting man I'd put my money on Swansea because I think they are more of a team unit.
"But Cardiff are more equipped for the Premier League because of the individual players they've got - Craig Bellamy, Jay Boothroyd and Michael Chopra.
"Their manager [Dave Jones] has also managed in the Premier League but I still think Swansea have got the better chance," said Savage, who has announced he is going to retire at the end of the season.
But not before a showdown with the Bluebirds, which he says he is looking froward to.
"It will be great to be back in Cardiff," he insisted.
"Playing in Wales still has a little spice for me because believe it or not the Welsh fans give me huge amounts of grief."