Chick Young's view

By Chick Young
BBC Scotland football pundit
Last updated on .From the section Football
They went to Fir Park by bus, train and automobile. They might as well have rolled up in Dr Who's Tardis.
The Scottish Cup quarter-final replay was Motherwell v Dundee United in a time warp. All that was missing was wee boys parading round the track selling spearmint chewing gum and MB chocolate bars.
If you want to know what an MB bar is, ask your parents. Aye, all right, your grandparents.
But you'll catch my drift. This was football the way it used to be.
There were 8,300 people inside the ground, seduced by an intriguing tie…and its price tag.
And it was down to the mutually agreed admission policy between the clubs, a roll-up to the turnstiles offer of admission for a tenner, a fiver if you are a kid or a concession.
And the fans responded big time, underlining that, despite much wailing over the claims of a slow painful death for Scottish football, there is a huge appetite for it out there.
No live television and a thumping United support of 3,500 who all but filled the south stand and certainly ate it out of sustenance. It was a commercial bonanza for Motherwell and more bountiful still had they ordered more from the bakery.
Five minutes into the half-time break at their stalls and not a pie in sight: not a dry eye in sight at their team's performance either, as it happened.
Motherwell whipped them, never gave the holders a look-in. But this isn't a match report.
This is a plea for the Scottish game to follow Motherwell's lead, to treat the supporters with a little tender loving care and consideration.
Yes, I do realise the irony of the geography of this.
Some years ago Fir Park chairman John Boyle set off on a journey of price reduction and still ended up with a ground which had all the atmosphere of a lending library: maybe even the moon. And it was nearly foreclosed at the bank into the bargain.
But that was then and this is now.
Modern world, modern nonsense, where the supporter is treated like something nasty clinging to your shoe.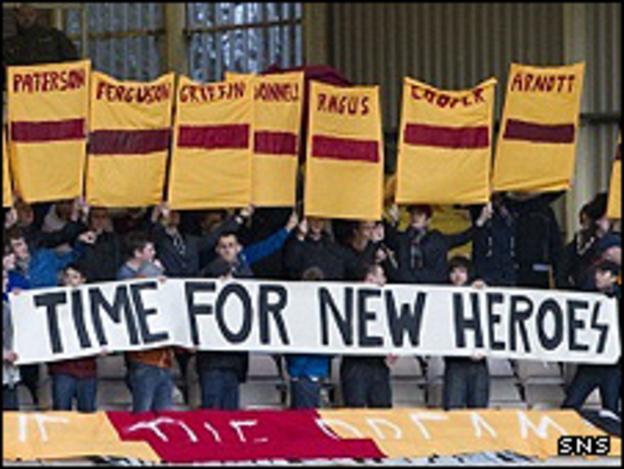 On the next two Tuesdays .
Six o'clock…because you can't show live televised football against the Champions League.
That's a right good idea, then. Have you any idea what it's like trying to drive north-east out of Glasgow at any time after four o'clock through roadworks that seem to have been going on since the Stone Age?
So St Johnstone v Rangers and Saints v Celtic is on the telly, six pm, with the delights of Real Madrid v Spurs, Shakhtar v Barcelona and Manchester United v Chelsea to follow as these games finish.
Now then, lads - a few pints and a telly football-fest or an afternoon off work to accommodate a journey through traffic cone hell? It's a no-brainer.
It's as if we're trying to strangle the will to live out of our supporters, the people without whom - when all is said and done - there is no game.
So bless Motherwell and Dundee United for their co-operation - and the night of the tenner.
They proved that if the price is right, then the turnstiles will rattle.
And the good old days will become the future.