SFA backs down over Celtic boss Lennon's touchline bans
Last updated on .From the section Football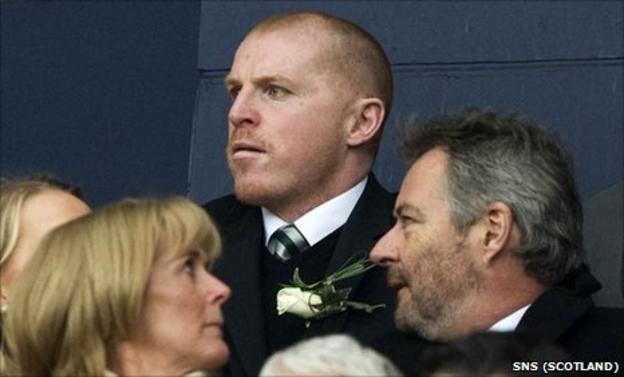 Celtic manager Neil Lennon will return to the dugout on 9 April after the Scottish FA confirmed he would serve his two four-match bans concurrently.
Lennon was serving a touchline ban when he was charged with misconduct for his "behaviour on the night" of the Old Firm match on 2 March.
That charge led to a further four-match ban and the SFA indicated that the two bans would run consecutively.
But the SFA have admitted that this is "legally unenforceable".
Therefore, by the time Lennon is allowed back in the technical area on matchday, he will have been suspended for five games rather than eight.
And Celtic say they are "pleased that the SFA has recognised that Celtic's position is absolutely correct".
Lennon was dismissed to the stand during Celtic's 2-0 defeat by Hearts in November and was given an excessive misconduct charge for his behaviour during the match at Tynecastle.
The sending off incurred an automatic two-match ban, while an extra four games were added for Lennon's heated exchange with match officials.
However, that six-game penalty was withdrawn and replaced by a four-match ban after Celtic appealed, citing irregularities in the SFA's procedure.
The first match Lennon served of that ban was on 5 March, by which time the manager had been reported to the SFA again for his conduct during the Scottish Cup replay win over Rangers three days earlier.
A second misconduct charge ensued for Lennon, meaning a further four-match suspension.
Celtic said SFA rules would mean the two bans would run concurrently despite the SFA indicating that the bans were consecutive in accordance with "custom and practice".
However, the governing body have now said: "The Scottish FA has received independent counsel advice on this point and regrettably has been advised that its interpretation of the rule is legally unenforceable.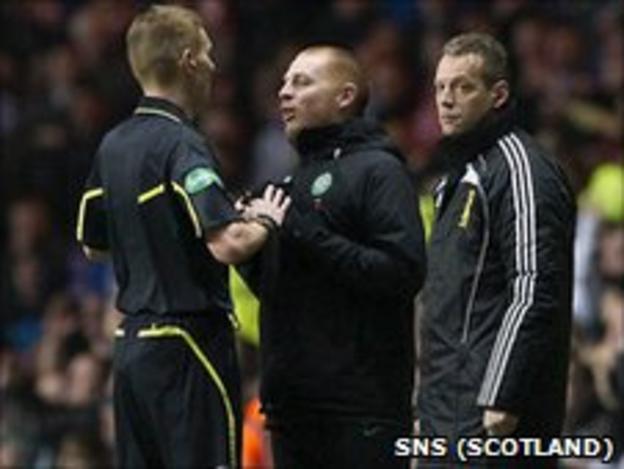 "As such, the club have been notified that Lennon can return to the dugout on 9th April 2011."
In their statement, the SFA cited their ongoing review of disciplinary procedures "undertaken to provide greater transparency and urgency in dealing with individual cases" and which "would also seek to identify areas where changes were required to ensure the rules were legally enforceable".
The statement added: "Given the increasingly high stakes in football and the millions of pounds clubs are competing for in Europe, rules written by administrators to govern member clubs of the Scottish FA are being challenged on legal grounds.
"This is creating a situation where substantial sums are being invested in legal fees at a time when the game simply cannot afford it."
SFA chief executive Stewart Regan is the man leading the streamlining of how disciplinary matters are dealt and said: "We have discussed the matter with Celtic Football Club and they accept that Neil Lennon was guilty of misconduct.
"However, with regard to the timing of the suspension we must accept that if our rules cannot be enforced in a court of law then they cannot be imposed and it is foolish to waste money defending such a point.
"We acknowledge that our rules do need updating and I have proposed to our board that we commission a complete re-write of the disciplinary procedures from a legal perspective to address this whole matter.
"In addition, we will be debating this matter with our council later this month. Whilst we have an obligation to ensure that our rules can be legally enforced, nevertheless it is important for the future of Scottish football that we do not allow our disciplinary procedures to be used as a costly legal playground.
"We must ensure we can reach a happy balance where every decision is not subject to an appeal and football can self-govern without constant legal interventions."
Celtic issued a statement in the wake of the SFA's announcement, which said: "We note the lengthy statement issued today by the SFA in connection with the very straightforward issue of Neil Lennon's suspension running consecutively or concurrently.
"Consequently we look forward to Neil returning to the dugout for the match against St Mirren on April 9, 2011.
"It should not have been necessary for Celtic Football Club to involve our lawyers in this simple matter, and we would have much preferred not to have had to do so.
"But it is vital that the SFA properly applies the rules that it imposes, whatever those happen to be. The SFA cannot operate above the law or its own rules.
"A full review of the SFA disciplinary procedures is clearly required and we note that the SFA are addressing this matter.
"We are supportive of this and hope that legal interventions will not be necessary in the future.
"We will continue to protect the interests of Celtic and fairness and, as a member club, hold the SFA to account if required."