Celtic chief Peter Lawwell dismayed at ICT call-off
Last updated on .From the section Football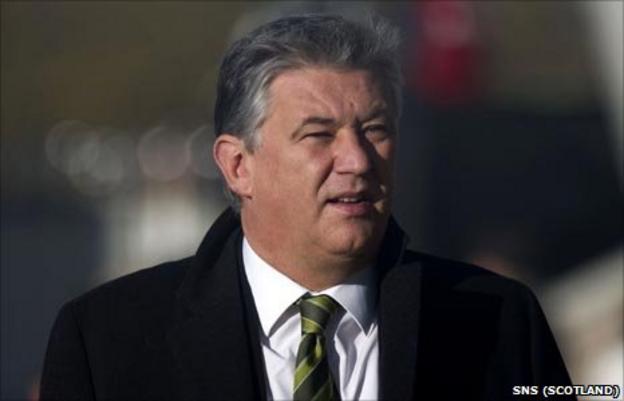 Celtic chief executive Peter Lawwell wants fans to be put first after Saturday's game at Inverness was called off because of a waterlogged pitch.
It is the second time this season a Celtic game at Inverness has been called off at short notice.
"Our fans are the lifeblood of our club and of Scottish football," Lawwell said after the match was postponed two hours before kick-off.
"They need to be considered more when it comes to setting kick-off times."
Celtic's Scottish Cup tie against Inverness Caledonian Thistle on 13 March was also postponed because of a waterlogged pitch and many fans would have already set out for the trip to the Highlands when Saturday's match was called off.
Lawwell praised the efforts of Inverness in attempting to ensure that the match went ahead, but suggested there may be wider problems with the pitch.
"Inverness are a great community club and chairman George Fraser, director of football Graeme Bennett and the rest of the board always make us and our supporters feel very welcome, so it is a difficult situation, but clearly there is something wrong with the drainage of the pitch here," Lawwell told Celtic's official website.
"I have great sympathy for our supporters who were already on their way here and we can only apologise to them.
"We value their support and they do need to be considered when it comes to setting kick-off times, otherwise they are going to end up saying 'enough is enough' if they're being asked to travel to games such as Inverness with a midday kick-off time.
"The kick-off time is not ideal for our supporters, who were already on the road and halfway to Inverness when the game was called off."
The postponement presents a significant fixture headache for the Scottish Premier League.
The only available slot before the league splits is Thursday 14 April. Celtic will be playing league matches on Saturday 9 and Tuesday 12 April, with a Scottish Cup semi-final at Hampden on Sunday 17 April - which would require them to play three matches in six days.
Inverness, for their part, have league matches on Saturdays 9 and 16 April.
However, the SPL could schedule the Inverness-Celtic game for after the split if the league knew for certain in which half of the table Terry Butcher's team would finish.
That, though, is very tricky to predict: Inverness lie in seventh spot, a point behind sixth-placed Motherwell.
Lawwell feels the scheduling of matches to accommodate live broadcasts is having a negative impact on the fixture calendar and needs to be examined if postponements continue to affect the game.
"Television is obviously an important income generator in Scottish football, but the fans need to be considered more in order that we can achieve a balance," said Lawwell.
"We've already got a 6pm kick-off for our game against St Johnstone and that could be the case again for this fixture when it is rescheduled."
"This is the fourth time we've been up here and the second postponement we've had, and there is now the real prospect of fixture congestion in having to re-arrange this game again.
"Clearly something is wrong with the drainage of the pitch when the rain doesn't start till the early hours of the morning and then, with eight hours of rain, the game is called off.
"I know it's something the groundstaff at Inverness are already looking at.
"This is the beginning of April and we're still getting games called off, and in top-flight Scottish football some overnight rain shouldn't cause a match to be called off."