Fifa president Blatter reassures FA on World Cup vote
By David Bond
BBC sports editor
Last updated on .From the section Football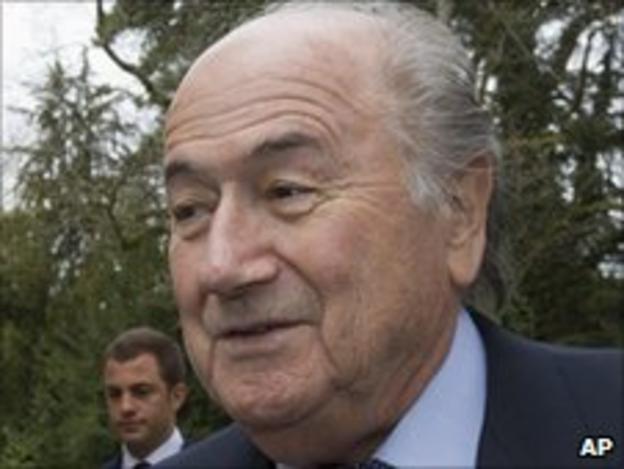 Fifa president Sepp Blatter has reassured Football Association chairman David Bernstein that the decision to award the 2018 and 2022 World Cups to Russia and Qatar was not part of a personal mission to take the competition to new territories.
On his first visit to England since the humiliation of last December's World Cup vote, Blatter also confirmed to Bernstein, FA director of football development Sir Trevor Brooking and general secretary Alex Horne that there would be no repeat of simultaneous votes.
But Blatter's claim that the Russia and Qatar decisions were not part of a wider international strategy would appear to be at odds with his own statement published on the Fifa website at the end of December.
He wrote: "We have made historic decisions in terms of sport and geopolitics. We've sent the World Cup to new territories. The 2018 World Cup will go to eastern Europe and the vast country that is Russia, and the 2022 event will go to Qatar, in the Arab world.
"The World Cup will discover new cultures in new regions, and that's something I'm delighted about."
Bernstein also took the opportunity to quiz Blatter on the forthcoming Fifa presidential election contest with Mohamed Bin Hammam.
The FA refused to disclose details of what was discussed but it is understood that Blatter has already replied to a request in writing from Bernstein to provide an outline of his re-election manifesto.
Bin Hammam has been asked to do the same and he is due to meet the FA later in the month before it works out which candidate it will back at a board meeting in May - just a few weeks before the 1 June election in Zurich.
"The meeting covered a range of topics including a review of recent decisions taken by the International Football Association Board. Fifa committee issues, the international football calendar, third party ownership, the London 2012 Olympic and Paralympic Games and the process of bidding to host Fifa World Cup tournaments," the FA confirmed.
"Mr Blatter also took the opportunity to update The FA on his candidacy for a further term as Fifa president."