We deserve Wembley trip - Coalville boss Adam Stevens
Last updated on .From the section National League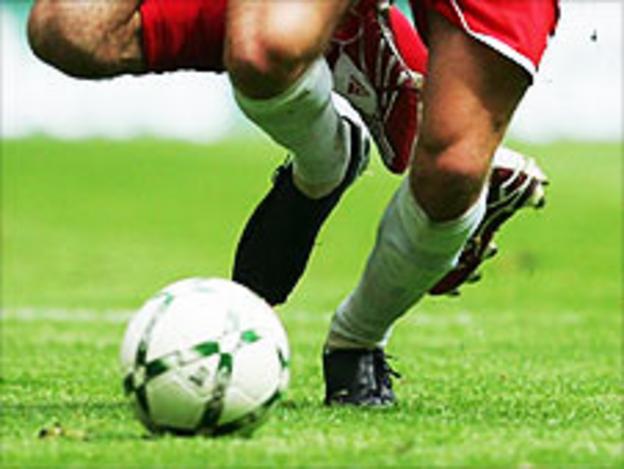 Coalville Town boss Adam Stevens said his side fully deserved to be lining up a trip to Wembley after the FA Vase semi-final win over King's Lynn.
The Leicestershire Midland Football Alliance league side won Saturday's tie 3-2 to seal a 6-2 aggregate success.
"It's a fantastic achievement for a club the size of ours," Stevens told BBC Radio Leicester.
"We beat cracking teams all the way to get here. You don't get to this stage of the competition by being lucky."
And King's Lynn captain Jack Defty had no complaints with the result: "They're a good side, there's no disgrace in losing out to them," the 29-year-old told BBC Radio Norfolk.
"They're a big, physical, pacy, fit side, they played to their strengths and did a job on us over two legs."
The Ravens, who cruised to a 3-0 first-leg home victory, secured their place thanks to a thrilling triumph on Saturday.
Callum Woodward's deflected free-kick gave Coalville a sixth-minute lead and Jerome Murdock made it 2-0.
And even though two goals from Robbie Harris levelled the score at 2-2, Lynn went down to 10 men when Ross Watson received his second yellow card and Matt Gardner's effort sealed the win and a trip to Wembley to face Whitley Bay on Sunday, 8 May.
Defty says that after Harris's double, the team believed they could fight back.
"You get a couple of goals in quick succession like that it raises your spirits a little bit, you think maybe if you get another in the next few minutes maybe there's a chance," he said.
"But it was always going to be an uphill battle and to lose a man left us exposed at the back, they nicked another one and it was definitely over then."
Coalville boss Stevens added: "We deservedly won the game. I am proud of every one of them, the lads who are injured and the lads who were not involved. For every one at the football club, it's great.
"Fair play to us we have some good lads down here and had fantastic support.
"We're going to Wembley. There are some good players who over the years haven't got near it but we are not just there for the occasion - let's go and win it. It will be great for the town."