Jose Mourinho denies Real Madrid Gareth Bale interest
Last updated on .From the section Football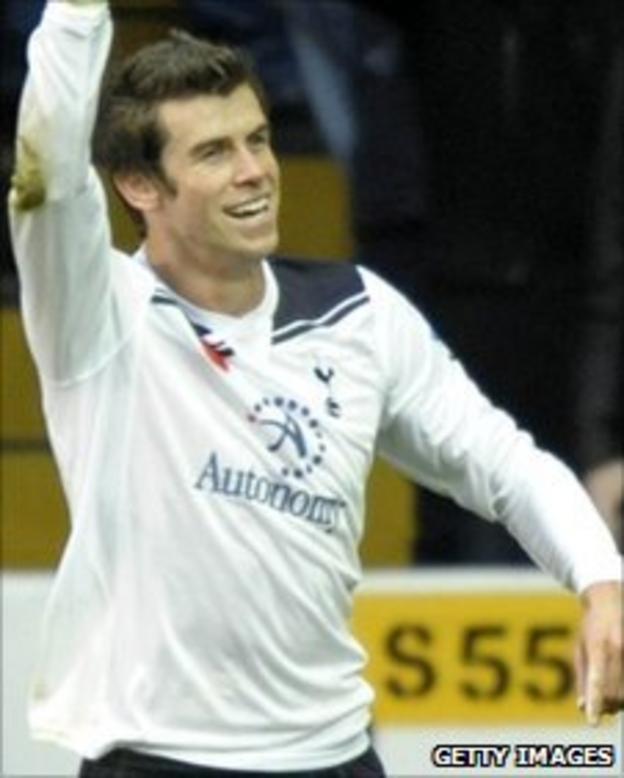 Jose Mourinho has indicated Real Madrid will not sign "amazing" Wales superstar Gareth Bale from Premier League Tottenham Hotspur this summer.
Mourinho's Spanish giants face Spurs on Tuesday in their Champions League quarter-final first leg, with Bale hoping to recover from injury to play.
The winger signed a new Spurs deal last month but admits he would consider a move abroad and Mourinho is a big fan.
But he said: "I think for the amount of money involved, it is not easy to buy."
Bale earned universal acclaim this season with a breathtaking hat-trick in a 4-3 defeat at defending European champions Inter Milan in the San Siro in the Champions League group stages.
The 21-year-old also starred as Spurs beat the Italian club 3-1 in the reverse fixture to help pave Tottenham's way through their tricky pool and into the Champions League knock-out stages.
He came on as a second-half second leg substitute as Spurs secured a last eight Champions League berth by edging past Inter's city rivals Milan and is now thought to be winning his fitness race to play in Tuesday's showdown in the Bernabeu.
Bale's hamstring trouble has restricted him to only one start in almost three months and the Cardiff-born player was forced to miss Wales' Euro 2012 qualifying defeat by England last month.
Bale has been the subject of intense media speculation and has been linked with a £50m move to nine-time European champions Real Madrid.
But Mourinho, a two-time Champions League winning manager, does not think his club will be in the queue to sign Bale as they already boast a squad containing Portuguese superstar Cristiano Ronaldo.
"We have players for that position. We have Cristiano who plays in the same position he plays, and Marcelo at left-back," said the Real boss.
"When you want to spend big money you do it in areas where you have problems, but I have no doubt he is a very good boy.
"I was one of the first to say he will be an amazing player. I was saying that when he was not known in European football, just in England, so I know the great player he is.
"He is still young and there is a big space for him to improve so he will be a really top, top, top player. I have no doubt about that.
"Tottenham is not a good club to sell though. It is a club that buys."
Redknapp has repeatedly stated thinks he can bring the Premier League title to White Hart Lane but knows he must keep his star players if Spurs are to win their first championship since 1961.
"If you are looking to build a club, you can't be selling Gareth as then (Luka) Modric would want to go and then someone else would want to go," said Redknapp.
"Then Tottenham would end up where they were four or five years ago, finishing half way up the table each year.
"I'm sure it would have to be an amazing figure if you ever sold him.
"But how do you replace a player like that? It's very difficult."