Manchester United boss targets away goals at Chelsea
Last updated on .From the section Football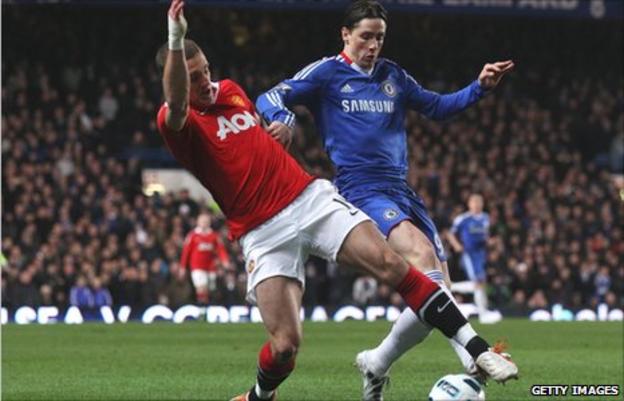 Sir Alex Ferguson has backed Manchester United to progress in the Champions League - if they gain an advantage in the quarter-final first leg at Chelsea.
United's manager will send his side out to score goals at Stamford Bridge in order to put them in a strong position for the return leg in Manchester.
"If we go back to Old Trafford with some advantage, we will be very difficult to beat," said Ferguson.
"The name of the game is to go back with a goal or maybe two."
Ferguson added: "On this occasion, I was quite happy to get the second leg at Old Trafford. It will be a magnificent atmosphere there."
United go into Wednesday's first leg without an away win over Chelsea for nine years. On 1 March they lost 2-1 at Stamford Bridge in the Premier League and their captain Nemanja Vidic was sent off.
Ferguson played down that record and stated: "The last few years have been poor in terms of results but we have played well."
But Vidic believes Chelsea's recent record against his team gives them the advantage.
"They have an edge because they had good ones [results] against us," said Vidic.
"But this is the Champions League. The name of the game on Wednesday is to get an away goal."
He added: "Our performances at Chelsea in the last two or three years have been really good.
"We have played some good football but in the end, we didn't get good results. Now I am thinking we should play badly and win."
Vidic could find himself up against Fernando Torres, an opponent who seemed to thrive against him when he played for Liverpool, but who is still awaiting his first goal for Chelsea since his £50m move to London.
Chelsea's strikers have struggled to hit the target of late, with many of their goals coming from midfielders and even defenders, but Vidic said United would not read anything into that.
"It doesn't give us any confidence," he continued. "Chelsea have good strikers and we have a lot of respect for them.
"Just because they haven't been scoring goals, they will still be doing their best. And in a cup tie, what matters is who wins, not who gets the goals."
United striker Wayne Rooney, who is facing an FA charge for swearing into a television camera after scoring a hat-trick against West Ham on Saturday, missed training on Tuesday morning for treatment for a bruised shin. But Ferguson said he was "sure" the England man would be fit for the Chelsea clash.
United have fared better against Chelsea on neutral territory, beating them on penalties in the 2008 Champions League final in Moscow and in the 2010 Community Shield at Wembley.
Despite that 2008 success, Ferguson said he does not expect revenge to be on the mind of the Chelsea players.
"I don't believe that players think about revenge," he said.
"Something that happened three years ago goes out of your mind quite quickly.
"It doesn't matter who you play or when you play them. You just want to win the game."
And Chelsea midfielder Frank Lampard later echoed Ferguson's sentiments.
"I really promise you, revenge certainly isn't in our minds," said the midfielder, who scored the equaliser in the 2008 final.
"When you play for a long period of time, as I have here, you see the ups and downs. You collect them.
"You don't any feel thoughts of revenge or anything against anyone. You understand you can't always be successful and win."
The Champions League is a trophy that has so far eluded Chelsea and their wealthy owner Roman Abramovich who has spent millions in attempting to turn the club into the best in Europe.
But Lampard, who on Wednesday will become the fourth Chelsea player to play 500 games for the club, says it is important for the players not to become obsessed by the one major trophy that has eluded them.
"We've been so close and every year we've got close, people talk about it even more," he said.
"They talk about the burden, the fate, and the destiny of the occasion.
"We try not to think about it like that because that can weigh you down. Every year it almost gets tougher."
He added: "There's nothing worse than the feeling of losing a Champions League final and semi-finals in different circumstances.
"There's no point being negative and crying about them - they're all experiences.
"We hope that one day we'll have one huge positive experience that will make all the other ones easily forgotten."