Ipswich Town boss Jewell 'bored' with deal updates
Last updated on .From the section Football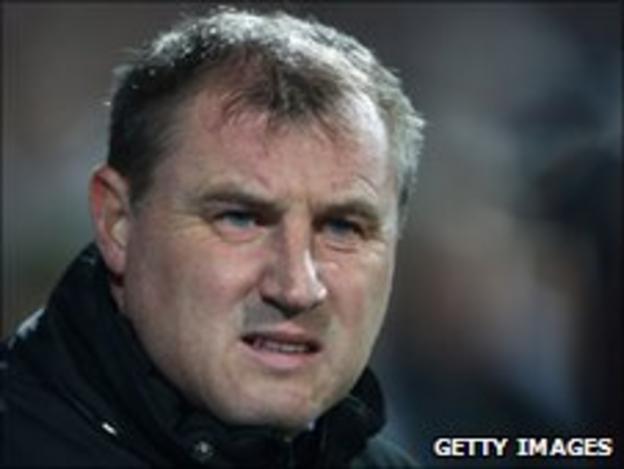 Ipswich Town boss Paul Jewell says he is getting fed up with having to field questions about players' contracts.
Jewell has inherited a side with numerous first team players coming towards the end of their current deals.
"I don't really want to speak about what's gone on previously as it's not my domain," he told BBC Radio Suffolk.
"But if you can get your better players tied up it stops all these ridiculous conversations we're having right now, I'm getting really bored with it."
Town have made offers to goalkeeper Brian Murphy and midfielder Colin Healy as well as defensive duo Gareth McAuley and Damien Delaney.
Jewell is also in talks with captain David Norris about extending his stay and is trying to make progress on the futures of loanees Kieron Dyer and Jimmy Bullard.
Bullard is on loan from Hull until the end of the season but Dyer's spell from West Ham expires after Saturday's visit of Crystal Palace.
"We'll have a chat with Kieron and see if we want to move it forward and if he wants to move it forward," said Jewell.
"We will speak to Hull to see what the situation is with Jimmy.
"Obviously it's a difficult financial deal for us to do, but if we possibly can, we're interested in doing it."
Despite becoming frustrated with having to regularly answer questions about contracts, Jewell admits supporters deserve to make an informed decision before buying their season tickets for next term.
"Supporters are the lifeblood of the football club and I accept that they want to know," he added.
"I don't know how many times I've got to try and get them to trust me to do the right thing for the club.
"Hopefully they can trust me to do that and I will do whatever I think is right to move the club forward."