Northerners lift Guernsey FA Cup for third time
Last updated on .From the section Football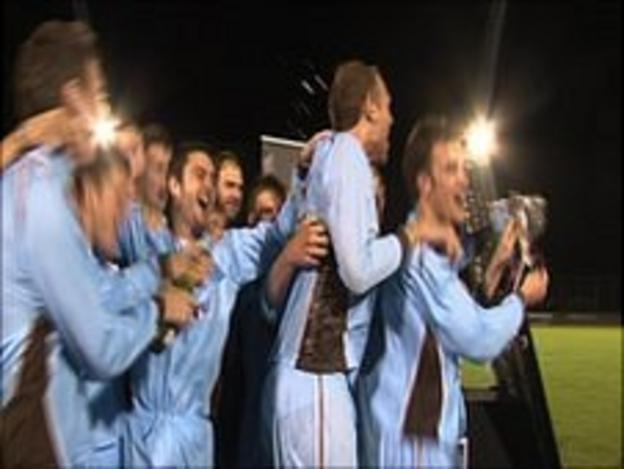 Northerners beat Belgraves Wanderers 3-2 in the Guernsey FA Cup final at Footes Lane on Tuesday to be the first side to win the trophy three times.
With the score level at 2-2 at the end of normal time, substitute Matt Loaring scored the decisive goal in the dying minutes of extra time.
North coach Ross Cameron was delighted with his first trophy as manager despite his teams shaky start.
He said: "We went 1-0 down, but we finished the strongest team."
Cameron said: "We deserved the win, it's a credit to the boys. The nights when you train and it's raining and it's cold, it makes it all worth it."
Island captain and former Bels player Sam Cochrane opened the scoring with an own goal before Nigel Hutton headed home an equaliser for North.
The third goal of the night, just ahead of the half-time whistle, also came from a North player as man-of-the-match Angus Mackay put them in the lead.
Dave Rihoy brought the sides level again, but the side suffered a blow ahead of extra time as Chris King was sent off for a lunging tackle on Mackay.
Loaring said of his vital goal: "It was a great feeling, I didn't even expect to play as I've been injured the last couple of weeks and only got the go-ahead yesterday.
"I got put on the bench and thought, well, if we need a goal in the last 20 minutes, stick me on - and then it kind of happened.
"To be fair it's about the team, we've had a good season. It's really good for the lads."
Bels coach Glyn Smith said: "The result didn't go our way, but in terms of the game itself I think the first half was very scrappy, not a lot of football played by either side.
"In the second half the game opened up and both sides put in a very creditable performance.
"I thought we always had an opportunity to snatch a winner in extra time but once they'd gone ahead tired heads started to show."
It was the third time the two teams have met in the Guernsey FA Cup final, with North having won all three encounters.