Jose Mourinho denies Tottenham quarter-final is over
Last updated on .From the section Football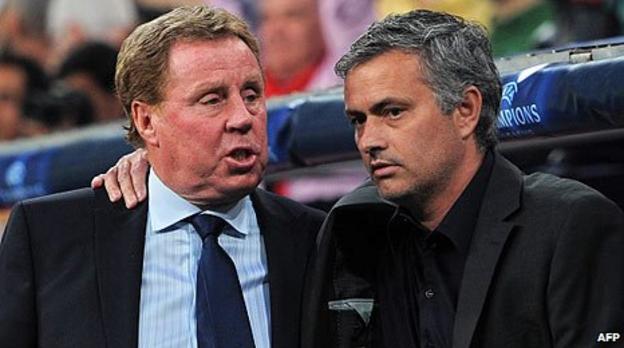 Real Madrid boss Jose Mourinho said his side's Champions League quarter-final tie with Tottenham is "not over", despite winning the first leg 4-0.
Real were ruthless against the Premier League outfit and received an extra boost when Spurs striker Peter Crouch was sent off for two bookable offences.
Mourinho said: "I know at this level, 11 against 10, it's almost impossible.
"But I know the English mentality. With the English concept of football, it's not over."
Former Chelsea boss Mourinho, who is bidding to become the first manager to win the Champions League with three different teams after his 2004 success with Porto and 2010 win with Inter Milan, conceded he felt sorry for Tottenham.
"It's just a question of the team with 11 keeping concentrated and we did that in the second half, not in the first half but in the second half we did that," stated Mourinho.
"I feel sorry because with 11 against 11 the match would be much better."
He also said he felt sympathy for Spurs having to play with 10 men when they were already a goal down.
"You just have to defend, if you've got an advantage you defend, defend and defend," added the former Chelsea manager.
"And if you are already losing and you have to attack, it's an impossible job and I think they will try everything in the second leg."
Real's resounding victory moves them a big step closer to a semi-final against Shakhtar Donetsk or tournament favourites and huge rivals Barcelona.
But Mourinho stressed that he was taking nothing for granted at this stage.
"We're not in the semis - last time that Real Madrid played in the quarters we also won at home, 4-2 I think [against Monaco], and then we were out."
Former Arsenal striker Emmanuel Adebayor, on loan at Real from Manchester City, scored twice for the Madrid side and took his record to 10 goals in 13 games against Spurs.
"The way we played, we showed personality and we showed character," said Adebayor.
"I got two chances and I scored two goals. My record keeps improving against Tottenham."
Adebayor almost got a hat-trick with another header before Argentine Di Maria netted on 72 minutes, cutting inside before bending a stunning shot into the corner with his left foot.
Cristiano Ronaldo made it four in the closing minutes with a low volley but the former Manchester United forward warned against complacency in the return leg at White Hart Lane on Wednesday 13 April.
Ronaldo said: "We have to take advantage of this lead because anything can happen and we can't underestimate Tottenham.
"Regardless of the fact that we were playing against 10 men the team played well. It was tough going in the first half but we improved a lot in the second half."