Brendan Rodgers demands meaner Swansea City defence
Last updated on .From the section Football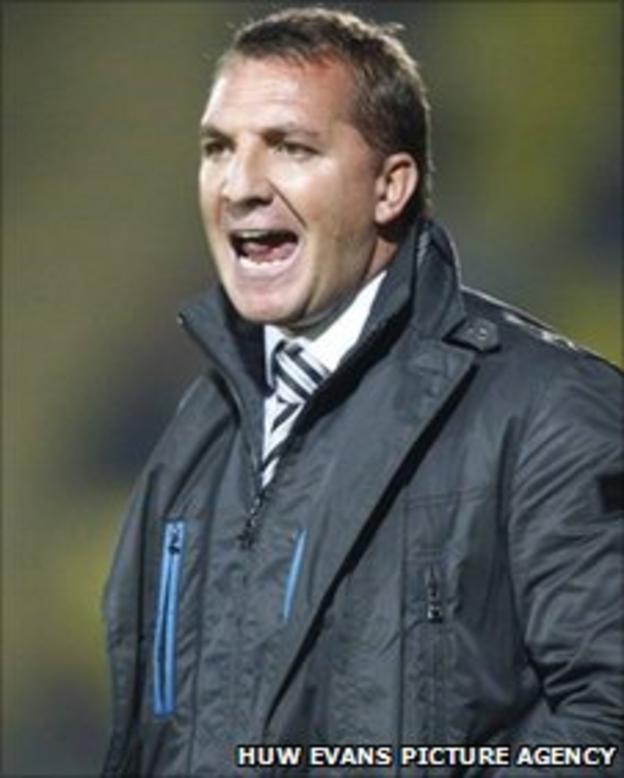 Swansea City manager Brendan Rodgers has called on his players to rediscover their defensive focus for Saturday's vital home match against Norwich City.
The Swans have leaked six goals in their last three games, having conceded just two in the preceding five outings.
"Our platform is our defensive structure and that has dropped off a bit in the last weeks," said Rodgers.
"Clean sheets are very important to us, as well as scoring goals and we'll look to get back to that on the weekend."
A 2-1 defeat at Preston North End, who were bottom of the Championship table before kick-off, saw Swansea slip down to fourth last weekend.
Rodgers described the defensive display as their worst of the season, denting their hopes of finishing the season in the top two places.
The result opened up a four-point gap between themselves and Norwich, who occupy the second automatic promotion spot and will arrive at the Liberty Stadium on Saturday on the back of a 6-0 demolition of Scunthorpe.
Despite the recent frailty at the back, Swansea can still boast the meanest home defensive record in the Championship, having conceded just nine goals in 20 games.
And Rodgers believes Garry Monk's return to the side after a lenthy absence through a knee injury will prove vital in the final seven encounters.
"Garry's a great leader for the club and obviously he's very, very important," said Rodgers, who gave Monk his first start since 9 Januray last Saturday.
"He's inspirational when he's on the field. He's worked really well to get back, he's a key player for us in relation to his job on and off the pitch in the changing room.
"So it's great to see him back and obviously looking forward to having him back now for the run in."
As he prepares to face Norwich, Rodgers can also take heart from his side's results against their promotion rivals this season.
Swansea have won five of their 11 clashes with the league's leading seven teams so far in this campaign, failing only to beat leaders Queens Park Rangers and Norwich.
QPR and Cardiff have both won four head-to-head games; Norwich and Nottingham Forest three; Leeds two and late-runners Reading are yet to beat any of the Championship's top seven.
"I think what it demonstrates is that when the big games come around, then our players stand up. And obviously this is a big game," added Rodgers, who has no injury worries in his squad.
"We've performed fantastic for most of the season but the season is not finished. There are still a number of twists and turns to come.
"But thankfully these players are great at bouncing back. When we've had a disappointment, we've come straight back and that will be the idea this weekend. There are no worries in terms of confidence.
"Norwich are obviously coming into the game on the back of a terrific result. But we want to win all of our home games, no matter who it's against.
"We love playing at home. The role of our supporters is vital for us because they give the team great energy and great feeling of strength.
"So we'll look to them again this weekend, like we've done all the way through the season and hopefully we can get the right result."