Mancini says Man City deserve a Champions League spot
Last updated on .From the section Football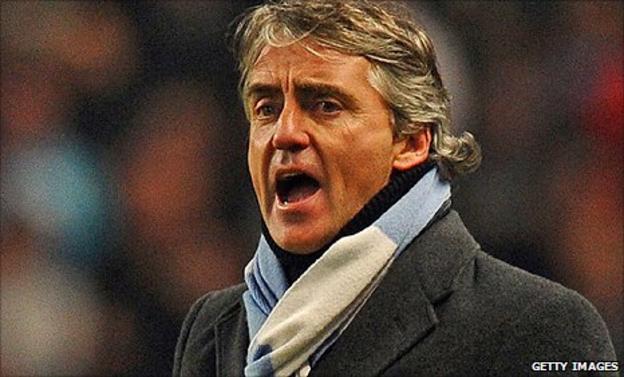 Roberto Mancini says his Manchester City side deserve to land a Champions League qualification place this season.
City are out of the Europa League, but play Manchester United in an FA Cup semi-final and are chasing a top four Premier League spot - their main aim.
"We deserve to achieve this," said Mancini, whose side are away to Liverpool in the league on Monday.
"We have been at the top most of the season with United and Arsenal, always being between first and fourth."
"I think we can become a top team in two or three years," he added. "We have improved a lot and this for me is a good squad and I am very proud to be here.
"In football the situation can change every five weeks but, in my opinion, Manchester City will be one of the top clubs in Europe in the next five years."
Having failed to launch a challenge for the league title and being frustratingly knocked out of the Europa League by Dynamo Kiev in the last 16, City are desperate to end their long wait for a trophy stretching back to 1976, or at least play in the Champions League next season.
And Mancini has said that an easing fixture list will help his side on the season run-in.
"The players are looking fresher," he stated.
"We had problems when we played every three days. Now most of the players are available and that is important."
City beat Sunderland 5-0 at home in their last Premier League game with Adam Johnson, Carlos Tevez, David Silva, Patrick Vieira and Yaya Toure sharing the goals.
Mancini wants a similar performance at Anfield from his side, who slipped to fourth in the Premier League after Chelsea's 1-0 Wigan on Saturday.
"All the team played well against Sunderland," added the Italian. "To score five goals from five different players was good for us. We played well because the players were rested.
"Our mentality should be the same whether we are at home or away. We can improve, we can score more goals.
"Now is the time to start winning more away matches. Every game we play to win but that is not always possible.
"We have always had a good spirit this year but it has improved a lot. There were times we were really tired because we had a number of injured players.
"But at this moment things are good. But if we want that to continue we need to keep winning."
City convincingly beat Liverpool 3-0 at home in August when Roy Hodgson was in charge of the Merseyside club.
Kenny Dalglish took over at Liverpool in January and Mancini is expecting a tough battle.
"Dalglish is a fantastic manager," said Mancini. "He was an incredible player, I remember him very well. Liverpool are a very strong team, especially when they play at home.
"They lost two important players in [Javier] Mascherano and [Fernando] Torres but they bought [Luis] Suarez, [Andy] Carroll as well as other good players. It will be a very hard game."
Dalglish admits the current situation, with European football looking well beyond them, is not good enough for a club of Liverpool's pedigree.
"The football club has greater ambition than to settle for sixth spot and we'll be looking to improve on that as best we possibly can," he said.
"The football club is better than sixth but we've got to prove that on the pitch.
"We don't know what team City will put out, we don't know if they'll be focused on the semi-final or not.
"I'm sure they place equal importance on their position in the league but when you see a trophy at the end of it sometimes your concentration wanes a little bit. We hope that can be the case."