Sunderland in relegation fight - Steve Bruce
Last updated on .From the section Football
Steve Bruce has admitted his Sunderland side are in a battle to avoid relegation from the Premier League after their 3-2 defeat by West Brom.
The Black Cats have now gone eight matches without a win and slip to 13th place, only six points off the dreaded bottom three.
"We're on a disastrous run," Sunderland boss Bruce admitted.
"We are in a relegation battle along with all of the bottom 10 and it is up to ourselves to get out of it."
He continued: "It's the first time we've slipped in. For seven or eight months we've been in the top 10 and, at one stage, challenging for Europe but we're on a disastrous run," said Bruce.
The Black Cats, who have won only one point from a possible 24, slip closer to the drop zone and are in desperate need of a win. The bottom three - West Ham, Wolves and Wigan - all lost, meaning that the bottom seven clubs are separated by just four points.
CLICK HERE to launch BBC Sport's Premier League Predictor
Sunderland, who are now just six points ahead of West Ham in 18th place, scored their first goal since February 12 when Nicky Shorey headed into his own net, but were unable to consolidate their advantage.
"We had a horrible 20 or 25 minutes and, defensively, we were all over the place. That was where our strength lay this season but now we are having to score too many goals to win a match," Bruce reflected.
"West Brom have the momentum at the moment and that's testament to the work that [West Brom boss] Roy Hodgson's done and, for us, it's the other way at the moment. We have to restore confidence."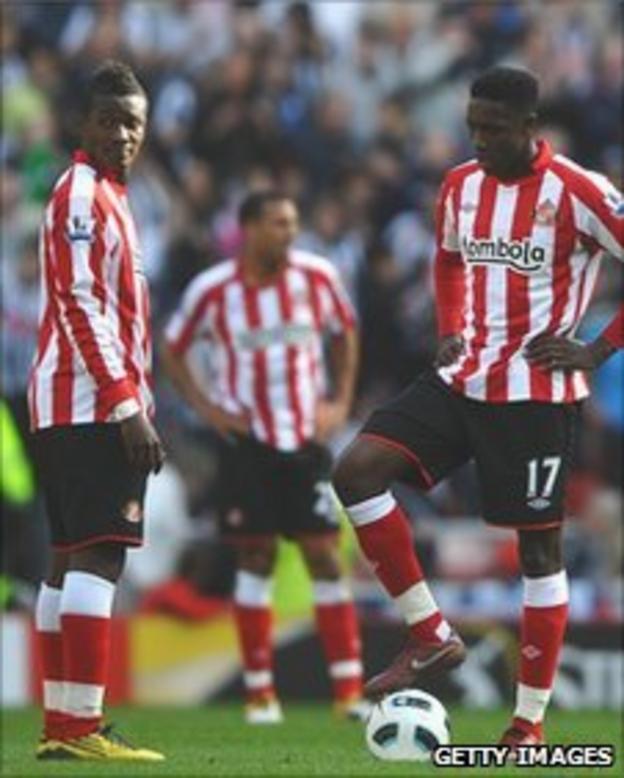 For Hodgson however, it was another impressive win and maintains the former Liverpool manager's unbeaten start to his career at The Hawthorns.
"It was a huge victory, at this stage of the season when you are coming to play at places like the Stadium of Light and playing against a team like Sunderland, who have been wounded in recent weeks and you know are going to be desperate to take points from you.
"I thought we played well, defended well, and the link-up play between midfield and attack was very good. We stuck to our task very well and deserved the victory and gives us some breathing space ahead of the bottom three."
Hodgson, who believes the Baggies need only one more win to guarantee their survival, sympathised with Bruce, stating that he believes Sunderland have too much quality to go down.
"We are lucky that the players are playing with a lot of confidence at the moment, but Sunderland are not playing with that confidence. But I am sure that theyhave too much talent and too much courage to be involved in a relegation fight," Hodgson added.
Wolves remain deep in that fight after losing 3-0 at home to Everton, and Wolves boss Mick McCarthy believes it will go down to the wire.
"I've said all season that it will go to the last day of the season and I stick by that," said McCarthy, whose side are 19th and level on points with 18th-place West Ham.
The Hammers too missed the opportunity to move out of the bottom three, with a comprehensive 3-0 defeat at Bolton, courtesy of a Daniel Sturridge double.
"The situation is not good but it [survival] is possible. We're not far from safety, we need to win the next game. In the second half there were many positives we can take, but next game will be a new game," West Ham boss Avram Grant commented.
While Wigan remain rooted to the bottom of the table following defeat at Chelsea, Blackburn and Birmingham remain only clear of the drop zone after their 1-1 draw at Ewood Park.