Swansea City's Fabio Borini inspired by Didier Drogba
Last updated on .From the section Football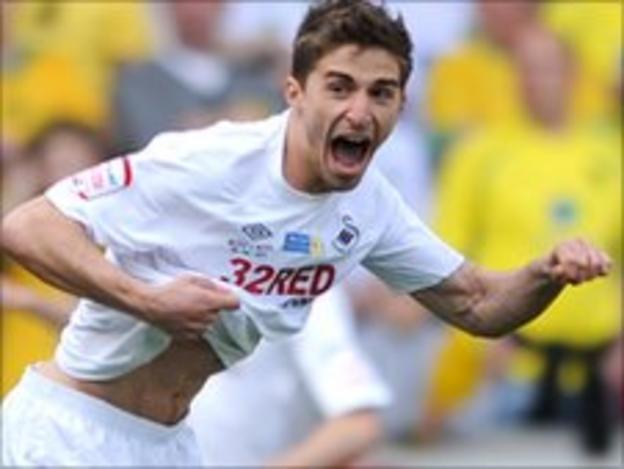 Swansea striker Fabio Borini says his stunning free-kick against Norwich City was inspired by Didier Drogba.
Borini, on loan from Chelsea until the end of the season, crashed home a 30-yard strike in the 3-0 home win.
"He [Drogba] was my inspiration behind that free-kick," said Borini. "It was an amazing free-kick.
"I train with him and I watch him take free-kicks and I was really trying to get that going."
The 20-year-old, who joined Swansea in mid March, believes his fifth-minute goal set the perfect tone in the contest with Championship promotion rivals Norwich.
"It was a very important part of the game, when it's a tight game," added the Italian Under-21 international, who has scored three goals in as many appearances for the Swans.
"It's hard to try that technique because most of the balls go over the fence and you get upset and you don't try anymore, but I kept going and this week I've tried a lot in training and it's been going well."
Borini believes the pristine Liberty Stadium pitch also played a part in the victory, together with the vocal home supporters.
"The pitch was unbelievable to play on and the fans were good," he added. "We fought to the end and did the ugly bits of the game as well as the nice bits and that's very important."
Second-place Norwich arrived in south Wales on the back of a of a 6-0 demolition of Scunthorpe, and on a nine-match unbeaten run.
Swansea, though, were looking to bounce back following the shock 2-1 reverse at relegation-threatened Preston North End, and manager Brendan Rodgers said he could not fault a single aspect of the performance.
"It was a big test for us and you see with Norwich why they're up there," he said.
"At home we've been magnificent but our away performances put more pressure on us at home. There was big pressure today."
The victory moved Swansea onto 69 points, one behind Norwich in second place and level on points and goal difference with rivals Cardiff City, with just six games remaining of the season.
"The edge was back in our game both offensively and defensively," added Rodgers, who took over the reins at the Liberty Stadium in July.
"I said to the players we have to be like an orchestra, if there's one that's not in tune then we will struggle.
"But today everyone was in tune and the result and performance were outstanding."