Man Utd boss Ferguson backs Torres to shine for Chelsea
Last updated on .From the section Football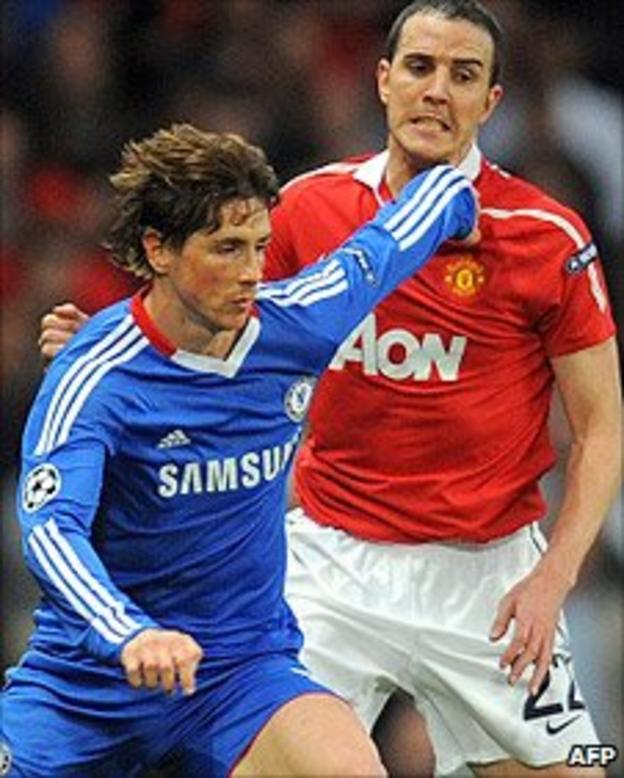 Sir Alex Ferguson has backed Fernando Torres to be a hit at Chelsea despite failing again during the 2-1 Champions League loss at Manchester United.
The £50m signing has not scored since his move in January and was substituted at half-time as the Blues exited at the last-eight stage, 3-1 on aggregate.
"I didn't see how they could leave him out having signed him for that much money," said United boss Ferguson.
"It's not working at the moment but he's young and there are more seasons."
Ferguson added: "Chelsea had an opportunity to sign Torres and I can't think of a club that would not have wanted the striker. It was a fantastic bit of business."
Much was made of Chelsea manager Carlo Ancelotti's decision to start with Torres ahead of Didier Drogba.
Asked if he had made a mistake playing Torres instead of Drogba, the Italian said: "Maybe. Could be. I told you a lot of times this season I wanted to start with Fernando for this kind of game, these type of tactics.
He added: "Didier played well in the second half. I wanted to put more pressure up front because we needed to score. Didier was fresh and he could use his power up front. This was the reason I took out Fernando."
United got the breakthrough two minutes before half-time when Javier Hernandez scored from Ryan Giggs's cross.
It left Chelsea trailing 2-0 on aggregate and their evening got worse when Ramires was sent off in the 70th minute after receiving a second yellow card for a foul on Nani.
But the Blues were handed a lifeline by substitute Drogba, who had replaced the ineffective Torres at half-time, when he beat the offside trap to fire in low past United goalkeeper Edwin van der Sar with 14 minutes remaining.
But less than a minute after the restart, Giggs fed in Park on the left side of the 18 yard area and the South Korean fired in what proved to be the decisive goal.
Giggs, who was positioned in a more central role, provided both assists and said it was becoming easier for him to play in big games despite being a veteran at the age of 37.
"It was a tough contest. We expected they would come at us. We knew we had to try to score as well," said the former Wales international who has won two European Cups with United.
"We played well at Stamford Bridge in the first leg and tonight we scored a couple of great goals.
"My job in the centre was made easier with Michael Carrick next to me, who had a fantastic two games. It's easier [to play in matches] as you get older because you pick your moments."
Ferguson also praised the influence of Giggs over the two legs.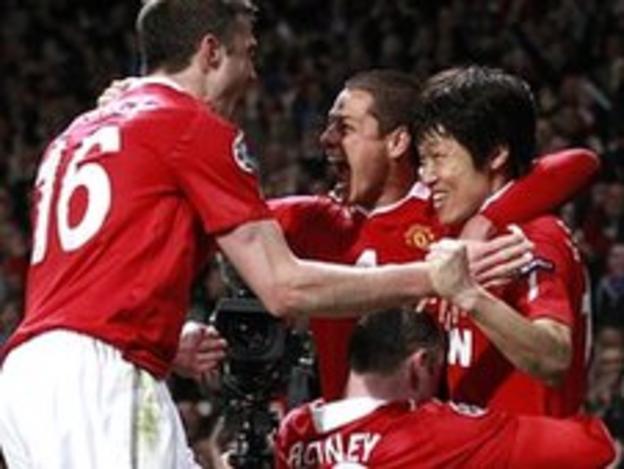 "He's incredible, a unique person and player. It's a great contribution and his experience and composure were vital," said the Scot.
"He's lucky with his physique, he's never carried weight and has got fantastic balance. He looks after himself. He has to, to play at 37 it must be a great sacrifice to do that."
Meanwhile, Ancelotti admitted that United were worthy winners on the night.
"We had control of the game for the first 25 minutes but were not able to score," he said.
"At the end of the first half when they scored it was more difficult for us, we came back with 10 men but in the end it was not enough.
"Our performance was not so bad but I think of the two teams, United deserved to win."
Chelsea are out of all the cup competitions and are currently third in the Premier League, 11 points behind leaders United.
When asked about the task of raising his side's morale, Ancelotti added: "It will be difficult but we have to make the top four for Champions League football next season.
"We need to quickly move on from this defeat, this disappointment, and on to the next game."