Wolves stiker Kevin Doyle may miss survival bid
Last updated on .From the section Football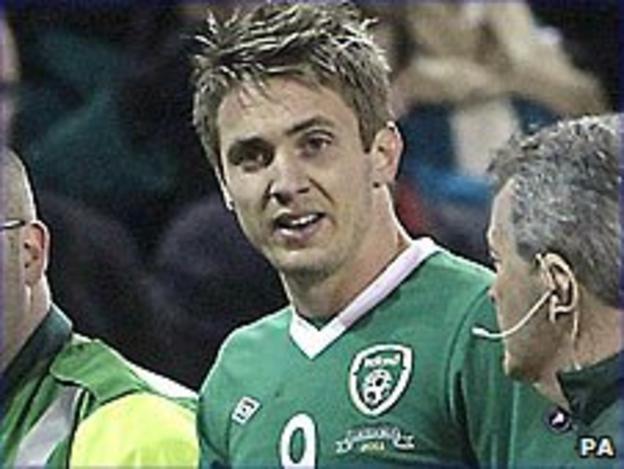 Wolves striker Kevin Doyle could miss his team's Premier League survival bid because of a knee injury.
The Republic of Ireland striker will be sidelined for at least another month with the injury, suffered on international duty a fortnight ago.
"I'm still aiming to come back before the end of the season but it's going to be close."
Doyle is more hopeful of playing for the Republic in three games in late May and June.
The Republic face Northern Ireland and Scotland in the Carling Nations Cup on 24 and 29 May and then tackle Macedonia in a Euro 2012 qualifier on 4 June.
Doyle admits a return to international action may not please club boss Mick McCarthy.
"If I don't play for Wolves again this season, I don't suppose the manager will be too happy to see me get fit and disappear for my country.
"But I'm going to try to make it."
Doyle said the injury is the most frustrating of his career given the timing of it when Wolves were on song after a four game run which yielded eight points.
Now successive hammerings by Newcastle and Everton have pushed them back into the relegation zone.
"It is the most frustrating injury of my career because I felt I was starting to play pretty well," he said.
"We were playing well as a team and looking to finish the season on a high.
"It is annoying and by the time I am fit again it might be too late to be involved again this season."